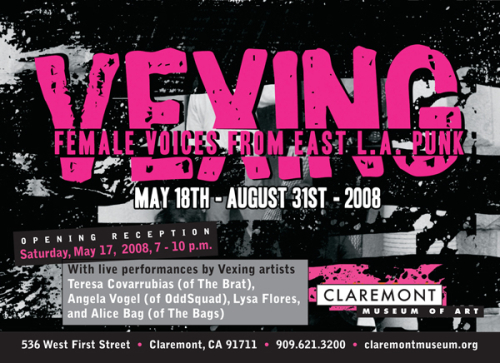 (click flyer above for more images)
There's been lots of buzz about the upcoming show, Vexing: Female Voices from East L.A. Punk at The Claremont Museum of Art. Much like the misconceptions of the skateboarding scene, there's many who don't realize the involvement and contributions of Eastside folks to the history of Los Angeles punk. From the early days of The Bags and The Brat to current groups like Union 13 and Resistant Culture, punk is alive and well in the streets East of the River.

One of the best magazines to read about the current punk scene today is Highland Park's own Razorcake. Check out the recent article with The Brat by Jimmy Alvarado and his excellent piece on the East LA punk scene. A documentary is also in the works, here's a clip:
From The Vexing site:
The burgeoning punk rock music scene of the late 1970s and early 1980s in East Los Angeles provided an electrically charged, creative climate. This scene created an atmosphere where performance mixed with poetry, and visual culture was defined by an aesthetic and an attitude. Artists and musicians interfaced and blurred the lines of actions, documentation, photography, sound and style.

Taking its name from the all-ages music club The Vex, once housed within East Los Angeles' Self Help Graphics and Art, Vexing is an historical investigation of the women who were at the forefront of this movement of experimentation in music, art, culture and politics, while exploring their lasting legacies and contemporary practices. This documentary style exhibition will include photo, video and audio archives of the era as well as studio work encompassing painting, installation, writings and performance.
Live performances on MAY 17th at the Claremont Museum of Art by:

ALICE BAG
TERESA COVARRUBIAS
ANGELA VOGEL
LYSA FLORES!!!

OPENING RECEPTION: 7-8PM
PERFORMANCES: 8-10 PM

CLAREMONT MUSEUM OF ART
536 WEST FIRST STREET
CLAREMONT, CA 91711