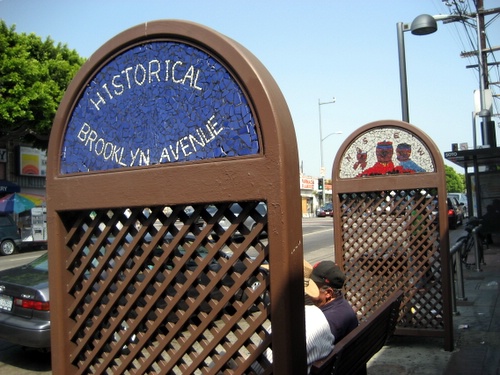 Some time ago I started a series of posts at blogging.la that were meant to be a sorta crash course into Eastside life for those permanently entrenched west of the river, and mostly to combat this spreading notion amongst LA newbies that "eastside" was some new and fluid term to define neighborhoods east of the beach communities. For awhile it seemed as if Silver Lake and Echo Park were really going to become the definition of the Eastside, but thankfully, due to various voices speaking up and against this callous rewriting of history, the tide has turned. There are still a few stalwarts out there trying to justify (or ignore) their dismissal of the Eastside, but their days are numbered. Since these "fluid eastside" proponents tend to follow the flock, they will eventually join the pack and find their way to that place that no longer denies our existence, though they will never acknowledge us, cuz that just ain't cool. Nobody likes to admit they are wrong. Instead of the army of Eastsiders I once proposed, I think we'll be able to manage with a much more nimble force of tactical culture war snipers, since the invading hordes have yet to muster even the simplest of defense tactics to our counter offensive. Can I order a Mission Accomplished sign for my battleship?
Since major combat operation have now ended, I think it's time to pull this series into the LAEastside fold, since that seems to be the most obvious place for posts about the Eastside. Que no? Plus, I assume that if any of the Eastside 101 readers at b.la are really interested in the Eastside they won't be too scared to cross over the virtual river, where shootings and stabbings are at the lowest levels ever. 😉
For this next installment, I take you to a place near and dear to my heart, the neighborhood of Brooklyn and Soto! Click ahead para ver que pasa! (Warning: lots of pics ahead)
There are a few main commercial strips on the Eastside (we'll get to those later) but the few blocks around the corner of Brooklyn and Soto make up the place I most consider my stomping grounds. It could be cuz I spent most of my after school hours here working since I was around 14. And Weekends. Working. It could be cuz my first real love interest lived near here. Or maybe it's because I met my most significant partner on this very street. Whatever the case may be, this street is more than just an avenue of shops, it's also a place where my tiny collection of meaningful memories reside. Uhh, I should mention that Brooklyn is now known as Cesar Chavez. But in what seems to be an example of me slowly turning into an old-timer, I refuse to call it by it's new name: Brooklyn por Vida! Soto? That's just a street that leads to home.
The mural isn't as intricate as it used to be, but it still has some animals on it. I knew this place when Elias owned it, that crazy barrigon that used to love walking down Brooklyn with a 15 foot boa constrictor around his neck, scaring all the viejitas and viejitos alike. Last I saw him was on some tv news "expose" where he was trying to block the cameras, I guess he had some of those illegal little baby turtles for sale, the ones you now have to get at swap meets. I wonder where he, Rosa, and Chuy ended up?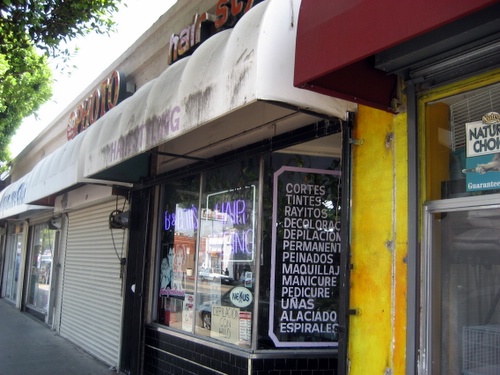 Riding the wave of the future, this place now offers threading to remove those unwanted facial hairs. For some odd reason, there are many, many, hair shops on this street. I don't know how one could tolerate being in that line of work, dealing with people's vanities. I could never do that.
Mother's Day means an opportunity for every small shop to sell some relevant items for the day. Here we see some kid being tasked to sell some of this stuff. Been there, done that. Lil' vato, I feel your boredom.
La Princesita always has meatmen ready to serve your most fleshy desires.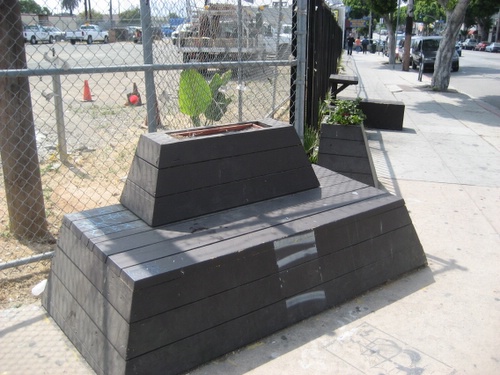 Where the Brooklyn Theatre used to be, we now have a parking lot and some odd pyramid shaped benches. Even when it was an indoor swapmeet, I still liked the place. That history is now covered in dirt, at some unknown dump.
ALZA has made his way out of Northeast LA. Damn him.
Any holiday means an opportunity to make a buck. I still can't understand the appeal of a giant stuffed teddy in plastic wrap though. Put that thing in a clear ballon and then I'm game!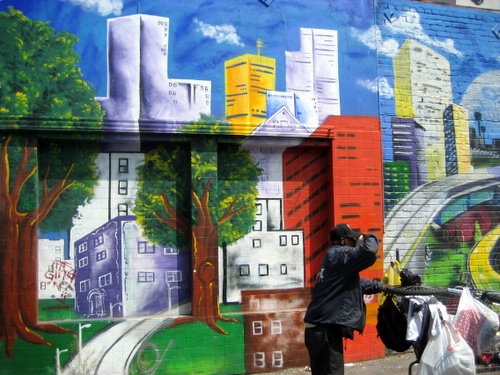 I've seen more than a few murals in this alley way, though this one seems particularly out of place. The dude drinking his soymilk shake with wheat grass, he fits in perfectly.
Candelas is pretty well known as a place for quality handmade guitars. Though to me it's just the place next door to where Hilda used to live, that stout older woman with the crazily huge hairdo. You know, dyed hot red? Don't act like you don't remember.
And a little ways down from there you have the Charro shop, where mariachis get their fancy clothing. I once inquired about buying a pair of charro pants, being that I was a young punk willing to tweak the natural order of things. The $250 price range sent me back to my humble Deseret scouring rather quickly.
What the? ALZA!!!!! (fist shakes manically in the air)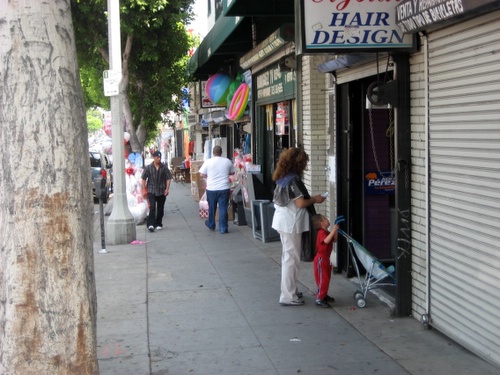 Yet another reason to love the Eastside. Whereas some places people are afraid to show or tell you their age, in this neighborhood it perfectly reasonable to take a stroll down the street as you wait for your hair dye to kick in. Fuck-Yeah.
One store front can suffice for a beauty salon, a botanica ("se leen las cartas"), a clothing shop, and a dry cleaners. I wouldn't doubt it if they also did Income Tax forms. As the economists always say, diversify.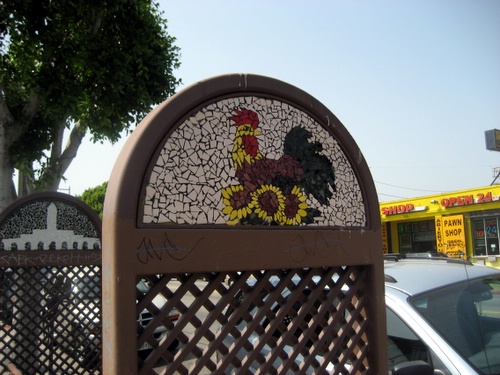 Oh yes, a chicken motif! Most of us come from rancho roots, might as well embrace that reality. I love chickens so I have no problems with it!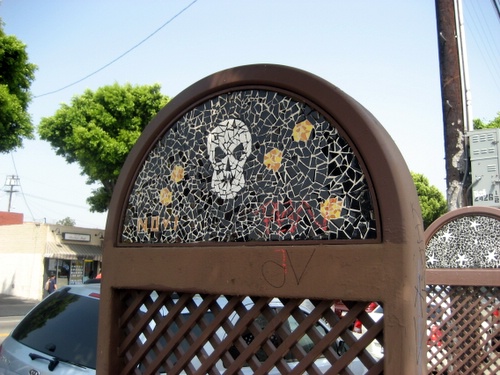 And on the other side, a skull for Dia de Muertos. Nice touch.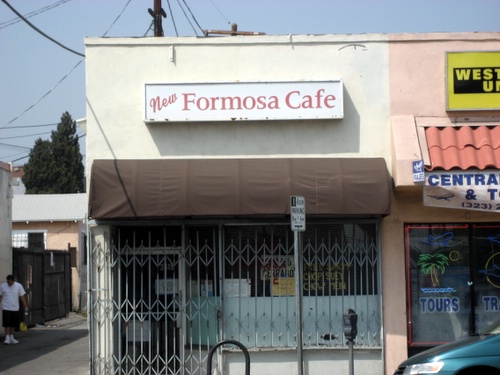 American style Chinese food, site for many a good meals. It seems that this place has been closed due to illness, hope it reopens soon.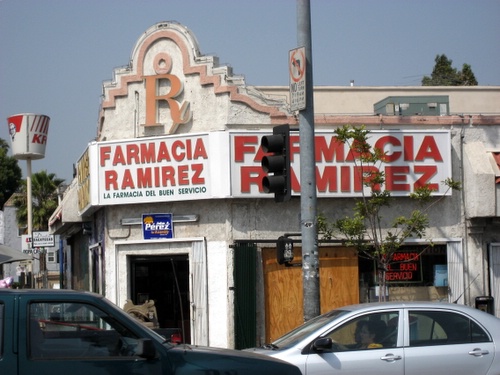 On the corner of Soto y Brooklyn, Farmacia Ramirez battles it out…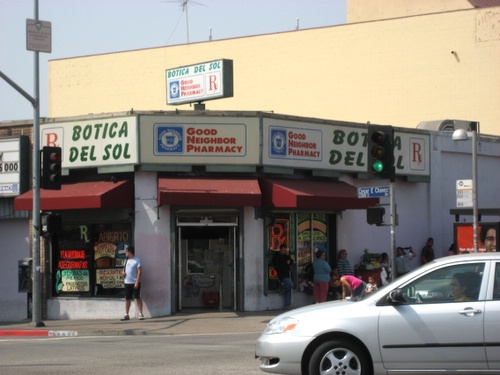 …with Botica del Sol. These two shops never seem wanting for patrons.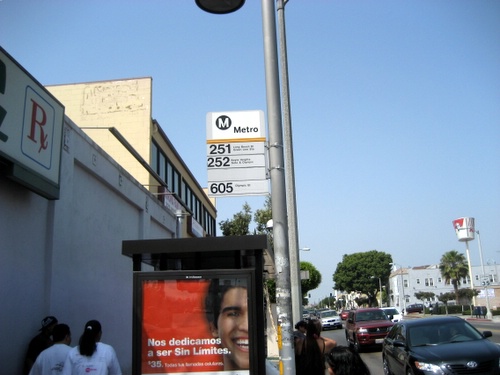 The bus home. I'm sure it goes other places, but whatever.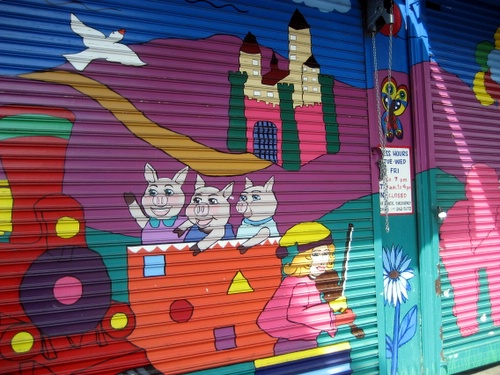 Pigs squeal in delight, happy to serve the needs of a local dentist.
Ah, George's. Where getting a cheeseburger without the meat was always an ordeal. All these years later, the same three guys are still working there. That's some craziness.
Mother's Day vending on the BofA sidewalk. Though I mostly hate banks, this particular one I'm okay with. Let's just say the returns on my investment have been tremendous.
I don't know if your shopping experience will really be a big buy, but now that Jonson's is gone, it'll definitely be where you make your major grocery buys.
At the other end of this rope that spells out "Bienvendios" is a poor defenseless and struggling cow. Que sad.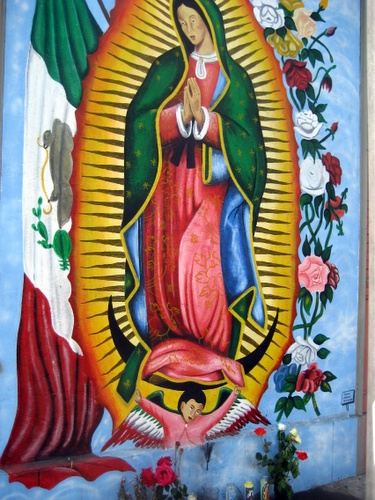 Always around, like the work of a tagger that really, really came up, the virgen can usually be spotted at a wall near you.
Yum, licuados de platano y choco milk. And a torta sin carne, porfas.
Brooklyn Hair Styler keeps the flame of memory burning. Well, as far as street names are concerned.
Most everyone knows of the Mariachi plaza on 1st and Boyle, but if you want to hire a Trio you head to Brooklyn and Chicago, to what I call Conjunto Corner. Here they fear no accordion!
There's a restaurant as well, though I've only tried it once a long time ago. Maybe it's time for another visit.
You'll notice that many of the men around here still wear botas, thus the reason shoe repair shops can still make it.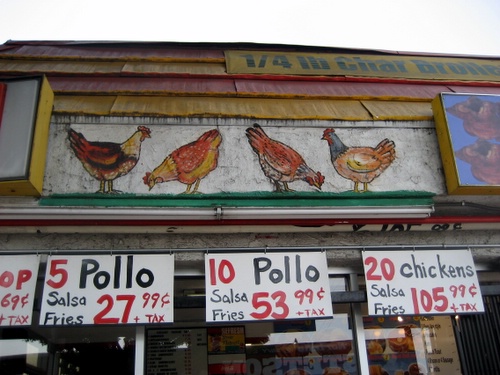 Take a wild guess: what do they serve here?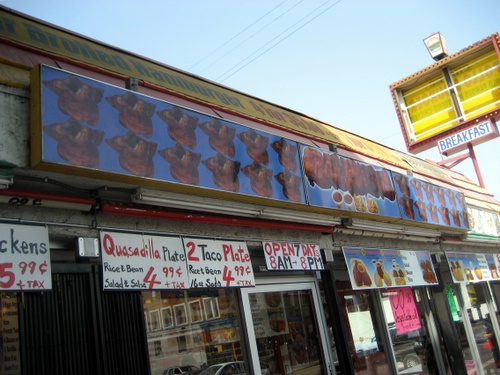 If you said chicken just because of all those pics of roasted chickens above, you would be wrong. They serve a very unique Quasadilla plate, which is kinda like a quesadilla only different. Besides, you're not supposed to eat pollos, they are our friends! 😉
More Mother's Day trinket vending.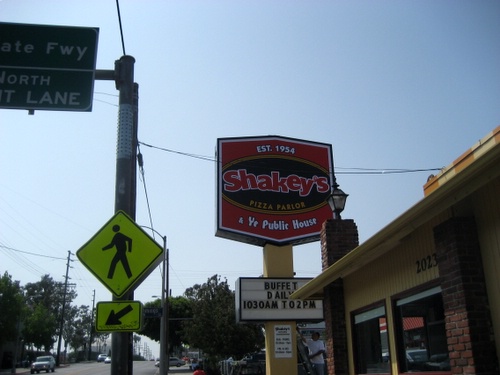 Mojos, mojos, mojos. "Abuelita, no quieres la ultima papa moyo?"
Y siguele con eso.
Good name, good sign. Give them a call next time those pesky kids break your windows.
Sorry for the bad angle, I was trying to avoid the sun. Get yer ranchero wear here. I've always liked how the dude in the sign has a hat shaped halo, like he's either holy or just beaming with light.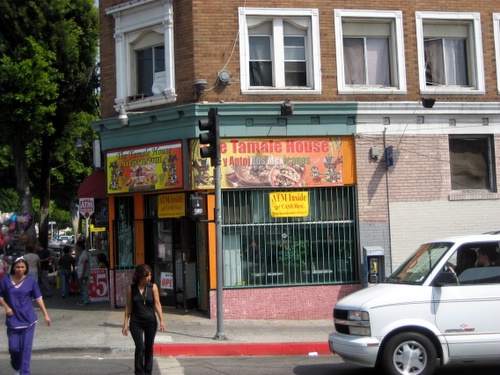 I gotta remember to try the "tamale" house some time. If you want to try your hand at making your own..
..head next door to the not-so-morena La Morena to pick up some masa. Spread, fill, fold, that's all you need to do, super cinchy.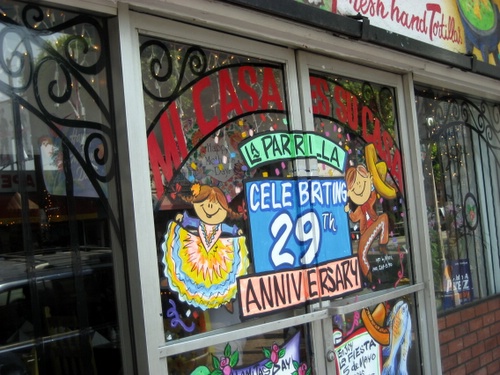 I'm gonna get yet more hate mail but it's gotta be said: La Parrilla is overrated y no vale la pena. Better watch my back.
Discussing the relative worth and emotional appeal of Chinese made stuffed animals vs. the Chilean grown pesticide-laden red roses that still seem "more natural". Ultimately it was decided Mother would prefer an abrazo and a carne asada rather than more stuff to clutter the garage, and they walked away content with their well reasoned decision. (Umm, not really.)
3X5.00 Now that's a bargain!
I remember when cholos would yell out "faggot" just because of an unconventional piercing, now they're all sporting those said rings and studs. Haha, it never fails.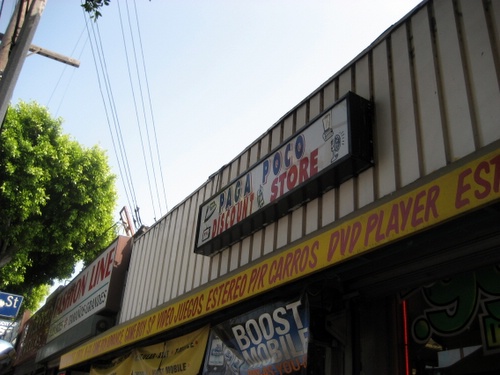 Sure you could go to the Paga Poco Discount Store and maybe save a few cents for some crappy merchandise, but if you follow my patented Paga Nada Discount Technique you can go anywhere and you'll still save a whole lot more! Luego les cuento.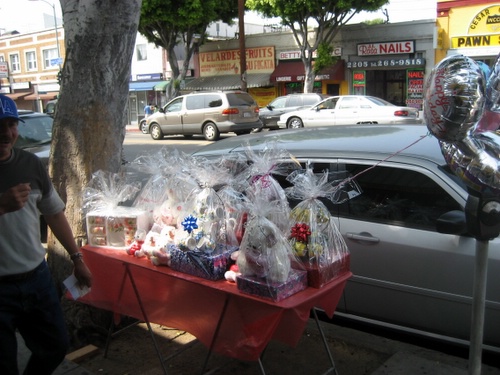 Wait, didn't I already see this table?
Oh my god, they wrapped Guadalupe in plastic, she's gonna suffocate! Que malvados. Maybe it helps keep the sanctity fresh?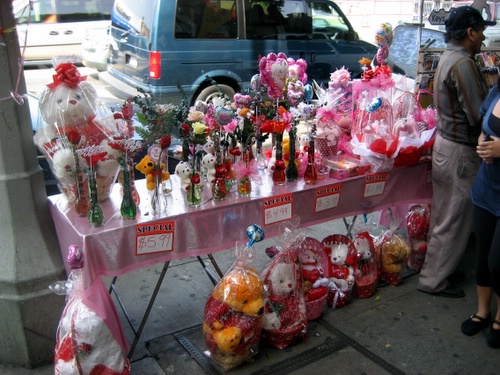 Okay, I promise, this will be the last picture of this type. But the bears, they are just sooo cuuutttteee!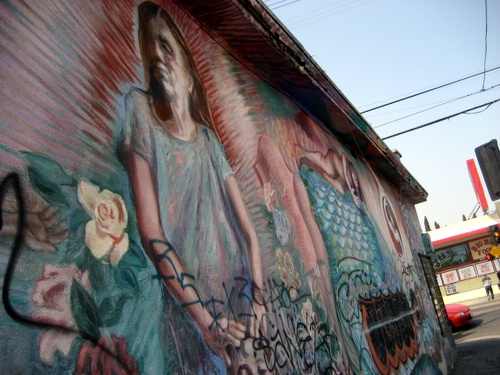 This mural has seen better days. I wonder why taggers have stopped respecting murals? Is there a shortage of wall space or just too many taggers for the neighborhood? I know of some neighborhoods where they have absolutely bare walls, maybe someone should print up a guide to help spread the tagging around. I'll put it on my to-do list.
Under the cheap goods, the name Zellman's, the last Jewish owned shop to leave the neighborhood, I think about 10 years ago? I just did a quick search on google and this great link showed up, check it out for an in depth look at Boyle Heights. Or just check out the book from your local library.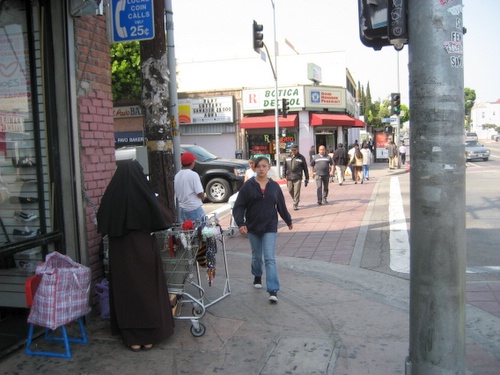 These two "nuns" were out on the corner selling rosarios and other religious trinkets, but I don't think they're part of the "real" Catholic church, probably from one of those new upstarts that are willing to marry, baptize, and handle your other religious needs at a reduced rate.
A small part of my favorite mural in the neighborhood, El Corrido de Boyle Heights. As I was taking this picture I was approached by the chicle selling homeless guy that has been walking these streets for a very long time. Back when I had to sleep at the place I worked, I would go after hours to hang out at the McDonald's a few feet from this mural, drinking bad coffee and hearing the crazy stories of this guy that goes by the name Alejandro. At least that's the name he used back then. He would draw all these small maps into a notepad, which he claimed were the maps to some lands he owned in Mexico, and on some of these he claimed to have hidden treasures. I would always ask him why not go and dig up said treasure, that I would help him, but then the conversation would change to something else. Back then he looked fairly clean and modestly dressed, this time around the sandals he wore showed the evidence of a long time on the street: thick skinned feet turned black by the constant exposure to dirt. Needless to say, Alejandro didn't recognize me. I bought some chicle, thanked him, and continued on my way.
I no longer work around here and don't have any pressing reason to come back to this area. But when I can, I try and drive by just to see que pasa in that little area that used to be my whole world. It changes all the time and it doesn't need me, but I still recognize and love everything it represents.
Click here for a link to all the Eastside 101 posts.
Update 5/16/08 For some quality pictures of Brooklyn (err, Cesar Chavez) check out this site: www.calaverascallejeras.com