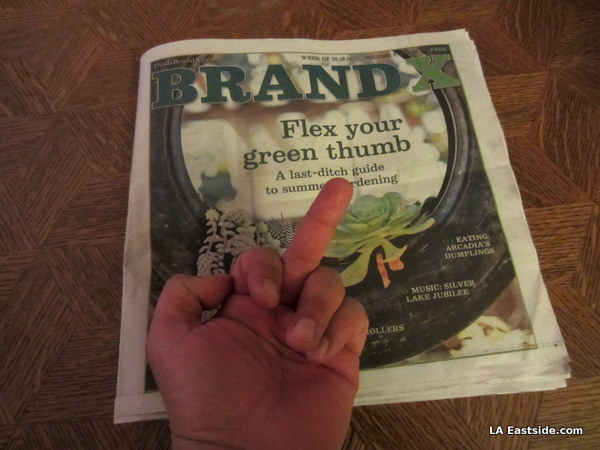 I wish I had the time to be more articulate. Or the patience to be more patient. In these times of La Crisis and economic uncertainty I find that I have to economize on words: can't be wasting them on any old thing. But believe me that I have words, big bags of them, waiting to get poured out in a flood of meaning when I can figure out how to fit it into my schedule. Just cuz I ain't saying nothing don't mean I'm not thinking stuff. Thoughts cross my mind at all hours of the day, sometimes making me laugh for no reason, sometimes getting me upset like a mofo at some joker that deserves it. At some point I will have to squeeze in a bout of insanity to my busy life just to mete out my version of comeuppance.
Until that fateful day arrives I've come up with a quick and easy solution to deal with this problem that keeps gnawing at me, and I'm gonna call it El Dedo. (Yes, The Finger.) What unifies this fine series of posts? Well, the fact that I will give the finger to people, projects, and papers that sorely deserve it! Isn't that kinda petty and juvenile? But of course!
I am equipped to tolerate lots of abuse but I am sick of these posers moving to LA and a few month later deciding to rename the city, calling everything East of where they feel comfortable the "Eastside." We were making some headway on informing these newbies that the Eastside has a long history in Los Angeles and that it begins East of the river but lately there's been another skirmish in that battle with lots of naive offenders once again writing us off the map, thinking they can dismiss El Sereno, Lincoln Heights, and Boyle Heights as being simply part of East LA. Nah fool, we ain't having it.
The honor of the initial post to this series goes to that shitty paper with the even shittier title of "Brand X" which has been consistent in their renaming of the Eastside strategy, even though their mothership the LA Times thinks otherwise.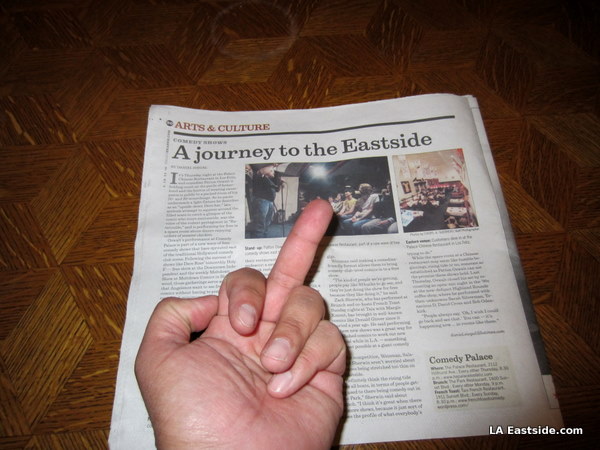 Bland X is the LA Times freebie trying to be hip and relevant to the younger generation, with lots of ads surrounded by fluff articles on fluffy subjects. This issue had ground breaking info on growing tomatoes. And that putting chicken feathers in your hair is a "new" fashion trend. (Won't the natives be surprised!) I don't care about all that garbage too much but I do care when they go on their let's-rename-the-Eastside kick, as they do in this article about some comedy events in Los Feliz and Echo Park.
"I really like the idea of free Eastside great comedy … [the Eastside] hasn't been exploited to where it should be"

–some jerkoff quoted in the paper.
Oh how I have things to tell you! Instead I'm gonna let my finger do the talking.
Toma!
UPDATE!
On the same day I read BlandX talking about the cool club Low End Theory @ The Airliner in "Highland Park" (wrong again BlandX, that's Lincoln Heights!) I find out that they are going under. Ha Ha! El Dedo has Power! Toma!