I was flipping thru the latest issue of the LA Weekly, when I came upon this sad article in which some newbie Canadian gives us his North of that other Border take on LA. Do these people that keep moving to Los Angeles not have any knowledgeable friends here to give them an introduction to the city? Cuz the poor sap wrote his lil' article with some abysmal word choices.
"South-of-the-border folks, Guatemalan or Mexican perhaps, see the sidewalk vending as a livelihood, cooking sausages and onions on a cold Echo Park night…The sausages steamed; the Echo Park clubgoers, unstoppable with their appetite for music (and sausages), were beautiful."
Uh, sir, those be hot dogs. Bacon wrapped to be precise.
You can consider me a friend now, guiding you along as you make your way in and out of LA. And another thing…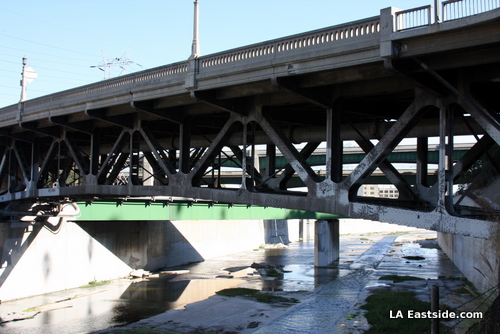 This congregation under the concrete bridge did not exist two years ago, but somebody had rolled the dice on the Eastside. Let's use "Eastside" as a figure of speech for the bad neighborhood with affordable rents. The rise of the Eastside is driven by economy. The more established expensive neighborhoods don't attract newcomers without cash, therefore these newcomers must go to the affordable Eastside. And that's how it starts — the rise of a new scene.
Rise of a new scene? Uh, sir, that is called gentrification.  Your "rise" is another's demise, your affordable is somebody else's priced out. And no, he's not talking about the Eastside and our many bridges, he's talking about Echo Park and Silverlake but since he comes from the reference point of "more established expensive neighborhoods" he has a limited view of the city. Like all the other newbies that think they've seen the urban wilds just cuz they finally see Brown people walking about.
And finally…
The Eastside is made of hopes and dreams, and I like it. The Silver Lake Eastside has a motorcycle customization shop that just popped up, with two guys in it that are great; they're part of an aesthetic awareness that is catching on — some kind of synchronicity at play — where people are more aware of lines, lines of design.(…)The Eastsiders are enjoying the luxury of postmodern times. They want to make improvements and not just have straight-out-of-the-box stock looks.
Egads! Is there really a market for this drivel?
Well, I wish I could be of more service new amigo but I'm off to find my own synchronicity at play. Whatever that is.