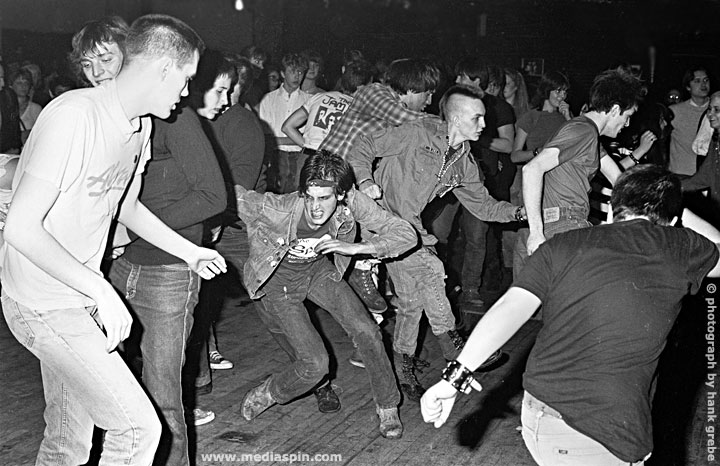 Coming from a decidedly punk background I feel first hand that live music is a physical experience. Usually the music is loud-enough to feel, whether the kick of a bass drum, or the pain in your ears from ringing feedback: there is nothing unsensual about it. I am accustomed to people dancing to music, whether it is "proper" dancing or the sort of dancing you see at punk shows. In the absence of live music I am a rather inanimate person. But when any music comes on this goes out the window.
Hence my general chagrin when I see shows in Los Angeles and most either do not dance or even move. They come, fiddle with their phones, and stand as stoically as possible. Is it a vestige of the image-conscious persona that is hoisted upon Los Angeles? It may be. I have even gone to see bands that I would define as being punk rock, but due to their blog-buzz status, bring people who are not punk-conscious and do not understand the social aspects of this happening. They get angry when someone brushes into them, or glare at those who so dare to dance.
It's something that has irked me for quite some time. If you want to stand still and merely listen (to lively music) why not just do that at home? Stand in front of your stereo and stare emptily.
I do have a penchant for so-called "indie rock" (the worst & undescriptive of musical terms) and see this behaviour most prominently there. Just a few months ago I saw the Dum Dum Girls.
They fall into that en vogue category of "lo-fi" music, with their early recordings being so distorted that chord progressions are hard to make out over the din. It was not but myself and another person that were dancing. The music was energetic and blaring into everyone; and yet the crowd was still. More content with posturing, texting, and photo-taking.
The moment to partake in is now! Not in your post-show blogging or chatter. Such self-alienation is jarring; the lonely crowd stands still. Accustomed to being voyeurs more than participants. I am not a proponent of violent pushing or machismo, but at least a sense of place of, an awareness of the moment. Enrapture! Music has become like a product, to be consumed as tranquilly as a pill (it seems).