Chinatown grocers offer the most inexpensive and tastiest produce in the area, like this sidewalk stand on North Broadway and Ord. Buy your oranges in Chinatown! (click for larger photo)

Botanitas is an ongoing feature bringing you stories and news from various sources, upcoming events and other bits of ephemera that might be of interest to LA Eastside readers. Suggestions welcome!

Thank goodness for Random's Rundown because if you counted on my Botanitas posts to keep your social calendar full, you'd probably end up spending most of your nights at home (like me) due to their infrequency (damn you full-time job with no internet access!)
Time to click ahead for weekend events and Eastside news…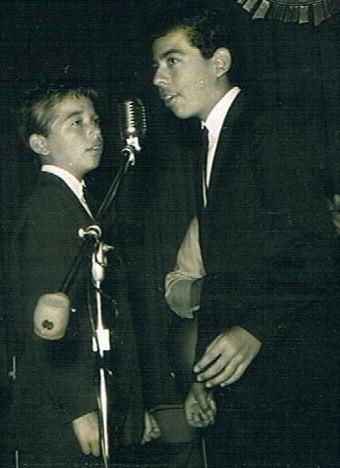 Young Salas Brothers
SALAS BROTHERS TO HOLD FREE CONCERT AT LEVITT PAVILION MACARTHUR PARK
LEGENDARY EAST L.A. BAND REUNITES WITH EMCEE TONY VALDEZ
Saturday, August 21
Conversation with the Artists 6:45 pm; Concert 7:30 pm, "Friend Raiser" 9 p.m.
LOS ANGELES (August 9, 2010) – The Los Angeles Conservancy is proud to partner with Levitt Pavilion MacArthur Park to present a free concert with the renowned Salas Brothers, one of the seminal bands from the golden age of Chicano music in East Los Angeles and founders of Tierra. The concert starts at 7:30 p.m. on Saturday, August 21. At 6:45, brothers Rudy and Steve Salas will reunite with Tony Valdez for an on-stage conversation. Now an award-winning reporter for KTTV-Fox 11, Valdez emceed most of the brothers' concerts in the early to mid-1960s. He will reprise his role for this very special performance.
Rudy and Steve Salas of Lincoln Heights were only thirteen and eleven years old (respectively) in 1964, when they recorded their first single for Eddie Davis, founder of the famous Rampart Records. Blending traditional Mexican music with R&B, salsa, funk, soul, and rock, the duo helped shape the then-burgeoning Eastside Sound, a genre unique to Chicano youth of the 1960s.
The Eastside Sound developed largely in the region's community centers, which served as rehearsal halls and dance venues. The brothers regularly performed at the Catholic Youth Organization (CYO) building in East L.A., now home to Self Help Graphics& Art. This significant building currently faces an uncertain future and is a preservation issue for the Los Angeles Conservancy.
In 1973, the brothers formed the powerhouse Latin funk band, Tierra. The Salas Brothers and Tierra continue to make new music, packing performance venues now just as they did school auditoriums forty years ago.
On August 21, the Salas Brothers will take the stage at Levitt Pavilion in historic MacArthur Park. Music lovers from all corners of Los Angeles will converge on the park for an evening of picnicking, reminiscing, and discovering – or rediscovering – one of the great sounds of Los Angeles.
At 9 p.m. following the concert, a "friend raiser" will take place at the historic La Fonda restaurant at 2501 Wilshire Boulevard, a 1926 landmark designed by the renowned firm of Morgan, Walls, and Clements. Admission to the event is $25, and all proceeds benefit the nonprofit Friends of Levitt Pavilion MacArthur Park. For reservations, call (213) 384.5701 or e-mail info@levittla.org.
The Levitt Pavilion for the Performing Arts is located in the northwest corner of MacArthur Park, near the intersection of West Sixth Street and South Park View Street, across from the Park Plaza Hotel.
More info at the Los Angeles Conservancy website.
That Sneak!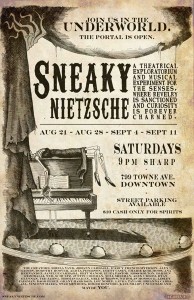 A collective of 25 LA artists will open their new interactive performance piece, SNEAKY NIETZSCHE, to the public on August 21, 2010. The event is an immersive theatrical party and concert, set in an urban forest underworld that has been built within a 6,000 square foot Downtown LA warehouse. The environment is an Exploratorium of sound, lights, music, dance, costume and homemade brews, and will feature an original live music set composed and performed by a fictional band of real musicians, dancers and actors.
Show dates are August 21 – September 11, Saturdays only from 9pm – 11pm.
More info at www.sneakynietzsche.com.

Boyle Heights Paranormal Project
The ghost catchers of the Eastside are putting together outdoor film screenings in creepy places and inviting their fans. The first screening is taking place at Linda Vista Hospital this Friday, August 20 and is already sold out. They promise future screenings will accommodate more attendees. Check their Facebook page for more info.
Fright Night in the Heights Film Fest this Friday at Linda Vista Hospital. Future locations to be announced.
Metro Eastside Phase 2

Metro Eastside Phase 2 project meetings: September 1st and September 2nd, 2010. The meetings will provide the public with information Metro has received during scoping and on-going station planning efforts and the next technical steps of the project.
The following are meeting dates and locations:
Wednesday, September 1, 6-8pm
Montebello Golf Course, Cannoneer Room
901 Via San Clemente
Montebello, CA 90640
Thursday, September 2, 6-8pm
Town Center Hall, Social Hall
11740 Telegraph Rd
Santa Fe Springs, CA 90670
This information is also available on the Metro Eastside Phase 2 Facebook Page.

La Crisis
Hey did you know La Crisis is still in effect? In case you didn't, I always make sure to remind you of the grim economic forecasts in every Botanitas. You can't claim ignorance (unlike the talking head economists).
Without more jobs, consumers will not feel secure enough to spend much money, further slowing the economy. The grim outlook has economists lowering their estimates for growth in the second half of the year. And on Thursday it led to a sell-off on Wall Street led by investors worried that the United States could tumble back into recession.

"Today's news on the economy has been nothing but awful," Paul Ashworth, an economist at Capital Economics, wrote in a note to clients. "The recovery is clearly slowing."
Jobless Claims run to highest level in nine months

Ruben Salazar Files to Finally be Released
Well, only some of the files:
The county counsel's office said records such as those that deal with witness statements, facts and circumstances involving incidents and diagrams of incidents should be disclosed, according to a copy of the report obtained by The Times.

Confidential report says some Ruben Salazar files should be released

Land of a Thousand Dances

Sad news, Richard 'Scar' Lopez lead singer of one of Eastside's most famous bands, Cannibal and the Headhunters passed away yesterday.
Born May 18, 1945, in Los Angeles, Lopez grew up in the Ramona Gardens housing project. He earned the nickname "Scar" at 13 when he received stitches on his head after a gymnatics accident at the Boys Club.

Inspired in part by a black doo-wop group at Lincoln High School, Lopez and Robert Jaramillo decided to start their own singing ensemble. Joe Jaramillo soon joined the group, which called itself Bobby and the Classics and practiced in a converted chicken coop in the Jaramillos' backyard.

After Garcia joined and was made lead singer of what later became known as Cannibal & the Headhunters, they auditioned for Davis.
Richard 'Scar' Lopez dies at 65; founder of East L.A. vocal band Cannibal & the Headhunters
All together now "Na nanana na, na na na na nanana nanana, nana nanaaaa…"
No word yet on memorial services but we will be sure to keep you updated with any information.

Homeboy Industries

Positive announcement regarding Homeboy Industries courtesy of EGP News.
Homeboy Industries recently announced a $100,000 grant from Chevron, presented to the organization to help fund job training programs and services for former gang members and at-risk youth.

Chevron presented the grant to Homeboy Industries founder, Fr. Greg Boyle and several homeboys and homegirls at a small ceremony held at the organization's downtown Los Angeles headquarters.

Homeboy Industries Receives $100,000 Grant from Chevron
::::::::::
Hope everyone has a great weekend!