Its one thing for people to use some of the pictures I put online for their own purposes. A link back is the nice thing to do, though they often forget these basic manners.  But its quite another when some lousy and supposed legitimate "news" racket borrows my stuff and they don't acknowledge the source. And it's even worse when its used for a purpose completely different then the original intent.
Take for example the pricks at Fox 11.

Last night I was watching the news hoping to get some highlights of the days matches, but instead Fox blathers on about Paris Hilton getting busted for pot in South Africa during a World Cup game. Then something about Lindsay Lohan getting punched in the face. You know, important news. And then all of a sudden, Chris Blabford is doing his usual get-tough-on-crime story, this time about someone they are accusing of having delighted many Angelenos with some inspiring freeway cats. Only his angle is the usual law and order bullshit. No surprise there. But what the fuck? Are they using one of my pictures to promote their anti-graffiti agenda? Boo! Hiss!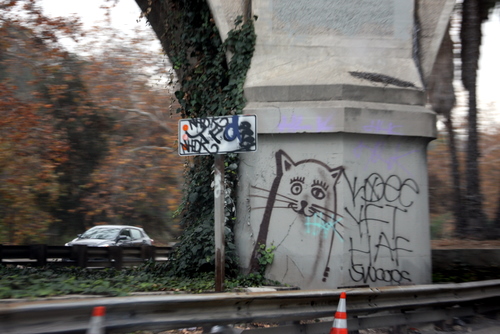 The whole reason for my post featuring the freeway cats was to point out how fun it was to spot them around the next bend, how they added a tiny bit of joy on that commute towards your daily dose of drudgery. None of that popular sentiment was even touched on in this report, just lots of whining about "costing tax payers money" and lame evidence against him just cuz he had some graffiti books in his house. I think what irks me most is that some low life reporter decides to use my picture of a social good to showcase some perceived social evil, turning my positive into a negative. Here's a link to the story, my pic is at the 1:31 mark.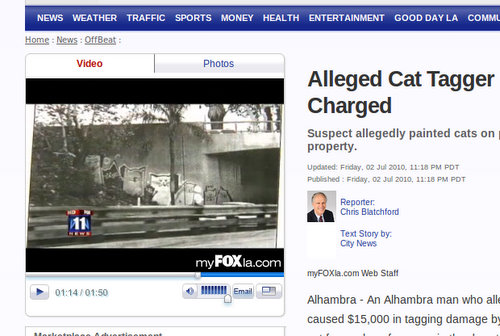 Oh wait, did you use two of my pictures?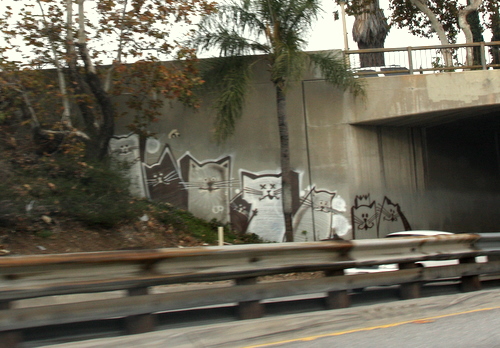 Oh yes you did. Wot an asshole. I don't get bent out of shape when someone takes my stuff online, that's what the internet is for and I know I'm going to resume my own stealing soon enough. But when some figure of moral correctitude starts borrowing my poetic pro-crime tools to advance the agenda of The Man, then it's time to call the fool out!
Done.
So in summary: