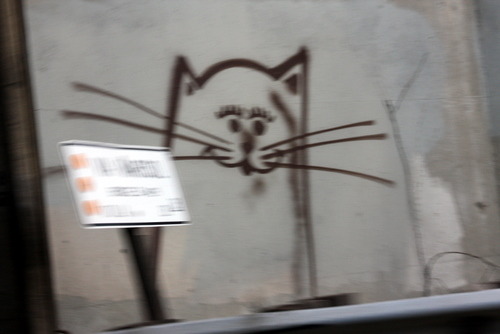 If you've driven up the Pasadena Freeway lately you may have noticed these cats hanging around the asphalt, smiling stupidly as you speed by. And before you know it, yer smiling stupidly as well when you spot the next one, peeking out behind that bush or on the other side of the bridge. Cheap thrills. A tiny visual break from the regular dose of mundane. It's similar to  Leo Limon's River Catz, though I guess these would be Arroyo Gatos. I was able to snap a few pics from a moving vehicle, click ahead to check out a few of the others.
Oh, I forgot to mention that this is graffiti. Terrible, terrible, vandalistic graffiti.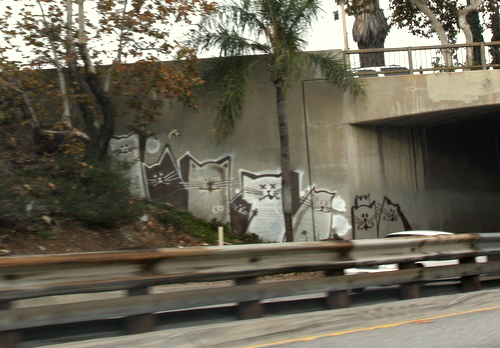 Look at all that adorable law breaking!
Awwwwwwww! Que cute! I love vandalism! I mean cats, yeah, cats.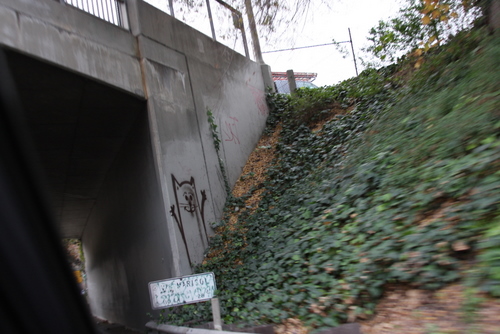 Hooray! We spot one more gatita at play!
Ok, this one has gone too far. That cat is obviously stoned, and that's illegal and cannot be condoned. Unless it has a special medical card. Which is really just a legal loophole for buying pot anyways. But is that legal for cats? And wait just a minute, isn't grafitto still illegal?  How can vandalism be so cute? Maybe we should just legalize graffiti, but that would be really bad for graffiti. Hmm, this is getting complicated. Nevermind, here comes the next kitty…