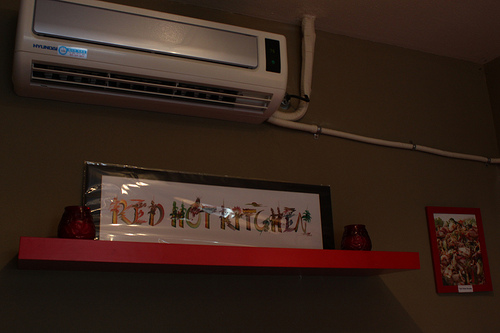 I have yet to eat at the Kogi truck or any of the "new" catering trucks. I will not dare turn my back on my beloved loncheras, so I haven't had the opportunity to taste their food, a fusion of Asian and Mexican, enter The Red Hot Kitchen. I never thought that eating a tofu burrito would be so delicious. And the salsa ? Mathematical.
Whenever I try a new place I always make it a point to bring a friend so we can order different items and give them a try. Enter my friend Kris. That's him wearing that Mr. Rogers sweater, eye balling the menu and wondering what we're gonna eat. I first heard about this place after Victoria D. told me about it and after La Becky and Dewy told her about it. I'm not sure how they found the place, but word of mouth spread far enough.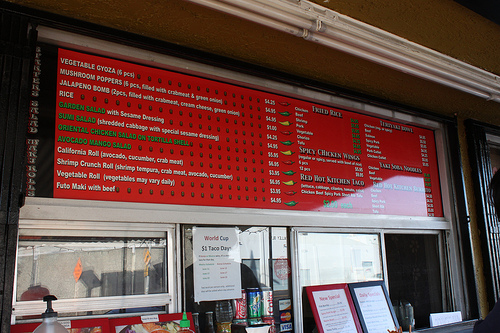 The menu is mouth watering just reading it. They have a little bit of everything from tortas, burritos, sushi rolls, chimichangas, quesadillas, tacos and salads. It's a smorgasbord to say the least.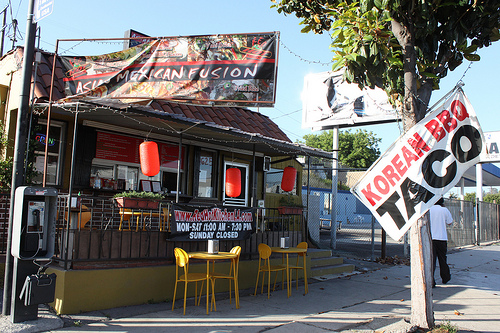 They're location is relatively isolated because they're on Valley and near train tracks and warehouses. Not the best scenery in the world, that's why you can eat outside ….
…. or inside. It's pretty intimate with a few tables and benches around the walls. That's owner John painting a door red. He said the place has been open about 10 months now.
You'll take longer trying to figure out what to order than placing the actual order itself. Even their kitchen is intimate, but great things come in small packages, like me.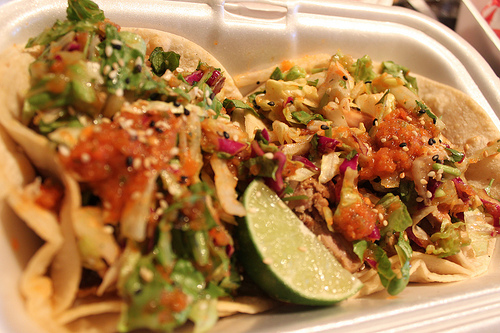 First we had 2 tacos, one chicken and short rib. They also have tofu, spicy pork and beef. The meats were delish and juicy, but what really completed this Asian, Mexican fusion was the different condiments and the house salsa. I have no idea what was in them and I didn't really feel like asking, but it was good. Damn, I'm getting hungry just thinking about it and looking at the pictures. The tacos were also a good size, no short comings there as it spills when you take that first bite.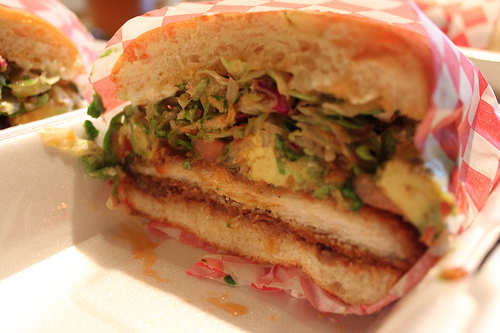 Kris ordered a teriyaki chicken torta. Your slandered torta de milanesa, but again with their own special mix of condiments on top of aguacate, tomatoes, lettuce and all that good stuff that goes into a torta. Kris took a bite and said it was the best torta he's ever had. I ate the other half and while it's not the greatest torta ever, it's up there. Nom, nom, nom ….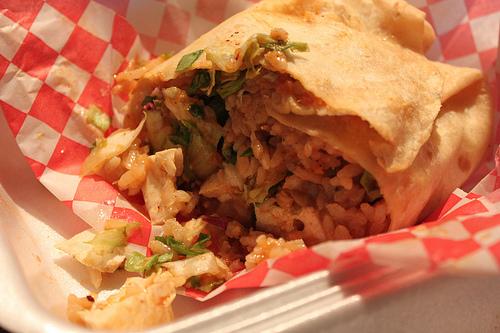 We then split a hearty burrito de tofu. Mmm, mmm. Again, it's the restaurants special blends mixed with tofu and rice. One thing I noticed while eating the torta and burrito was that while they are delicious on their own, adding salso and limon, but with they're powers combined form gluttony. Then topping it off with a Jarritos de tamarindo only elevated my bliss. The hot sauce wasn't scorching hot, but for chile light weights it will make you teary eyed, babies.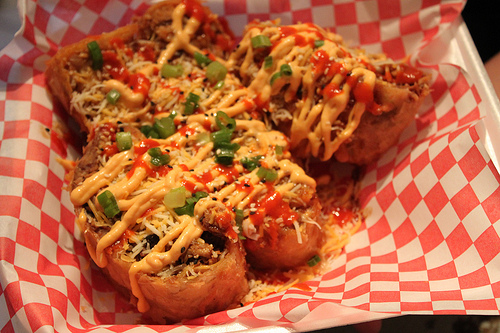 Halfway into our decadence, the cashier showed us this atomic mess that is the chimichangas. It's like an atomic explosion of thousand island dressing, meat and deep fried goodness.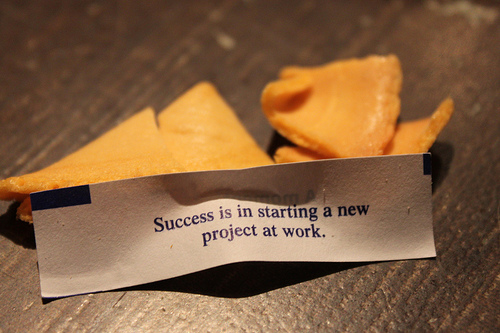 Oddly enough this message made no sense to me because I am currently unemployed. If the cookie meant starting a new project in terms of blogging more, well then I'm all for it because to me, blogging is work, but work that I love and enjoy. I also learned this new joke about reading fortune cookies out loud  and ending with the words, "in bed." Again, it made no sense and it wasn't funny either.
Well, what are you waiting for ? The prices are moderate with nothing over $6. Between teh 2 tacos, torta, burrito and 2 jarritos, we spent $18. Not bad considering we left belching and with over stuffed pansas.