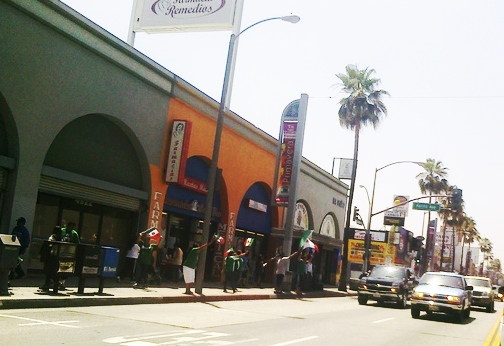 Whittier Blvd, East Los, June 17, 2010. Photo by ciscorocks*
While the fate of the Lakers is still up in the air, there was much celebration around the Eastside today with the stunning win of Mexico over France in today's World Cup game. This win helps Mexico reach the next round, which in turn gets them closer to the almighty World Cup championship.
All over the Eastside, cheers erupted from restaurants, bars and houses for Mexico's two excellent goals. Here at the LA Eastside HQ, the cacophony of twirling, clacking matracas resounded through the streets. Who needs vuvuzelas?
Many commented on how June 17th is our new Cinco de Mayo, the day Mexico defeated the French at La Batalla de Puebla.
If Lakers manage to pull through, expect more celebrating folks to spill onto Whittier Blvd to celebrate tonight. LAPD has already shutdown buses along the boulevard.
*ciscorocks tweeted earlier "RAIDERS NATION is gonna be amped for the LAKERS championship if Mexico wins!" We love it, only in Los Angeles!
UPDATE: Lakers win! (I don't like basketball but I do love happy Angelenos!)
Huntington Park: Crowds on Pacific Blvd get police attention and dispersal this afternoon.