This weekend, The L.A. Works program, along with hundreds of volunteers from the community were in Cypress Park cleaning up the neighborhood. They were painting and planting plants at three neighborhood schools, cleaned up graffiti from store-fronts. Artist Raul Gonzalez, Ana Castillo, who's art work is currently on exhibit inside Antigua, and Carlos Callejo were also commissioned to paint a mural at Antigua, receiving help from other artist and volunteers as they painted the wall this weekend.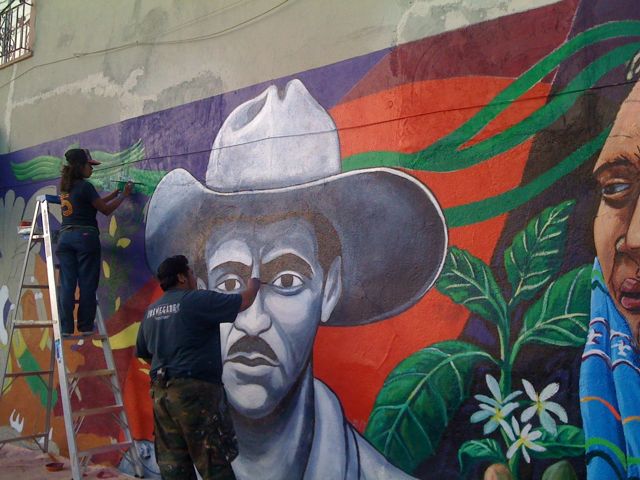 The mural, "Queremos Justicia, Respeto, Paz y Dignidad," is of Salvadorian activist Augustín Farabundo Martí Rodríguez. I wasn't able to attended the event, but I did stop by toward the end of the day to get my Mayan Moca on and to see the fruits of their labor.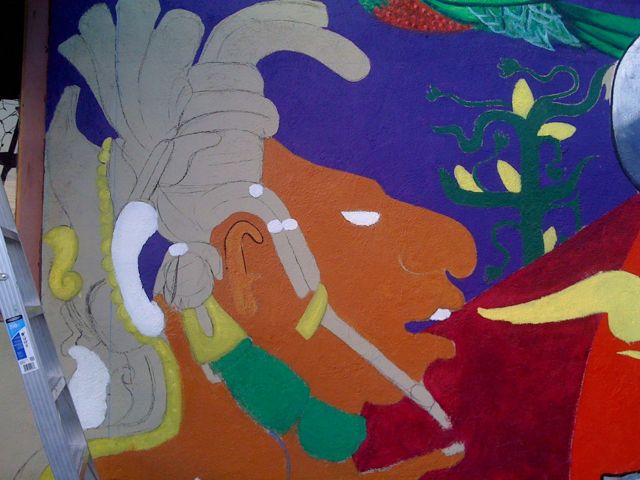 Go check out the mural for yourself next time you're in Cypress Park getting you java on. It's a beautiful piece that adds some great character to an already great coffee house and barrio. There's also a nice visual vibe going on with the graff across the street.
~ Photo by Raul Gonzalez
"Cuando la historia no se puede escribir con la pluma, entonces debe escribirse con el fusil".- Farabundo Marti