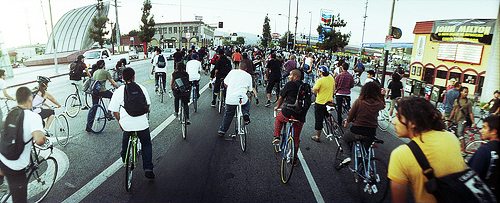 Yes, I ride a track bike. I have for 3 years now. I'd rather have a nice ten-speed these days but I don't have the money for that kind of purchase right now.
But interestingly enough I have noticed a surge in "fixed-gear" bicycles (and bicycles in general) in the Eastside in general; and being that I live in El Sereno & work in Lincoln Heights, my perceptions arise from these neighborhoods. I have been a bicycle-commuter (& bus commuter) to get to work & school pretty steadily for almost 5 years now. As a young kid I used to get around by bicycle & bus too, but typcial of Los Angeles kids, I started driving as soon as could! Once I grew tired of driving and became aware of the social, environmental, health repurcussions due to car culture I sought to abandon it (though I am no anti-car evangelical!).
At work (a local high scool), I would often be asked why I did not drive a car; most students would see me walk onto the campus with my bicycle. I would say the usual environmental, social, political, and economic reasons: still most 16 years old are baffled when an adult doesn't drive. I get the same response when I tell them I don't have a TV at home. For them a car is equated with freedom of movement: anyone that has driven in Los Angeles for a few years knows that this myth slowly erodes…
These days I get asked pretty frequently where I got my bicycle, how much I payed for it, and if I ride in a crew. No, I don't ride in a crew. I'm not interested in social cliques, so if I happen to ride in a group it's usually just a few close friends. I associate much of the fixed-gear bicycles in LH due to the influence of TV Bicycles that opened up recently on Broadway. Out there I see lots of youngin's with their bicycles, talking & hanging out.
Now I know that getting around by bicycle is common for all sorts of people in the Eastside without appeals to coolness or evironmentalism, but because of real economic reasons. I'm always amazed by our Eastside environmentalists hook-ing up their own bikes with ways to lug all their cans, bottles to the recycling spot on Broadway & Griffin: true resourcefullness!
Back to the bicycles: has the fixie replaced the cool of skateboards? I'm into it because I've never been into skateboarding; this is probably due to my inability of being able to balance myself on one. As a young punk most of my friends were skateboarding, and I was forced to watch hours of underground skateboarding videos in the early 90s. I would ridicule their UGLY skateboarding shoes, but as all things go: they later became very popular.
Recently in Echo Park I saw a critical mass roll by: say what you will, but I was happily surprised to see the huge numbers of Chican@ kids on bicycles rolling by! And they look much cooler than hipsters. And they always will.
[Thanks to Aunty Laurie for letting me use the second photo]