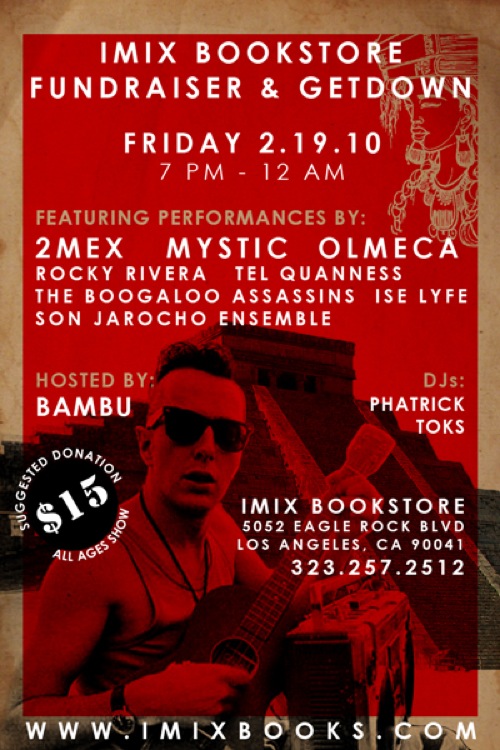 IMIX Books has been open for about 6 years and has served the community extremely well. But times are very tough and we need your help. A fundraiser is being held on Friday February 19th.
I met the owner, Elisa, when she worked at Premiere Aztlan in the Montebello Town Center more than 10 years ago. We have been good friends ever since. This woman is dedicated to books and to the community. She worked at Sisterhood Books, Midnight Special Books, Premiere Aztlan, etc. Remember those places? She later had a space at Mercado La Paloma off 37th and S. Grand. She then opened IMIX Bookstore in Eagle Rock and has provided an invaluable community resource. Besides a fine selection of literature and progressive titles, how many artists has this bookstore helped?
In these desperate economic times, mom and pop stores are hit the hardest. IMIX is one of the last independent bookstores in the ELA/NELA area. In fact, all the bookstores where she was once employed are gone. We will not let IMIX Books suffer the same fate, will we? Our community helps our own, right? See you there.
Suggested Donation is 15$ (sliding scale). No one will be turned away at the door. Children free!!
*Note: you can also donate here*
**chimatli wrote about IMIX here.
***flyer borrowed from DJ Phatrick