Albion Dairy River Park Conceptual Plan – Option A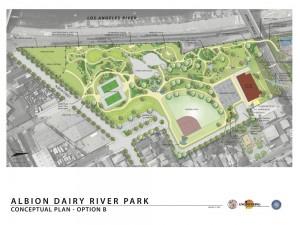 Albion Dairy River Park Conceptual Plan – Option B
Lincoln Heights is getting a new park and from the looks of it, a quite large one. The city purchased a large parcel of land adjacent to the Los Angeles River, formerly a distribution center for the Swiss Dairy Company and is now in the planning stages of the new park development.
I attended a community input meeting a few weeks ago where residents were invited to offer suggestions on park amenities and activities. Unfortunately, I missed most of the presentation but the conceptual plans look promising. I'm especially happy to see the inclusion of a stream through the park. Los Angeles has treated it's natural waterways with a distinct lack of respect and any park sitting next to the river should pay homage to water that once flowed free.
Next meeting: Thursday, January 28, 2010 (6:30PM – 8:30PM) at the Downey Recreation Center 1172 N Spring St. Lincoln Heights
Please see Albion Park website for more info.