I've never seen an Andy Warhol up close and person. Eh, I've never been a fan of anything "pop," except for the kind fizzy kind. I saw it at the L.A. Art show. It's aight, I would do a post, but I'm kinda tired right now, so bear with me until I get to it later. Probably after the show ends. If you wanna check it out, go to goldstar and get $10 tickets like I did. However, there are some other great events happening this weekend that are worth mentioning besides the Anarchist book fair. You won't be disappointed. And in the spirit of Art month, go out and get your art on.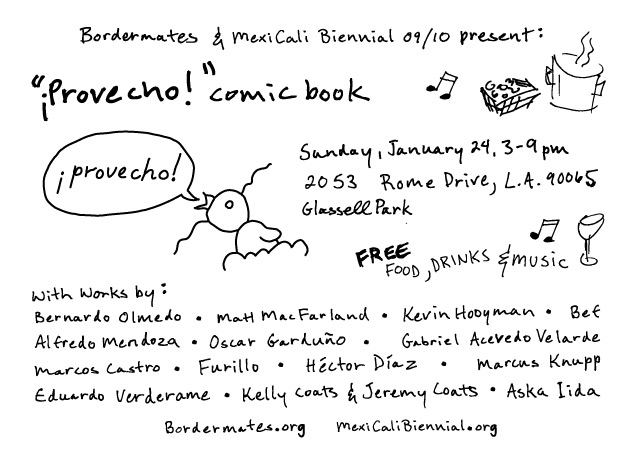 I already have my Saturday planned, rain or shine so you're own your own there. Sunday, that's a different story. Thanks to VD for giving me the heads up.
As part of the programming for the MexiCali Biennial 09/10, Bordermates invites you to celebrate the presentation of ¡Provecho!, a comic book featuring the work of 14 artists from 6 different countries.
Sunday, January 24, from 3pm to 9pm
2053 Rome Drive, Los Angeles 90065 (Glassell Park)
¡Provecho! contributers:
Bernardo Olmedo (MX), Matt MacFarland (EU) , Kevin Hooyman (EU), Alfredo Mendoza (MX)
Oscar Garduño (MX), Gabriel Acevedo Velarde (PE), Bef (MX), Marcos Castro (MX)
Furillo (ES), Héctor Díaz (MX), Marcus Knupp (EU), Eduardo Verderame (BR)
Kelly Coats & Jeremy Coats (EU), Aska Iida (JP)
Join us for food, drinks and music!
Bordermates (est. 2002) is a Mexico City-based independent artist collective who organize events in sites of social coexistence such as restaurants, bars, parking lots, etc., with a continual emphasis on intervention, food and temporality.
In 2005, a selection of artists from the U.S., Mexico and abroad – whose work is based in or inspired by comic strip and/or cartoon illustration – were invited to submit work for a publication based on the peculiarities of a specific café/bar/diner or on the subject of food consumption in general. In conjunction with Mexicali Biennial 09/10 Bordermates have completed the publication with several new submissions.
I'm totally going to make it out to this edition of books and beer just for Linda. I read some of her stuff and I loved it. I told her it was like reading about myself from her perspective. Her and Rafa, he's good too.
I read both Huizitzilin and the Memories of Ana Calderon my senior year at Roosevelt. I also think that I had City Terrace as a teacher once too. Small world. That's why I'm excited that Graciela Limon is gonna be at the East L.A. County Library Monday. I've always wanted to meet her and since I missed her at the Cal State L.A. book fair, I am not going to let this opportunity pass me by. And there you have it. In case you didn't have anything to do Sunday and Monday, now you have some options. See you in the funny pages.
Meet the Authors: Magic and Realism East Los Angeles Library and Los Amigos present writers Graciela Limon and Daniel Olivas, who will discuss magic and realism in contemporary Chicano literature. A reception and book signing will highlight the evening.