If it's one thing I've learned in life is that you don't fuck with the Police. When interacting with standered issued street soldiers, you gotta be honest, to the point and most importantly not shoot at them. Ever. As of noon today, LAPD officers involved in a drug bust, possibly at a home on Michigan and Matthews NOT CONFIRMED, were shot at. I CAN'T CONFIRM that officers were hit, just shot at. However, considering that everything is on lock down from Wabash all along Mott all the way through Michigan. Then all along Michigan through Breed st. Then all along Breed up to Cesar Chavez continuing along Chavez to Fairmount, with traffic diverted all along First st. and Wabash. They got everything on lock down son. Now that you know what's up, here's some pics and my twitter feed as I made my way to First st. passing by and seeing all the craziness unfold.
First my tweets as I made my way through the streets :
~ 5-0 is all up in Boyle heights right now closing off blocks and checking peoples trunks !! about 4 hours ago from txt
~ They have everything closed from Chavez all the way to wabash about 3 hours ago from txt
~ Then it's closes off from Mott going to soto about 3 hours ago from txt
~ They ain't playing. They got 2 ghetto birds at once flying up and down about 3 hours ago from txt
~ It's a drive by that happened on Matthews/Michigan. It's been heated here lately #eastla
~ Ambulances, K-9 units and detectives all rolling through fudge !! about 3 hours ago from txt
~ A few unmarked white trucks rolled by in hurry. What got killed I've never seen so many cops about 3 hours ago from txt
~ AVOID BOYLE HEIGHTS right now. Traffic jams everywhere being diverted to 1st #eastla
~ 2 more detective Cars rushed outta hollenbeck police station about 3 hours ago from txt
~ There go two more detective Cars about 3 hours ago from txt
~ And another about 3 hours ago from txt
~ And another 2 more about 3 hours ago from txt
~ Turns out there was a drug bust & cops were shot at via @wendycarrillo about 3 hours ago from txt
~ Boyle Heights on Lock down, writing the blog post as we speak, but first some cafe and pan to get me going 🙂 21 minutes ago from web
I was meeting up with someone and by the time we finished it was 3 p.m. Ironically, during our meeting we talked about how on LAeastside I unofficially became one of the main, if not only people reporting out of Boyle Heights and what's going down. It's my home after all.
As I mentioned before, the LAPD had whole blocks closed of with no one allowed to go in, only out. This all started at noon and it was still in full affect when I was making my way across BH. A lot of people gathered on corners and other spots, waiting for the cops to let them get through. This totally sucked because kids are already getting out of school and it's raining out.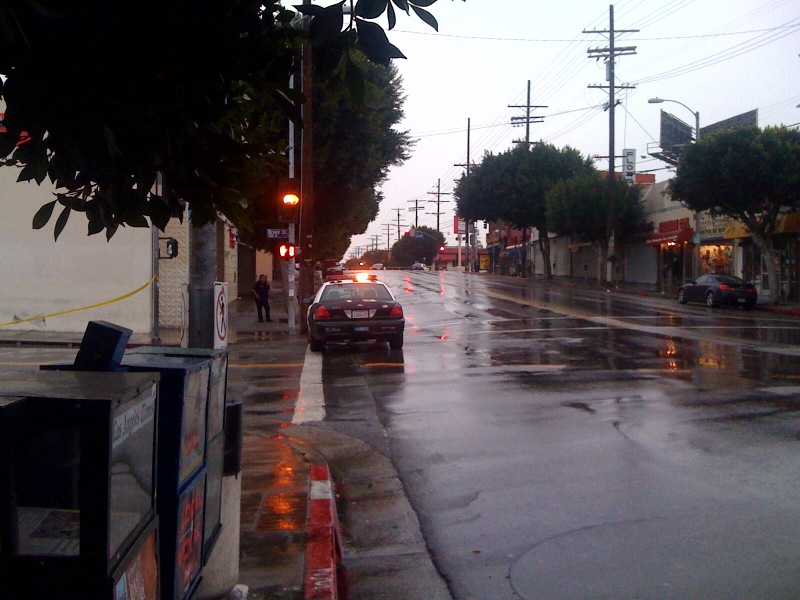 Even businesses got shut down. I wanted to go to the bank and get some money, but no dice. It's always interesting to be a fly on the wall with the crowds because of the banter that goes on among all the neighbors. They all whisper and banter among each other about what happened and when it'll be over. They all swap stories of other times in which lock downs have taken place. No one is new to this song and dance.
See ? what else is there to do if the cops don't let you go home or about your business. You huddle in a group and gossip among yourselves, that's what you do. It's what brings a community together, gossip and the cops.
Sheridan Elementry was also on lock down with a heavy police presence. This must have gotten a lot of parents picking up their kids nervous. As I walked along, every time I would stop to take pics, near by officers would eye ball me and wonder what they hell was I doing. Since everything was closed off I had to navigate the back streets in order to get home, even though at every block there was a cop cruiser and an officer telling me that they don't know when the lock down is going to be over and that my only option is to wait it out. Pfft silly cops, I made it home despite the lock down hahah whadaya know about that huh ? Although it makes me think that if I could get through them, then the people they're looking for might get through too. This has been El Random Hero reporting live from Boyle Heights, back to you in the studio Tom.