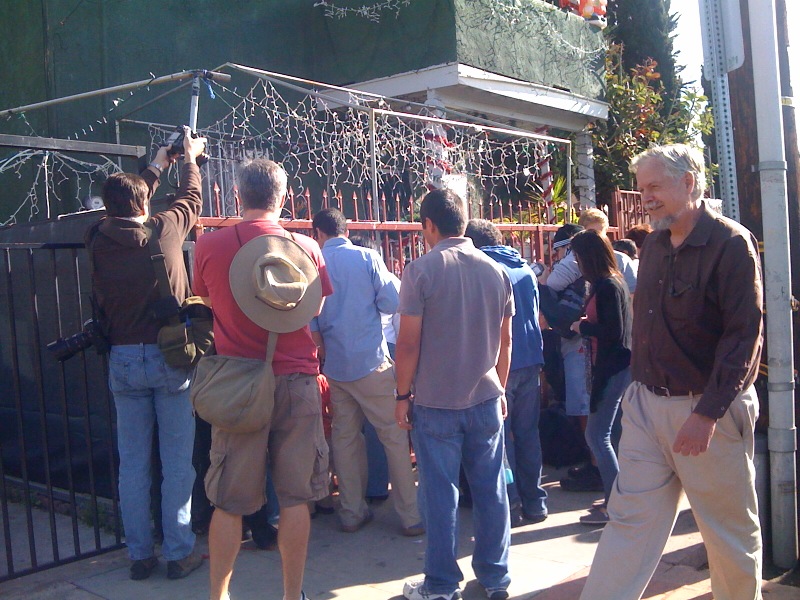 Bad ass urban planner James Rojas, co founder of the Latino Urban Forum, guided angelinos on a tour of nacimiento altars located throughout East L.A. Apparently, from what Victoria D. told me, this is the 8th year he's doing this and with the gold line up and running, he opted to guide us to adjacent nacimiento altars at various stops. She said that in previous years, the tour was given on bikes. I for one was excited to go on the tour out of curiosity of what the tour would involve, what we would see and expanding my mind to new ideas and concepts and guess what ? Since VD took some pics, you get to come along too. I'll be your online tour guide of a tour I was part of. Isn't that kick ass ? You bet your ass it is. I seem to be using the word ass a lot. Sorry 🙂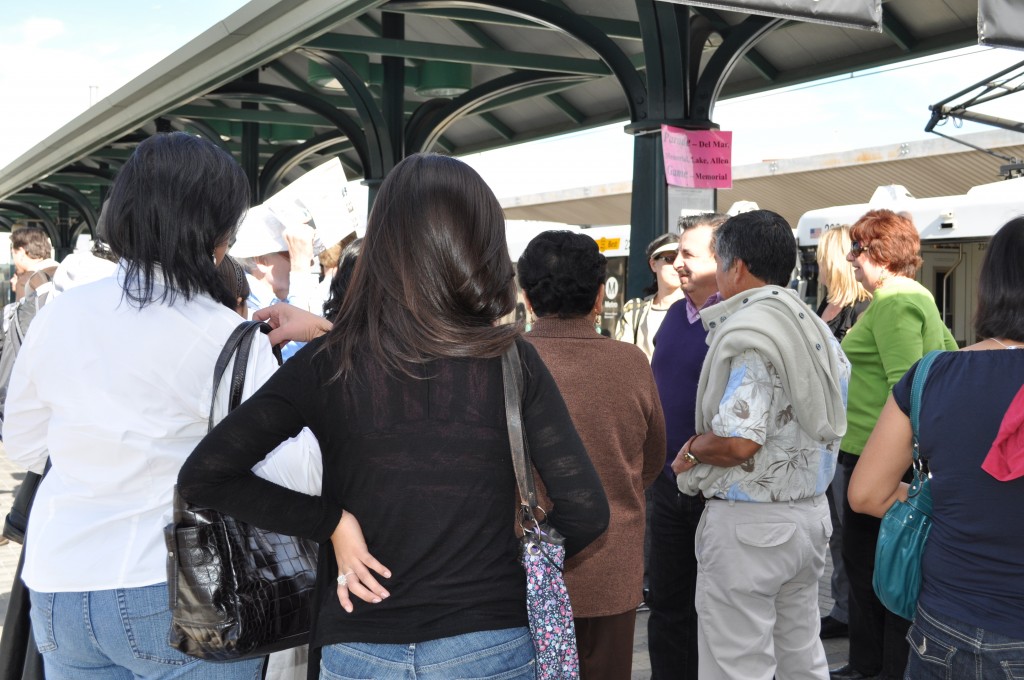 The tour started out at Union Station so everyone could meet up and gather around before we headed out. The tour is meant to, "celebrate the public display of these communities' creative handy work, highlighting both nacimientos and shrines to Our Lady of Guadalupe. Designed and installed with great care and artistry, these displays adorn the front yards, porches, roofs, and living rooms of homes" explains Rajas. There was a good turn out and it was safe to say that everyone on the tour was excited.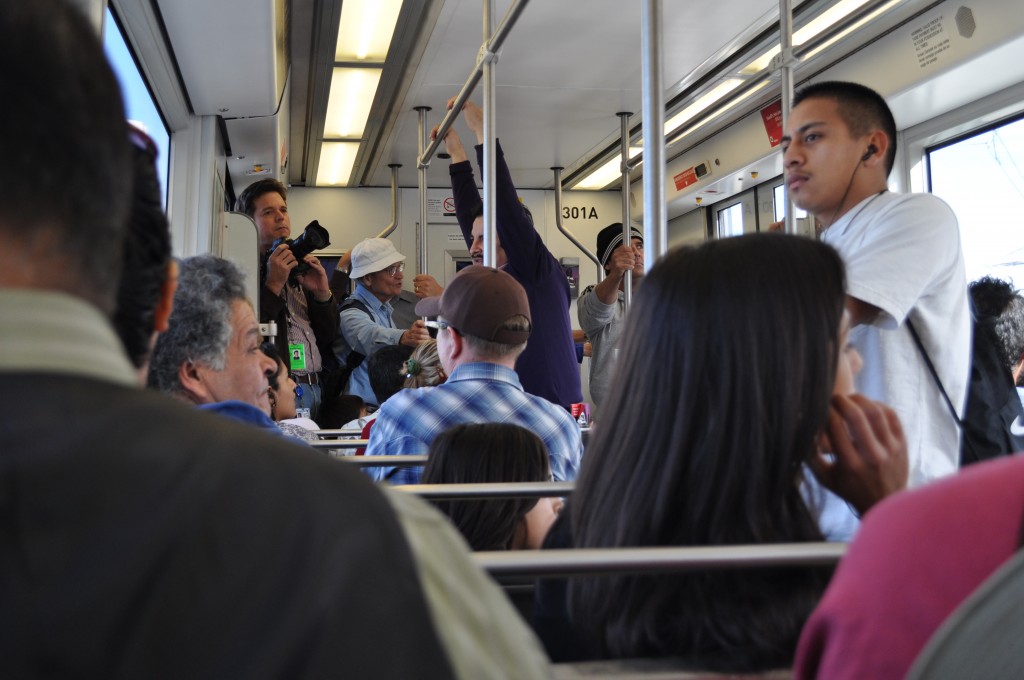 Considering there were quite a few people on the tour, we filled up each car we boarded and took every seat. Much to the shagrin of the guy in the pic having to stand during our time on the train to our first stop at Pico Aliso. Or maybe he really wasn't mad and that's just how he normally is. Hmm I make that same face when I ride the bus sometimes.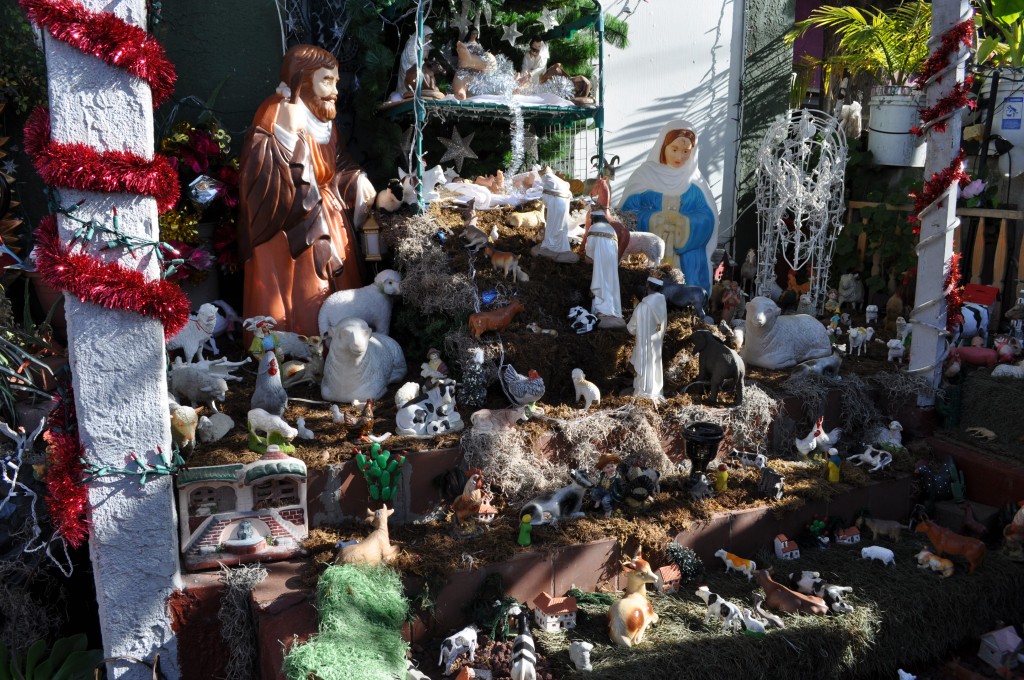 James gave a great breakdown of the nacimientos in regard to the Latino/a community and interesting tidbits of history at the same time. This was an elaborate display with various figures of animals all over the place. From time to time though, you will get some nacimientos that have pokemon figures or random action figures like power rangers kids trying to contribute. No luck here.
Here's a pic of a family I snapped as we walked back to the station. Much like their neighbors, they were wondering what this mob of people were doing on a Sunday afternoon walking around East Los, going all paparazzi for a nacimiento and then leaving.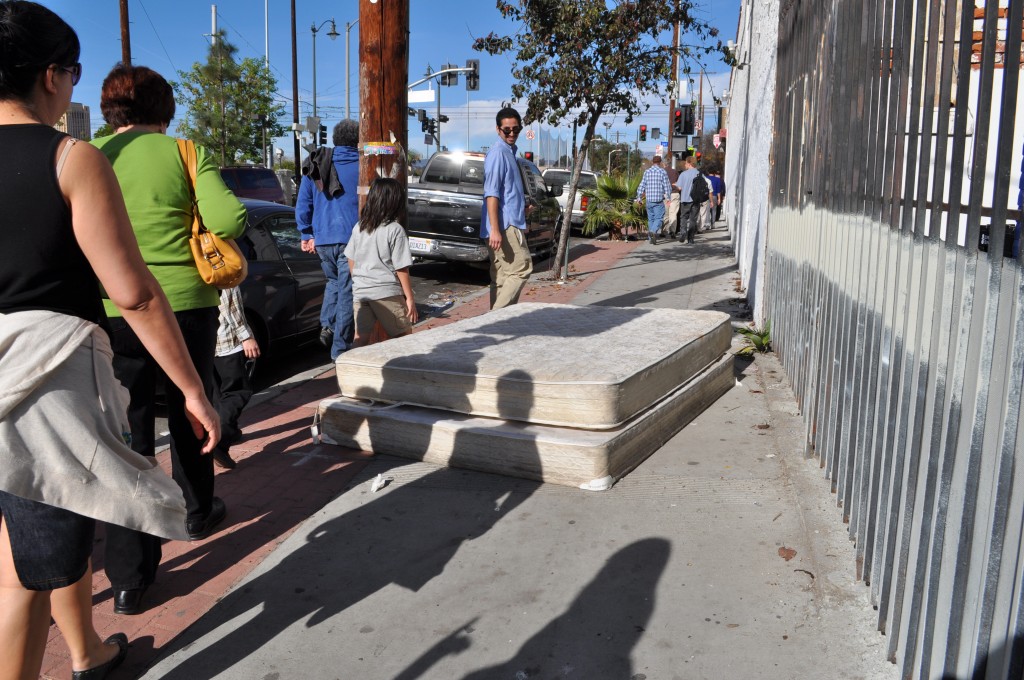 There were also some random colchones on the side walk that someone threw out. Everyone walked around them and ignored them.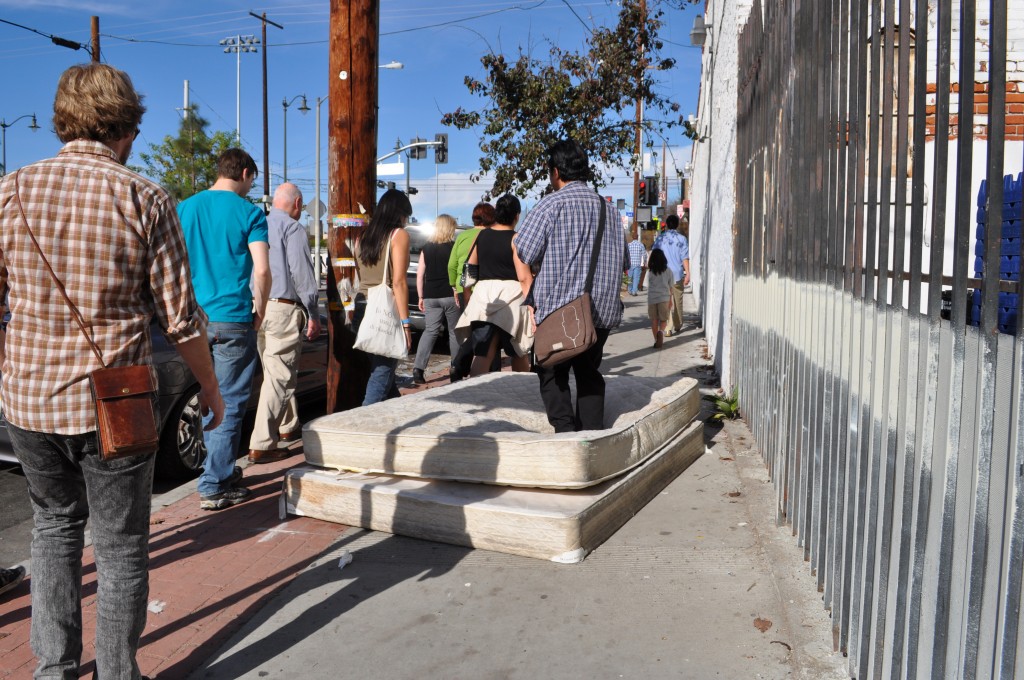 I on the other hand know that when you see colchones in your way, you don't walk around them, you jump over them a few times and then continue on your marry way.
Here's shot of some of the people and of my unshaven mug. We saw a lot of friendly faces on the tour like Adrain Rivas of Gallery 727 and his fiance Pilar Thomkins, curator for the Vex Punk show that was at the Claremount Museum.  But I never expected to run into fellow LAeastside blogger Art on the tour. As soon as we met up he knew it was me without ever meeting. This happens a lot. So much for that secret identity. Ohh well. It was great running into him, even though it was toward at the end of the tour.
We stopped by Mariachi Plaza before heading to the next stop. Did you know that back in the day, this use to be a donut shop were the mariachis congregated ?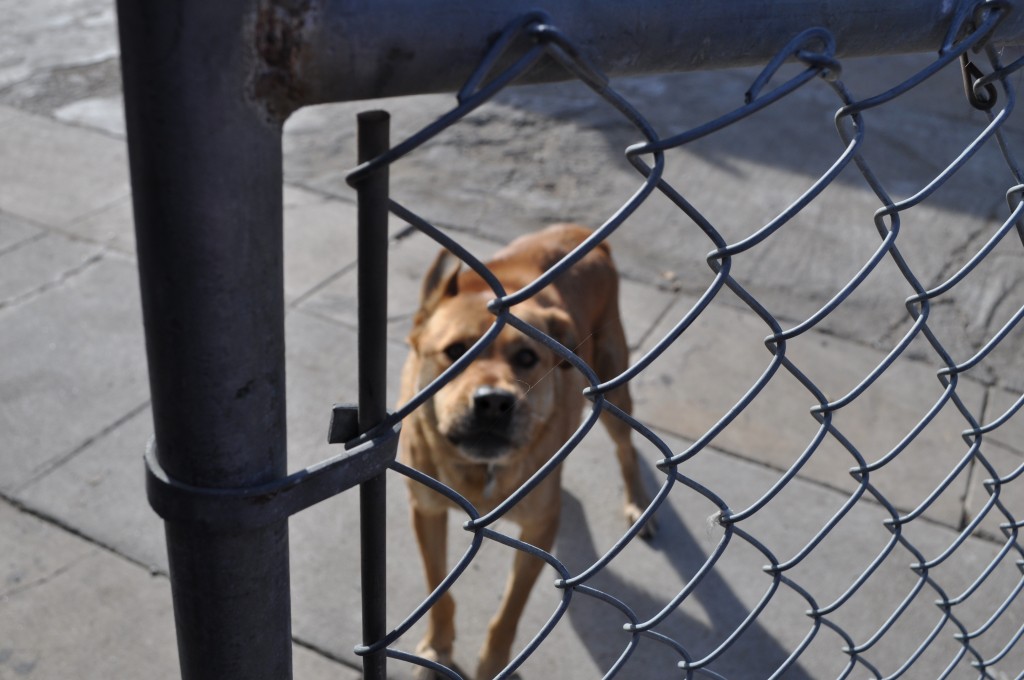 The welcome wagon was also out in full force. There's almost no place in East Los where dogs will be barking their heads off at you. This one weenier dog tried to snap my face off when I tried to pet him. He's lucky I didn't take a bite out of him.
At the second nacimiento, there was more focus on La Virgen. Rojas explained her role again the Latino/a community because of church, people praying to her and all that good stuff. He did however leave out that here in the U.S. specifically, a lot of residents also create these altars to give thanks to the Virgen for watching over them and loved ones who immigrated here.
At the next stop we made our way past dead mans curve from Indiana Station and headed to the Mercadito were I took the opportunity to grab some fresas con crema. Mmm all the while Rojas gave some of the history of the Mercadito as an alternative to placita Olvera and how it has grown into THE place to find Mexican  nick knacks that you can't find anywhere else in L.A. He also talked about how he was able to get that soft rubber padding on the Evergreen Cemetery a few years back for the betterment of the community residents, like me. He also added that with the goldline down the street, it would bring in more people and have them commute via the train, rather than driving because the parking lot is a nightmare.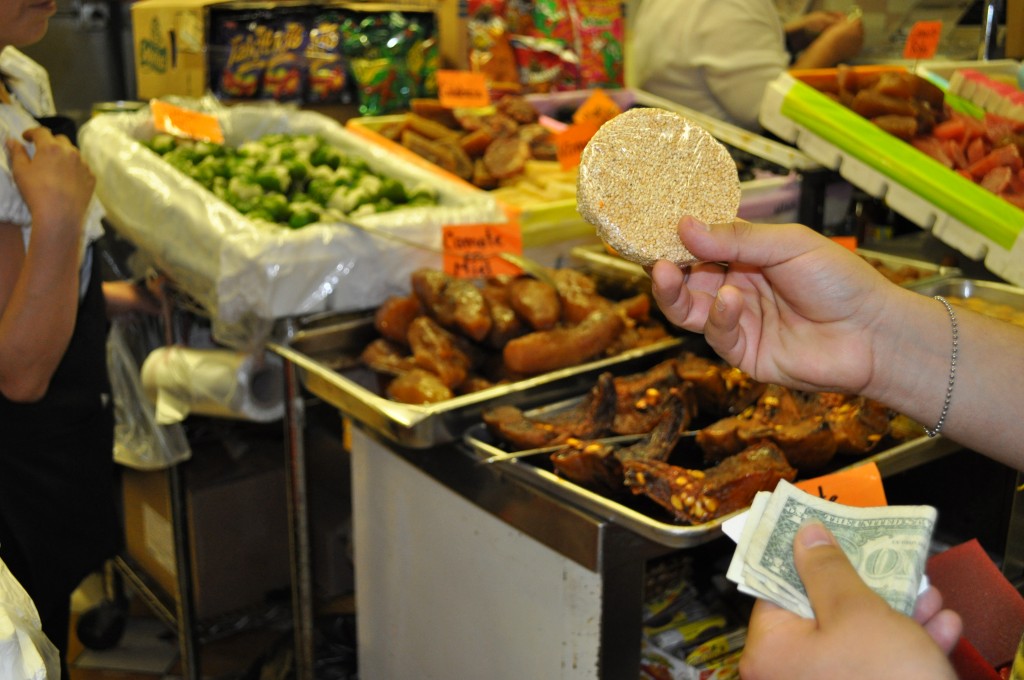 Since we made our way through the Mercadito, I opted to buy one of those patties made out of seeds. Think of it as a tasty rice cake with more flavor. I gotta admit that much like when we were walking through the neighborhoods and getting inquisitive looks from neighbors, we got those same looks from families eating and shopping. And in turn, since some of the people on the tour aren't East L.A. natives and probably haven't been inside the Mercadito so it was almost culture shock when they stepped in there. Watching the reactions to the surroundings from both sides was pretty cool.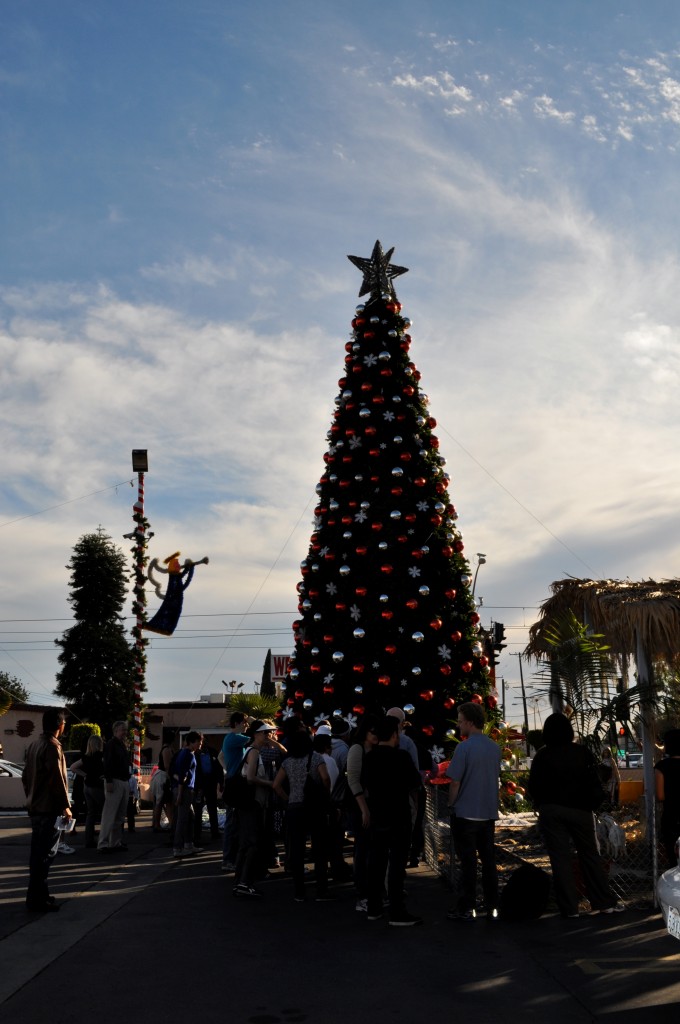 The last stop on the tour was at the King Taco station, err I mean Marravilla Station. We checked out the nacimiento and big ass christmas tree at the parking lot across from the restaurant.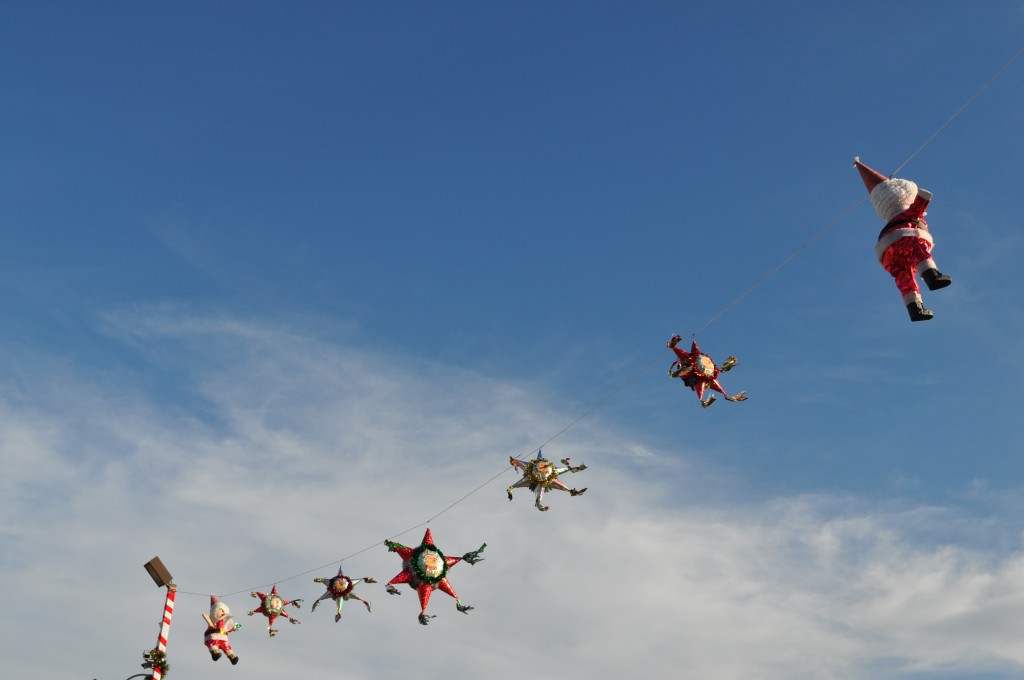 They had all these cool pinatas hanging and while the temptation to grab a stick and take a wack at them came up, they were way too high for that. Still cool though.
A nice shot of the back and all the people , sad that the tour is over.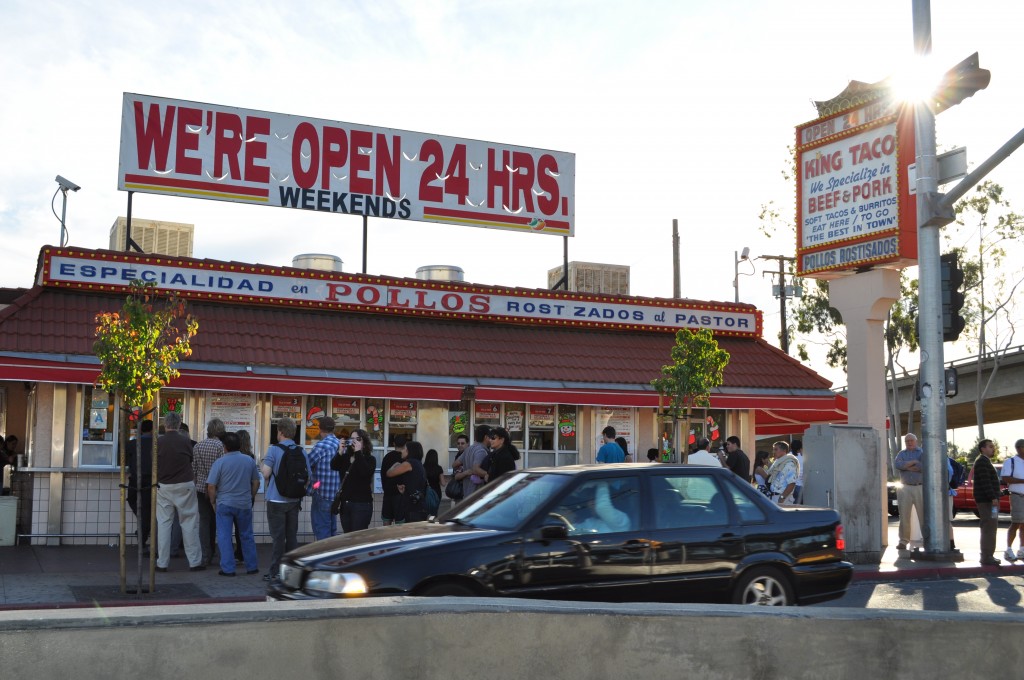 After it was all said and done, everyone got their taco on, but since VD is a veggy head and her feet hurt we called it a day. Over all the tour was great and it was a nice way to spend a Sunday afternoon. With the goldline up and running I wish there would be more tours like this.