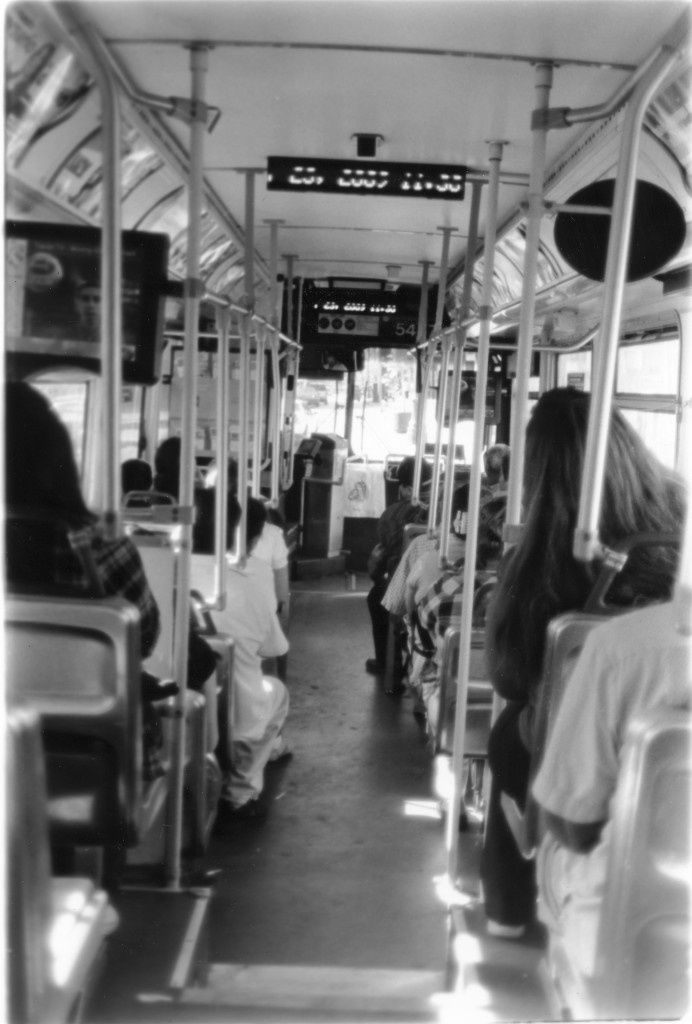 Is it me  or am I doing these, "go check this out this weekend" post more and more often. It's just me because these are all events YOU HAVE TO GO CHECK OUT THIS WEEKEND. I'm serious. A lot of them are free or relatively free. This weekend though, I will be part of one 🙂 See that picture of people on the bus, I made that 🙂 No too shabby if I say soo myself. The event where my stuff will be on sale is on the list of events so check it out if you can 🙂 The list is going to be broken down by day, since these events are  starting Thursday and ending on Sunday.
Thursday
Did you ever want to meet pro-skater Rob Dyrdek of MTV fame ? Me neither, but this Thursday you'll get the opportunity to see him do his thing as council member Jose Huizar, and Rod open up the new and improved Hollenbeck Skate Park, which has been renamed, "The Boyle Heights Skate Plaza." (If you wanna know that the park looked like before, click here to see my photo-essay.) From the council members press release, because copying and pasting is easier than paraphrasing, "Skateboarding Champion Rob Dyrdek, star of MTVs Rob Dyrdeks Fantasy Factory Huizar will join up with some of the biggest skateboarding stars in the business to celebrate the Grand Opening of a $350,000 state-of-the-art skate plaza in Boyle Heights. The Safe Spot Skate Spot at Hollenbeck Park will officially open at 3:30 p.m. Dec. 17, 2009, and will include free giveaways, including skateboards autographed by Dyrdek, as well as skateboarding demonstrations by Dyrdek and friends. This public/private partnership came to fruition after the Rob Dyrdek Skate Plaza Foundation provided $75,000 to design and assist in construction and Councilmember Huizar matched Dyrdeks $75,000 and worked with the Department of Recreation and Parks to secure an additional $200,000 in funding to complete the construction and landscaping improvements for the new skate park. The result is a 14,000-square-foot, tri-level skate plaza that is already being called one of the nations premier public skating venues."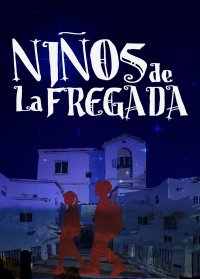 ~ Company of Angels & East LA Community Corporation present CAMINO A LA POSADA / An end of the year celebration.
Come & Enjoy: Theater, Music, Food, Games and take a Piñata. Bring your favorite plate of food to share with your neighbors.
Theater Presentation: Niños de la Fregada
Written and directed by Mariella Saba in collaboration
with Boyle Height's children, youth, and mothers.
With exceptional contributions from Carlos Herrera, Miguel Iniguez, Sara Obeso, Jazmin Piedra, Yatziri Piedra, Michelle Queta, Guillermo Tapia, and Raymundo Herrera
In these tough times when there's plenty of money for prisons, more troops, new wars, and big screen TVs, low income communities struggle with the difficult consequences of injustices. Children and youth are especially affected. "La Fregada" can refer to the current economy, oppressed peoples, and the undocumented woman working in the garment industry in Los Angeles. This is a story told by the children of "La Fregada."
Camino a la Posada is a celebration of the journeys residents undertake to bring programs and services to our community. These resources help support our efforts to create healthy and happy households in hard economic times.
Wednesday, December 16, 2009 at 6pm (TODAY)Â Â Â Â Â  Thursday, December 17, 2009 at 5pm
Lorena Terrace                                                                                       Kern Villa
611 S. Lorena St                                                                          202 N. Kern Ave (Cross Street: 1st Street)
Los Angeles CA 90023Â Â Â Â Â Â Â Â Â Â Â Â Â Â Â Â Â Â Â Â Â Â Â Â Â Â Â Â Â Â Â Â Â Â Â Â Â Â Â Â Â Â Â Â Â Â Â Â Â Â Â Â Â Â Â Â Â Â Â  Los Angeles, CA 90022
Friday
"Ey. I know you don't smoke weed, I know this. But I'ma get you high today cause, it's Friday, you ain't got no job, and you ain't got shit to do. "
Join us to launch a community cultural center at 2003 East 1st St., in the heart of the Boyle Heights Arts District. A collective of concerned artists and activists have stepped in to help save the space formerly known as Brooklyn & Boyle: A Literary and Artistic Salón. We invite you to help us inaugurate a new year and a new season at Corazón del Pueblo: Arts, Education & Action Collective. The first in an on ongoing series of Bohemian Nights in Boyle Heights, the festivities will feature music by the legendary WIlly Herron (Los Ilegals) & the illustrious SId Medina (The Brat) as well as spoken word by GLoria Alvarez, Ruben Mendoza, Ruben "Funkahuatl" Guevara and many more, teatro, dance, open mic and conciencia/consciousness. Please come out and support Eastside arts and artists as we highlight homegrown & the truest grassroots creativity that has made the community a cultural destination and ground zero for LA's Latino culture for generations.
Friday, December 18th
9 pm – ???
2003 East 1st St.
Los Angeles, CA 90033
323.780.9089
Saturday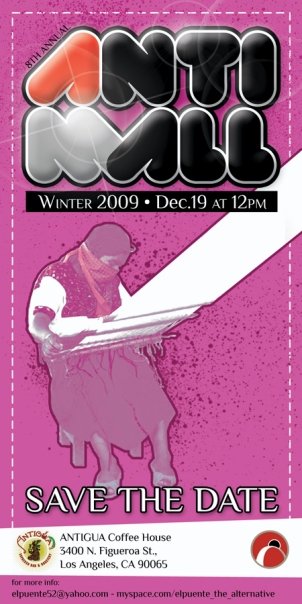 8th ANNUAL ANTIMALL /BLOCK PARTY
"People before Profit"
Antigua Coffee House joins forces with El Puente Hacia La Esperanza to bring you this Winter's…
SATURDAY, DECEMBER 19th, 2009
12pm-7pm
Free Family Event
Live Music, Surprise Guests, Food, Toy Give-Away, Free Coffee, Family & Fun
ANTIMALLERS INCLUDE:
Ana Guajardo/Los Switcheros
Araceli Silva~Becky Rodriguez/South Wind Designs~Daisy Tonantzin/Yerberia Mayahuel
Lisa Rocha/Ilaments~Imix Bookstore
Javier Orozco~Joseph Galarza/Toltecayoltl
Jose Ramirez~Lilia Ramirez/Liliflor
Marisol Torres/Toltecayotl~Martha Hernandez/Cihuatl Poxteca~Nican Tlaca Wear
Raul Gonzalez/Mictlan Murals~RAWA, Fair Trade items from Afghanistan~Urban Xic
and more….
FOR MORE INFO:
elpuente52@yahoo.com
Here's the line up of bands playing throughout the day:
BUYEPONGO – http://www.myspace.com/buyepongo
DJ, Gomez Comes Alive! – http://www.myspace.com/gomezcomesalive
OLLIN – http://www.myspace.com/eastlosollin
DJ, Rani D. – http://www.myspace.com/djranid
KOTOLAN – http://www.myspace.com/kotolan
DJ, Marco – http://www.facebook.com/marco.loera
GIGIO & DREN DOH – http://www.myspace.com/gigio
Special guest appearances
y mas
Create Your Own Silkscreened Gift Right Before the Holidays
December 19, 2009 10 AM – 2 PM at Self Help Graphics and Art INC.
Join artist Dewey Tafoya (who I borrowed the picture from 🙂 )to learn the silk-screening process using heat lights. Simple enough for anyone to easily do at home!
Come early as spaces are limited. All supplies, including screens will be provided for use in the workshop. Attendees are required to bring one original image on transparency film no bigger than 8 1/2″ X 11″. Bring a blank t-shirt or 2 to print your work of art on! Paper will also be on hand for printing.  Cost: $15/per person.
La Phochadas Art Show
This is it. This is the show where I will be selling some of my pics to help raise funds for Adelante California. Money that will be used for student scholarships that will help out tremendously.
Puro Pedo Magazine, Adelante CA, Mi Vida and the Special Brownies Art Collective are teaming up to host an amazing art show on Saturday December 19th at Mi Vida in South Pasadena to raise money for much need scholarships to students regardless of citizenship status.


100% of tickets sales and 50% of artwork sold will go to the Adelante CA scholarship foundation. Thanks to Oralewear we will be selling shirts for only $5 all going to the scholarship. Did I mention FREE Jarritos? Wenceslao Quiroz and John  Carlos de la Luna will also be selling some of their stuff there. You've seen their stuff before since I've written about them, but I can't find the link to when I did 🙁
Saturday Dec 19 from 4 to 10 p.m.
Mi Vida is located at 1325 Hungtington Drive South Pasadena, CA 91039
Fifth Annual Holiday Sale & Party
Saturday, December 19th from 7:00pm to 11:00pm, and
Sunday, December 20th from 12:00 noon to 4:00pm
Original prints, paintings, jewelry and gifts by the following artists:
Lalo Alcaraz, Joseph Botello, Joe Bravo,
Mary Lucille Nunez Delira, Raquel Escobar, Jack Fenn
Margaret Garcia, Rosie Getz, Pat Gomez, Roberto Gutierrez, Pola Lopez, Jose Lozano, H. Luna, Gracie Miller, Robert Palacios, Beth Peterson, Nancy Romero, Sonia Romero, Jaime Sabatte,
Marianne Sadowski, Tina Rodas, Victor Rosas with Los de Abajo
Hector Silva, Stormie, Richard Valdes, Jaime Germs Zacarias
Delectable finger foods, Spiced Cider, Tamales, and Good Cheer
Festive Attire encouraged
Sponsored in part by: Los Angeles Department of Cultural Affairs,
Los Angeles County Arts Commission, California Community Foundation, and A&S Investment
Avenue 50 Studio, Inc.
131-135 North Avenue 50
Highland Park, CA 90042
323-258-1435
www.Avenue50Studio.com
Sunday
**LAST CHANCE TO GET YOUR LIMITED LIMITED EDITION MORRISSEY/IMIX T-SHIRTS BY SOCIAL MACHINE**
Celebrate the holidays with community and in-style with some of LA's best local artisans (ILAMENTS, NENASOULFLY, TEOCINTLI, RIO TO BABYLON, etc) selling handmade jewelry, t-shirts, art, unique gift items, clothing and more. New books in from IMIX Bookstore (now open 7 days the entire month)
Special PHOTOBOOTH from "Marsprint" – come capture the holiday spirit with your friends & family
11:00am – 7:00pm
5052 Eagle Rock Blvd 90041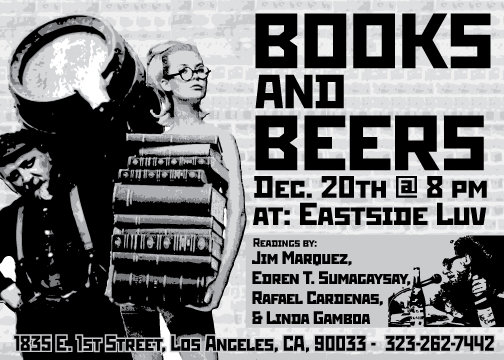 Not all drunks are created writers, some have to work very hard at it.
Join us Dec. 20th, at Eastside Luv, for readings from three hard working independent drunks.
Jim Marquez, Edren Sumagaysay,
Rafael Cardenas and Linda Gamboa
The authors will have their books available for purchase and the bar tender will be pouring proper drink specials. 21 & over. No cover.