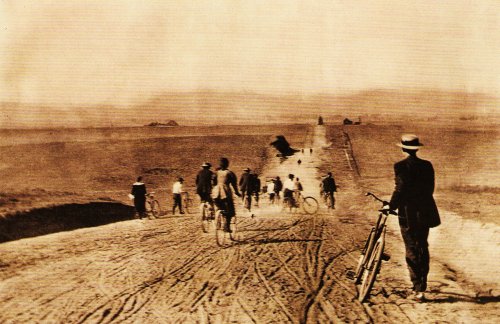 Bicycling on Western Ave from the LAPL archives. Western Ave used to mark the Western edge of the city. Eastern Ave is on the Eastside and runs through City Terrace.
This Saturday is the annual Los Angeles Archives Bazaar where you can discover and explore halls full of Los Angeles history resources. Representatives from local libraries, colleges and other archival places will be there to answer questions and share information. You can also pick up nifty postcards like this one from the City of Los Angeles Publishing Services Division. Film screenings, speakers and lectures will also keep you entertained and busy, so make a day of it!
The 4th Annual L.A. Archives Bazaar, October 17, 2009
Southern California history comes alive in exhibits by local historical collections and archives at the 4th-annual Los Angeles Archives Bazaar on October 17, 2009. Browse rare collections, consult with experts, and learn about the hidden stories of L.A. diverse neighborhoods and communities.
10:00 a.m. to 5:00 p.m., Saturday, October 17, 2009
USC Davidson Conference Center
Free admission
More information here.
Last year's post on the event.
Los Angeles Times article can be read here.