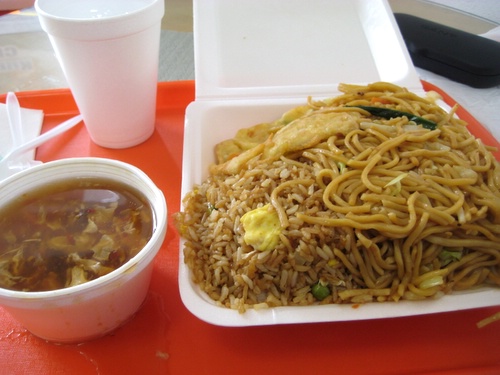 You can take that title two different ways.  As in either poor quality food or just food of the poor. Sometimes it can mean both things. Which did you assume?
This was my lunch today. (Well, only half of it was, the rest went into the trash bin.) I was down on N. Broadway, thought I'd have some hot and sour soup from the new Chinese food place, as everyone knows that's my favorite soup ever. Or now they do. Yes, even over menudo or sopa de zanahoria. Hmm, for only $2 more I can get the "combo", seems like a good deal.
And that's how it starts.
I'm not talking shit about this food, it was actually good for what it was. Lots of carbs, satisfying noodles in their oil, soy sauce doused rice; it's stuff the mouth craves. Can you eat better food? Yup, you can. But what astounded me most about this dish was the massive quantity of food I was served for a mere $3.99 and I even had to tell my server to stop cuz that was way too much. She replied I could just take the rest home if I didn't finish. True enough.

(Free with purchase: People watching!)
Even though I'm not one of those twigs-n-sprigs vegetarians, I still don't go for these sorts of heavy meals. But I used to, way back in my GR days, when I judged places not necessarily by the quality of their ingredients or the complexity of their flavors, but used the dwindling bills in my wallet as the primary unit of measure. If $4 bucks could keep me from having to buy another meal for the rest of the day, then that was obviously a wise choice.
I can imagine many people scoffing at this very moment, laughing at the notion that this meal could in any way be "wise". I know people that think of their bodies as sacred temples and this sort of trash would never sully that church of self. Good for them. It reminds me of Pollan's excellent In Defense of Food which has a good analysis of the current crisis in our food chain, but ultimately ends with yet more tithing to the self-church by concluding:
"Not everyone can afford to eat high-quality food in America, and that is shameful; however, those of us who can, should."
I wish we could all be in that special place of being able to pay for better food, or have the time to make something ourselves. For the moment, I can. But I know that isn't the reality for a whole lot of people. Even in those previously mentioned GR days (aka welfare, pa' que sepan) where food stamps were part of the deal that poor folks made with the government so that they wouldn't up and loot the food stores, I would still be looking for the value meals. That usually means heavily processed foods full of salt, sugar, oils, and other cheap fillers. This habit is quite wide spread in poor communities and is difficult to break, even when people get some money to be able to choose otherwise, which of course leads to all kinds of health problems in the future.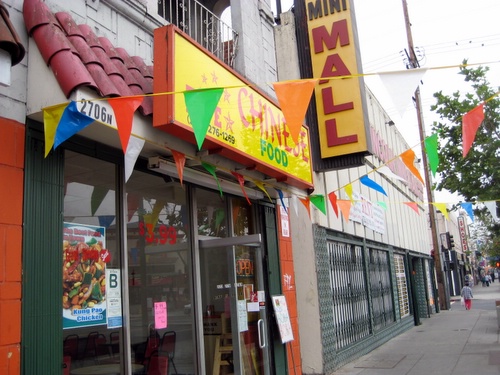 This "Chinese" food is as authentic as Tepeyac, Barragan's or Arco Iris is "Mexican" food. It's American food with an ethnic twist. Where am I going with all this? I wish I knew. I'm not trying to present a case for eating poor food, cuz it sucks to have no other reasonable choice. I sort of hope the conversation on food, assuming that's even happening, can take class issues into account rather than just dismiss the poor for their poor, poor taste.
And seeing as the Global Economic Meltdown is picking up steam, I might as well throw out a solution that might actually help people, seeing as those in power have absolutely none to offer. The governor is proposing to eliminate welfare, assuming the poor will just lie down and die. In your dreams, Arnold! The poor, still being humans and all, WILL NOT WILLINGLY STARVE TO DEATH. If I know humans, and I think I do, they would likely act against governmental laws and against religious morality in order to acquire the means by which to feed themselves. Yes, that's all speculation, but I'm betting some money on it.
While those in power bailout the banks and car companies of the rich, they're gonna be telling you about how healthy it is to eat newspaper and grass. There's nothing they can do about your state of misery. There's just no money.
Would LA City be so cash strapped if they hadn't given all those tax breaks to likes of those Grand Avenue developers? What if those 20 something million dollars the city council recently "found" to keep hiring police were used for something that was actually productive?
Here is my solution: I propose the Mayor or the City Council either cancel all those tax breaks and whatever deals they have with the Grand Ave people or use the funds for hiring more cops to get started on a new model for soup kitchens. I'll call it La Sopa. Sounds classy, still soup. We know they are coming, why act like they ain't? There's lots of publicly owned facilities that can be quickly converted into social kitchens, where good food can be prepared to provide a need. Maybe you can even entice some fancy chefs to think about the public good and plan out some feasible menus. No truffles, please.
How about we take over all the public parks that the Governor wants to shut down to grow food for La Sopa? Turn the funds for batons and pepper spray into tomato stakes and bell peppers? If we redirect all the wasted water from ugly, useless lawns and golf courses into these new La Sopa gardens, at least our limited water resources will be going to something useful. Tough times demand tough measures.
How about offering those on unemployment the option to join these gardens or kitchens, just in case they don't want to waste their days looking for jobs that don't exist.
Those that control the world-as-it-is insist there are no other options. We know there are many more. The resources are there, the land is there, the people to make it happen are there. What is lacking is the creativity by those in charge to make anything happen. If things get any worse, they might just have to be pushed aside. Fair warning.
So the meal that got me started on this trajectory of thinking about issues of the haves and have-nots came with a fortune cookie with this message: The star of riches is shining on you.
I've never been rich; mostly poor, less poor, and not poor. Throughout all those stages, my understanding of riches has remained the same: it's not about what you own or what wage you make, but about what you can accomplish with the people around you to make something worthwhile happen. I've been involved with social centers where nobody ever made a cent but that enriched everyone that participated in the process. It's not easy but it's certainly possible.
In the coming social breakdown going at it by yourself is not an option. It's time to start thinking collectively!
This idea is a workable proposal.
For Sopa, EL CHAVO!
PS. For the record, this meal had "no-meat" but I didn't ask about ingredients, so I wouldn't call this vegetarian.