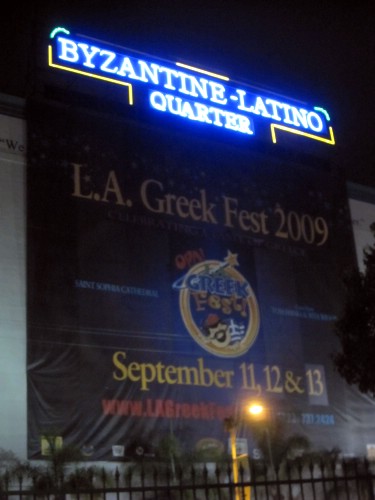 The Greek Fest is happening this weekend, but I only had time to check it out tonight. Uh, it also happened to be the only time its free, what a coincidence! But at only 5 bucks, it's still not too bad. It's small but enjoyable, as they cover most of the basics. I took a few lousy pictures. Want to see? Click ahead!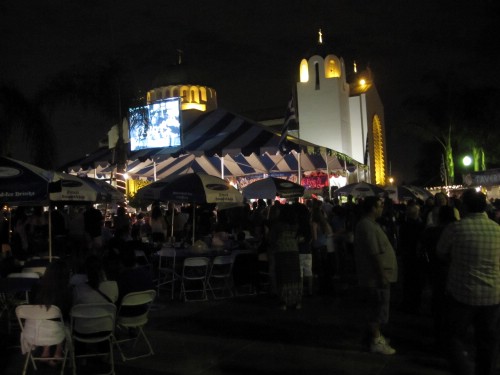 Right by the entrance they have a big tent where all the live music and dancing is happening. It gives the festival a center.
Humans of all ages were pretending to dance. Or trying. In any case, they seemed to be having fun.
I had to leave cuz this human statue creeped me out, with his occasional moving and pretend dance. Dude, we get that you are not a real statue, you don't have to keep proving it to us every other minute. Chale! I'm outta here.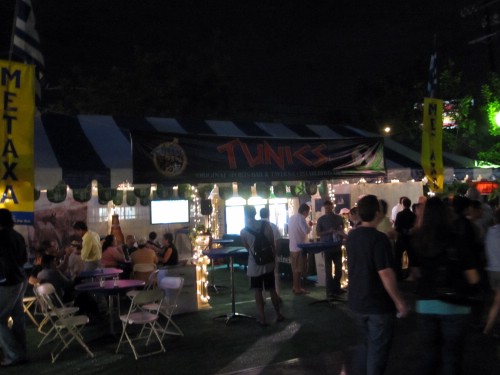 Maybe a beer will calm my creeped out nerves. When some people hear Greek, they think of frat boys. Well, they made a special place for them too: Tunics Original Sports Bar and Tavern. They only had Heineken. Pfft, laterz.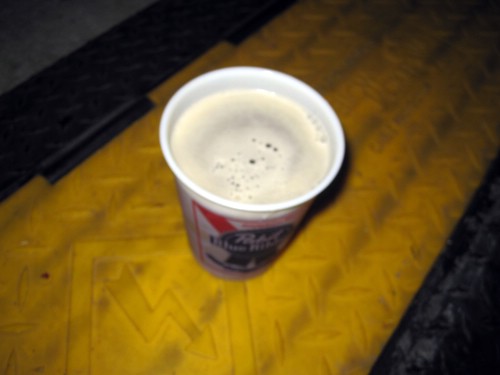 Way over the other end, at a beer truck, they have Firestone on tap. Yay! And you can walk around with your booze, you're not forced to chug it down inside a cage.  I mean a "beer garden."  $4 a plastic cup, which is the same price as PBR. And if you chose PBR instead, you are a certified chump.
All the beer and wine and ouzo got me thinking: how come they never have any alcohol at any of the events for Mexicans? Do those in charge think we will get out of line?  You know you're the wrong type of ethnic when they don't let you drink beer at your festival. I challenge the next organizers of a "tamale" fest, or taco fest, or Dia de Muertos fest, or Fiesta Broadway fest, or churro fest to supply use with some decent fermented elixirs, you know, as social lubricants and community ice breakers. C'mon, we'll be nice.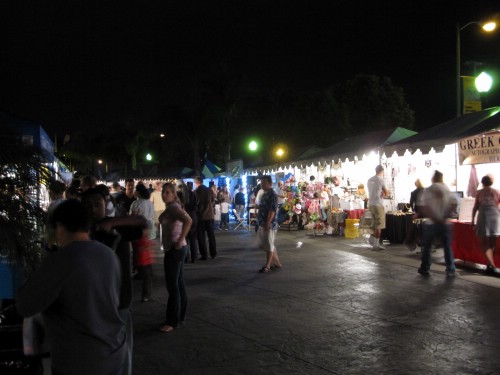 There was a lil' street for buying more things to clutter the house. Some decent stuff, I suppose. But I wasn't shopping tonight.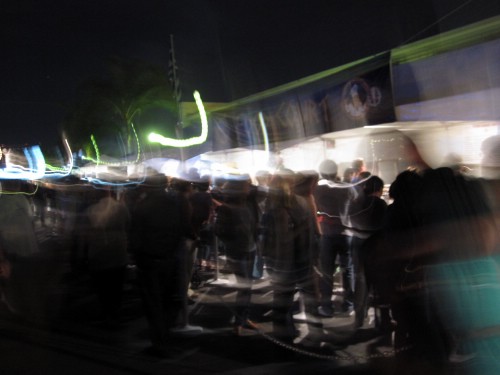 I was trying to find some food! Hmm, I thought Mediterranean food included lots of fresh veggies and such? Strange, I only see lots of meat options in the different stalls. This food court advertised one item that wasn't made with cute lil' animals, but the line was long.
A gyros tent, with an army of those spinning meat cooking contraptions in the back. I assume there's no veggie gyros. But maybe I should have asked?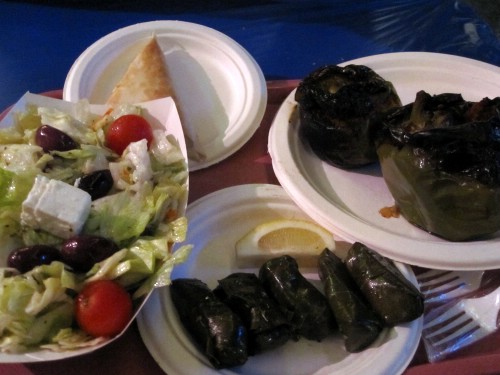 Oh well, back to the long line. Turns out they have the menu online. Careful with some of their "vegetarian" options, like the one made with octopus! They'd ran out of the briami by the time we got up to the front of the line, and some other people were disappointed as well to find this out after waiting. But there were still some options. Here we see some dolmas, bell peppers stuffed with rice, a cheese filled tiropita, and a greek salad with feta. Or make that with a cube of feta. Que codos! At $18 for all this, it was still an ok price for festival food. And it was tasty enough. For festival food.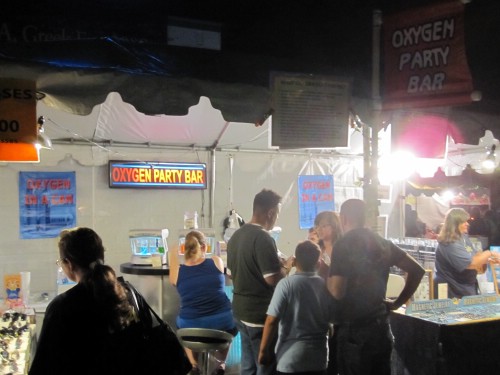 Not sure what Greek tradition this is, but some folks were getting wasted at the Oxygen Party Bar. Another round of Air, on me!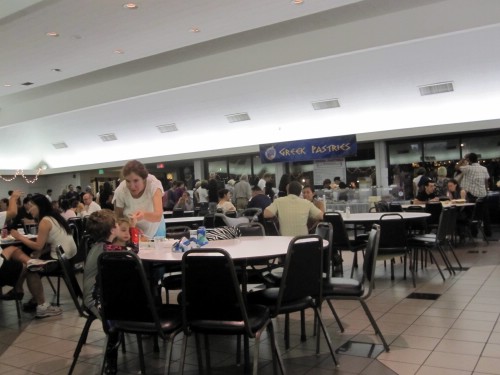 And there's a hall just for pastries. There was a long line for baklava, so we settled on "greek donuts". I mean really, when you're constantly waiting in lines just to get some necessities done, doesn't waiting in line for "fun" just seem crazy?
Fried dough with a honey dressing and some chopped nuts. You really can't go wrong with fried dough.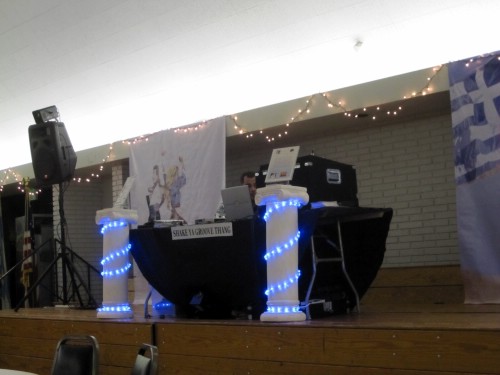 The party doesn't stop because while you eat there's music provided by Shake Ya Groove Thang, an added bonus.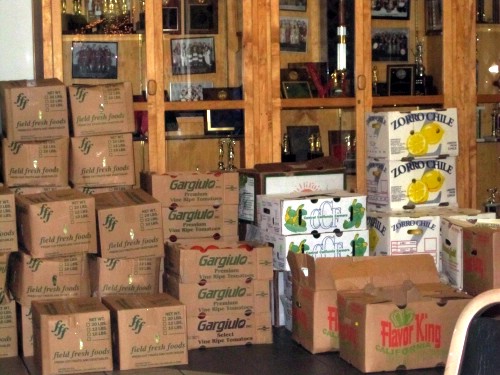 Boxes of Food.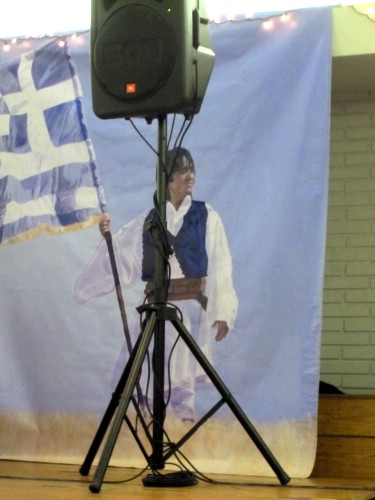 Greek Art.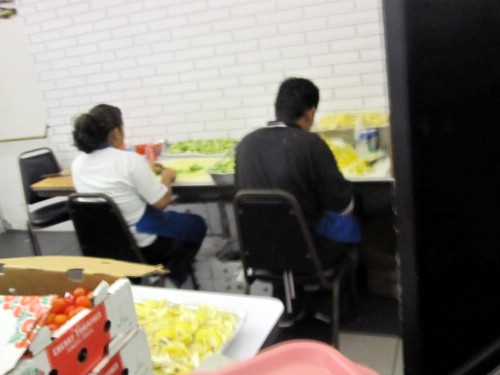 Behind some partitions in the pastry hall, some Mexican employees cutting up all the lemons and cucumbers. I tell you, they're in every kitchen. Don't give them beer after work though, they might riot.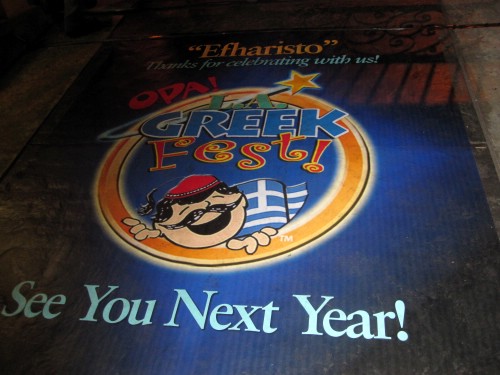 Speaking of riots, I have some organizing to do. Gotta run! Hope you enjoyed the lil' tour. Did you notice I never once said "opa!" in this post. (Well, besides just then.) You'll thank me later when that's all you're hearing.
All this alcohol fueled madness is happening at a church. Por que? Sepa!
Saint Sophia Cathedral
1324 S. Normandie Avenue
Los Angeles, CA 90006
(323) 737-2424