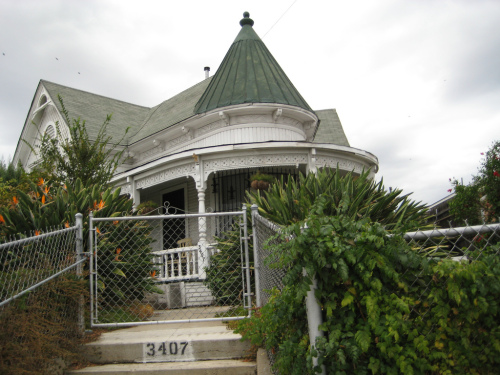 One of my favorite houses on the Eastside, it's on Fourth Street overlooking the bridge. I hope it never has to face the stucco monster!
Botanitas is an ongoing feature bringing you stories and news from various sources, upcoming events and other bits of ephemera that might be of interest to LA Eastside readers. Suggestions welcome!
Click through for Greeks and geeks, Love and Rockets, Son Jarocho and protest remembrances.
*New events just added!*


Reading Preserve Typing Activity
Please bring your favorite literary passage to type on to fabric for incorporation into a pillow for the Smart Gals Reading Preserve at the West Hollywood Book Fair.
Date: Saturday, September 12
Time: 7:00 – 10:00 p.m.
Location: Future Studio Gallery, 5558 N. Figueroa St., Los Angeles 90042
Bring a book to swap.
More info here.
Culture Clash
The comic heroes of Culture Clash invoke the revolutionary spirit of Aristophanes in his zany, utopian escapade Peace for the Getty Villa's Outdoor Classical Theater. Joining forces with guest director Bill Rauch (visionary co-founder of L.A.'s Cornerstone Theater and now artistic director of the Oregon Shakespeare Festival), choreographer Ken Roht (creator of the delightfully irreverent "99-Cent Only" shows), and celebrated comic actors John Fleck and Amy Hill, Culture Clash joyfully transports "the father of comedy" from ancient Athens to our own chaotic and shameless age.
Performances: Thursdays, Fridays, and Saturdays, September 10–October 3
Time: 8:00 p.m.
Location: Getty Villa, The Barbara and Lawrence Fleischman Theater
Tickets: Performances $42; students/seniors $36. Call (310) 440-7300
More info here.
LA Times article interview here.

Love and Rockets

Jaime Hernandez co-creator of one of my favorite graphic novel series will be at Skylight Books this Saturday signing his latest release.
More on my love for Love and Rockets here.
Locas II: Maggie, Hopey & Ray (Fantagraphics)

We're thrilled to host a discussion and signing with the influential and award-winning graphic novelist Jaime Hernandez (creator of Love and Rockets, with his brothers Gilbert and Mario), who the New York Times Book Review described as "one of the most talented artists our polyglot culture has produced."
Sat, 09/12/2009 – 5:00pm
Skylight Books
1818 N. Vermont Ave.
Los Angeles, California 90027

Son Jarocho@IMIX Books
Son Jarocho, the music of Veracruz, Mexico has taken root here in Los Angeles and all over the US. Over the last decade, musicians from Veracruz and Chicano community workers and artists from LA have engaged in a dialogue, a cultural exchange that has evolved into a partnership we call Fandango sin Fronteras.
Saturday, September 12, 2009
7:00pm – 11:55pm
Imix Bookstore
5052 Eagle Rock Blvd
Eagle Rock, CA

We're Still Here
A report on the 39th Annual Chicano Moratorium.
Some things have changed since the height of the Chicano movement. We now have a Chicano mayor, for example. The LAPD has pretty much met point 5 of the Brown Berets' original ten-point platform by hiring battalions of Mexican-American cops. Laguna Park, the site of much of the Moratorium's militancy, is now called Salazar Park in honor of the murdered writer.

But the more things change, the more things stay the same.
Read the full article at LA Indymedia here.
LA Eastside writer, Al Desmadre's personal remembrances about the Chicano Moratorium.

Movie recommendation


Speaking of protests and radical 60s times, I totally recommend seeing the movie The Baader-Meinhof Complex. An excellent and honest look at the turbulent times of the late 60s, there's even a brief reference to the Tlatelolco massacre in Mexico. Oh, if it gets popular enough, I predict it will spawn some fashion trends.
I know it has nothing to do with the Eastside but it's showing (sort of) nearby in Pasadena.

The Baader-Meinhof Complex
—————————-
Just added!
Mexican Independence Parade in East Los
East Los Angeles Mexican Independence Day Parade & Festival
Sept. 13, 2009
9am
Parade Route: Start: Cesar Chavez & Lorena; End: Cesar Chavez and Mednick
Audubon Anniversary Concert at Debs Park

Sat, September 12, 5:00pm – 6:30pm
Join the Audubon Center at Debs Park for a free performance celebrating our fifth year and the beginning of fall. Xavier Quijas Yxayotl brings the rhythms and sounds of ancient Mexico alive.
Audubon Center
at Debs Park
4700 North Griffin Ave.
Los Angeles, CA 90031
(323) 221-2255
Audubon Center at Debs Park website here.

Running Down the Walls

On Saturday, September 12, 2009 at 10 a.m., the Los Angeles Anarchist Black Cross will host a 5k run/walk/bike through the trails of the Whittier Narrows Regional Park in El Monte. This run/walk/bike is designed to raise much-needed funds for the ABCF's Warchest program and the Committee to Free Chip Fitzgerald.
Running Down the Walls
When: Saturday, September 12, 10 am – 2 pm
Where: Whittier Narrows Regional Park Grounds
750 Santa Anita Ave South El Monte, CA 91733-4300
Registration fees: $12 preregistration; $15, the day of the run. (Make checks out to Tim Fasnacht)
More info here.