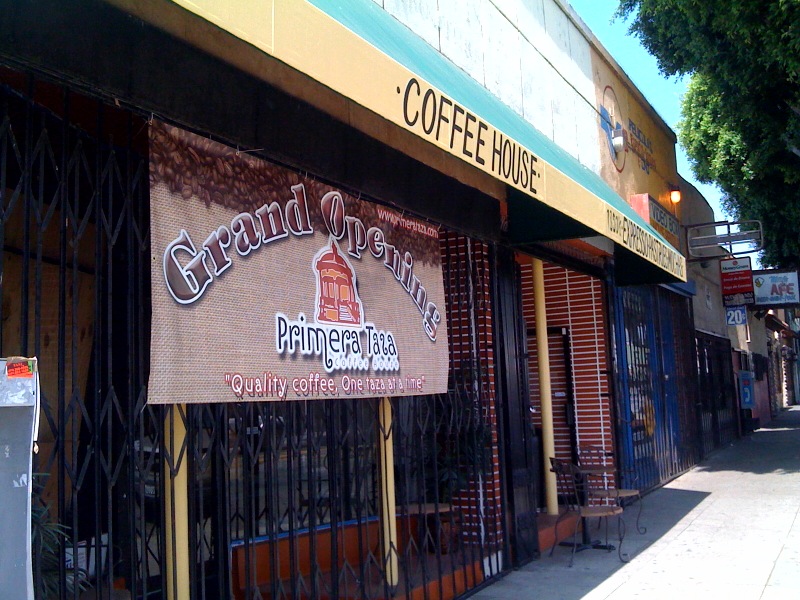 Remember a while back ago when I posted my thoughts on Tierra Mia in South Gate and how impressed I was with not only the store but with the quality and variety of coffee they had ? I wish I could say the same for Primera Taza, but I'm being too critical of the place considering it just barely opened up on Friday of last week. So, with only a few days open I can understand that Taza is still finding its bearings and learning as they go. Having had a father that was a creative entrepreneur all my life, I know what it takes and what goes into running your own business. With that in mind, let's find out what Taza has going for itself.
A basic menu that gives you a taste of what they're about and personally I have a few hangs up with it. After a quick glance and trying to figure out what to get, the two lovely ladies working suggested I try one of Taza's specialties, an Iced Taza de Mocha. Which is Mexican Cocoa, espresso on blended ice. I also tried one of the pastries they offered, a croissant nuked in the micro wave. For $5.40 I was left wanting more. Maybe I shouldn't have had any breakfast first. Looking at the menu again, nothing caught my attention that made me go, "ohh man I wanna try that!!" – you know. The same with the pastries. Come on where's the pan dulce !? Sure you have mini conchitas but I would love to see some of the bread I see at the bakery. Orejas, those strawberry filled yo-yo looking things, quesadillas and where's the café de olla !?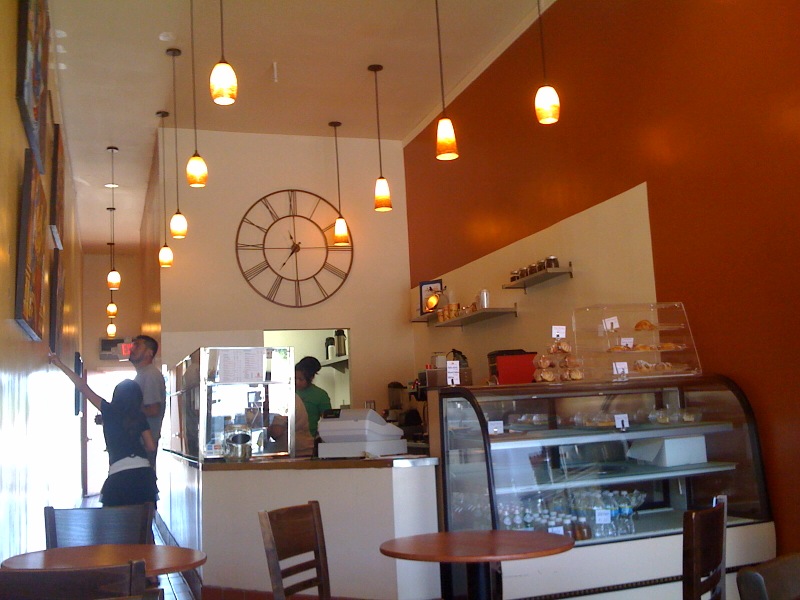 Besides the eats & drinks, Taza is still fixing up the rest of their space next door to have open mic nights, art shows and other things like that. At least that's what it says it's gonna use the space for on the web site. "We plan to have the best coffee and teas in the BH, along with live entertainment and local art. You will no longer need to visit Pasadena, Monterey Park or Montebello for a good cup of Joe." Hmm I don't know about that. O.K. considering Taza just opened up, only time will tell if they deliver on that promise. It'll be interesting to see how it grows and how they continue to develop their over all menu as they cater to Boyle Heights residents. Taza could be more than it's planning by going with what works in terms of thinking with an East Los mind set. We don't need a coffee shop that has cheese cake, fruit tarts and frappucinos made with Abuela's chocolate; we need something more than that, like the stuff we grew up on.  Café de Olla and all that other good stuff like that. Taza has a long way to go I guess and I look forward to seeing it grow, hopefully not with my pansa but grow none the less. So don't take my word for it though. Go visit Taza, check it out for yourself, hang out for a bit or read the paper like I did and enjoy the moment. You might be surprised what you get.
Primera Taza Coffee House
1850 1/2 E. 1st Street
Los Angeles, CA 90033
ph: (323) 780-3923