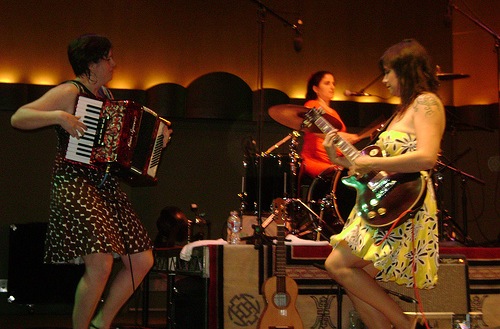 I don't know of a family or couple not yet affected by La Crisis in one way or another. I may still have a job, but I'm not sure I can afford to continue graduate school with a substantial rise in fees (tuition).
Still, that's not keeping home all summer. I may not be able to take a fancy vacation like my roommate, but I'm taking advantage of all the free activities the city offers. All you need is lawn chairs, blankets, a cooler/bag to pack up some snacks and you're set to enjoy the outdoor concert season.
I've compiled some of the outdoor series I've enjoyed this summer or in the past. I'm sure I've missed some as I know surrounding cities (and museums) often plan their own "concert in the park" series. Leave your suggestions in the comments.
Grand Performances at California Plaza (downtown) features music, film, performance art/theater. The series began mid-June and continues through October. If you work downtown, you're lucky as there are Friday noon-time shows as well as evening shows. Check out their blog for more details.
Levitt Pavilion at MacArthur Park offers 50 concerts/events starting July 8th through Sunday, September 13th. Each night from Wednesday through Sunday has a particular theme such as "música Latina," "world music" or "children's night." All concerts begin at 7:30 except for Sunday's children's program.
LACMA presents Latin Sounds at Hancock Park. LACMA also offers free jazz on Fridays and chamber music on Sundays. For more events sponsored by local museums, check out a list compiled by the Getty Center for other Los Angeles calendars (bottom left).
Twilight Dance Series at the Santa Monica Pier feature Thursday evening concerts. The concerts began last week and continue through September 3. Don't forget your chanclas, you don't want your tenís to get all full of sand. I'm looking forward to Sergent Garcia (July 16) and Lila Downs (August 27).
Levitt Pavilion Pasadena offers a similar schedule as the MacArthur Park series: 50 shows featuring jazz, música latina, world rhytms, "patchwork of America" and children's hour. Pistolera (pictured above) will be playing Saturday, July 25th.
Last two suggestions: check out the Botanitas listings here for info on one-time festivals and concerts. Second, enter raffles for concerts at music blogs like The Scenestar or Losanjealous. I once won two contests for the same concert.
Enjoy your summer and save your pennies.