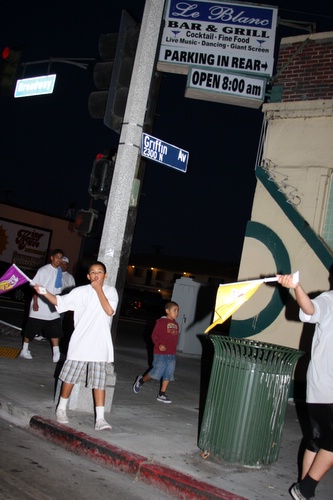 I drove by to quickly check out the scene but as of around 8:40 pm, the streets of Lincoln Heights were pretty calm, at least compared to the crazy partying that happened when the Lakers won that other time. But there were still a few people walking around, just wanting to celebrate a win of their favorite sports team. It seems people are gathering in East Los and some fools are trying to burn living trees over by the Staples center, but for now LH is just a few cars cruising, honking, celebrating.
Click ahead for a few more pics.
Strolling the main street in LH.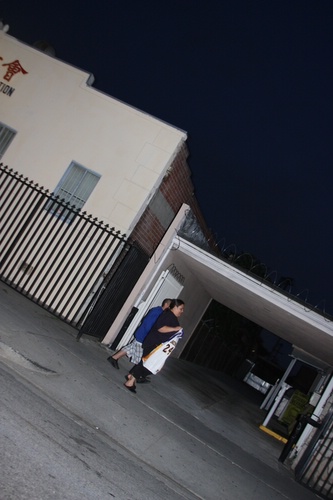 She won't wear it, but she will carry it with pride: a woman with a Lakers jersey.
Young fans wave a flag, older man putting out the trash for tomorrows pickup.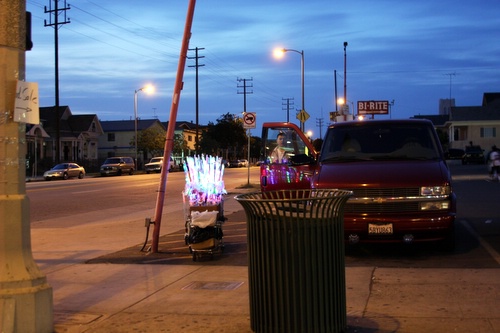 I think this guy is hoping for bigger crowds, maybe they will buy his lights and glow sticks. Broadway and Griffin was the site of that rowdy party back then, no doubt our collective memory has many looking towards that intersection to see what happens. If anything else goes down, I may go back.
PS. Looks like some are throwing trashcans at cops cars and rocking them over at Staples: the generalized hatred for the police has a funny way of showing itself.