First things first, I gotta give a shout-out to my girl LG for telling me about this place on Facebook. I knew having one would pay off one day. She posted up pics and said the place was awesome. Is it awesome ? Lets find out. Join me and we'll find out together.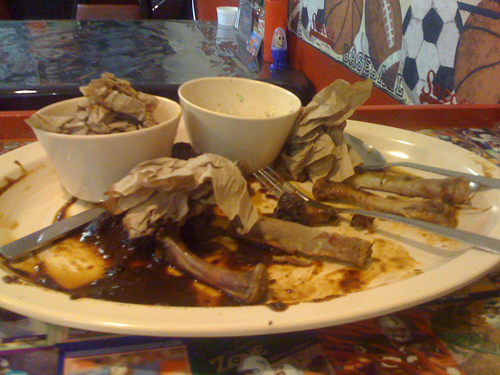 BBBBBBBUUUUUUUUUUUUUUUUUUUUURRRRRRRRRRRRRRRRRRRRRRRRRRRPPPPPPPPPPPPPPP !!!!!!!!!!!
(Unbuckles belt) Damn that BBQ is GOOOOOOOD. Phew. That's it, (tappin' on table) I'm done. I give up. I'm out. That meal kicked my butt and filled my gut. I think I need to lie down for a few hours and let it all sink in. I gotta stop licking my fingers.
OK, so let me backtrack a bit here. (Breaths in and …..out) So after LG put it out on Facebook, I decided to pay the place a visit since it's fairly new. They've only been open for two months and already it's going around on Facebook. As I was making my way to the place, I could smell the wood cooking the meat, in this case chicken. You know how in cartoons the scent of the food would take the form of a hand and lure you to the food and then smack you one ? It was a little something like that.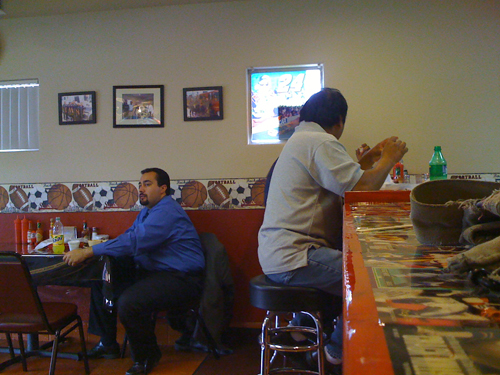 They have tables and counters with enough space to hold a good 20 people, so I had more than enough room to pick a spot to get comfortable in.These  guys were enjoying their food as they watch a football game from last season. I think. Or pre-season. Ahh chingado like it matters. Until L.A. has a team again, it's all the same to me.
I hunkered myself at their counter because I'm easily distracted by cool stuff and they had old Topps cards laminated into the counter. I thought it was pretty cool since I had something to look at while I looked through the menu and ordered. I use to collect the comic book ones, not the sports ones. Stop laughing at my nerdiness. That was a long time ago in a galaxy far, far away…..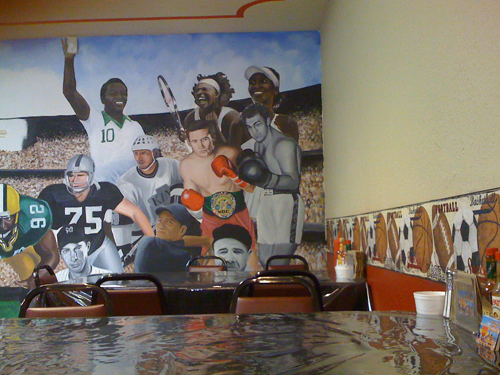 The walls are decked out with with sports theme. As you can see, there's a nice tribute to some famous athletes from back in the day because I barely recognized some off them. Five bucks to who ever can name them all !!!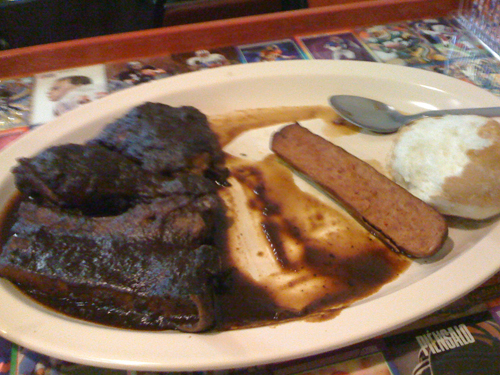 BAM !!! Now that's what I'm talking about. That right there is meal # 8. Two ribs, two pieces of chicken, a hot link, chili beans, cole slaw and a roll for $12.59, plus like $1.50 for a soda. Now, this is a little TOO much for my price range, as in I'm broke and I shouldn't be spending $$ on meals like this but I passed all my classes so I decided to treat myself to something nice because I'm cool like that. All you veggie heads don't know what you're missing out on. The chicken was soft and was falling of the bone. The ribs were delish and the BBQ sauce? I bit my finger by accident thinking it was part of the rib. It's that good. The chili beans were also nice because they had a little bit of everything, but they were kinda soupy and greasy. There's a bunch of other stuff on the menu, like rib slabs on their own or with a meal special. Different combinations for one to 6-7 people to share. LG said I should try the tri-tip sandwhich next time around and for $7.95, it's more within MY price range. For having been open only two months, they have a nice set up and most importantly, great ribs. It's great to have a BBQ place so close to home and good too. I can totally picture myself going in there on a lazy Sunday morning and gettin' my grub on. Uhhh !!! So yeah. AJ'S BBQ Pit is on 3691 E. 3rd. St. Cross street Indiana. "Delicious BBQ in a great sports atmosphere."