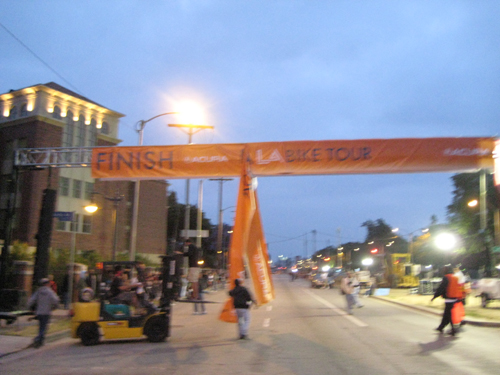 Staring at 3 a.m. this morning, P3000, a cute friend of P3000 and I rode through the marathon route on bikes. P3000 let me borrow an extra one he had.  Let me tell you that this city is something else in the middle of the night and early morning. At first this bike ride started as a personal challenge because P3000 says that my generation is a bunch of lazy guevones. That we can't hang like he does. I couldn't let this injustice go unanswered, so I grabbed the bike and I peddled my ass through the streets of L.A. Here are some of the pictures I got.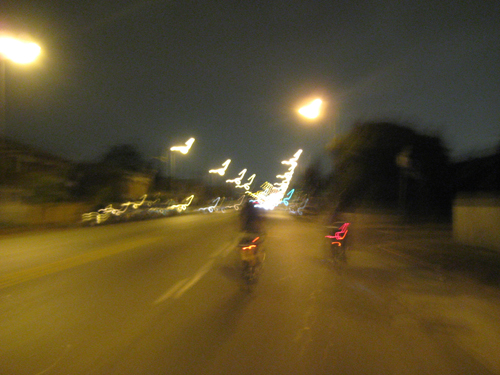 We ended up starting at mile four in Exposition park and started making out was. As you can see from this picture, trying to take a picture while riding your bike in the middle of the night isn't as easy as i thought.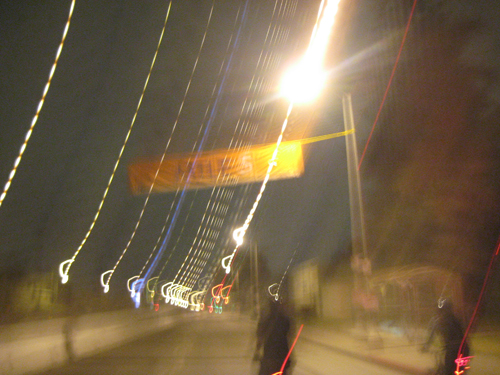 We knew we were on the right path because we kept running into mile banners. Although for a while there we kinda got lost and had to figure out where we were and getting back on the route.I got use to the bike rather quickly and got the handle of the gears tambein.
Through out the route we saw other people riding around and having a great time. We also saw people heading home and on their way to work. The guy in this picture tricked out his bike with cds, honks and other nick nacks that made it all his own. Riding around from one hood to the next seemed weird at times because I would notice how things would start to get nicer and more commercialized the more we headed west. I noticed a trend of mom and pop shops turning in more corporate stores like starbucks and other fast food places. Gentrification at work no doubt, but I will admit the hood looked nice and clean, if you're into that kinda stuff. Going down Crenshaw was the best because the lingering smell of BBQ was in the air for a few blocks. We rolled y a few mansions once we hit the heart of the West side, where the LACMA is at and we stopped to take a breather there for a bit.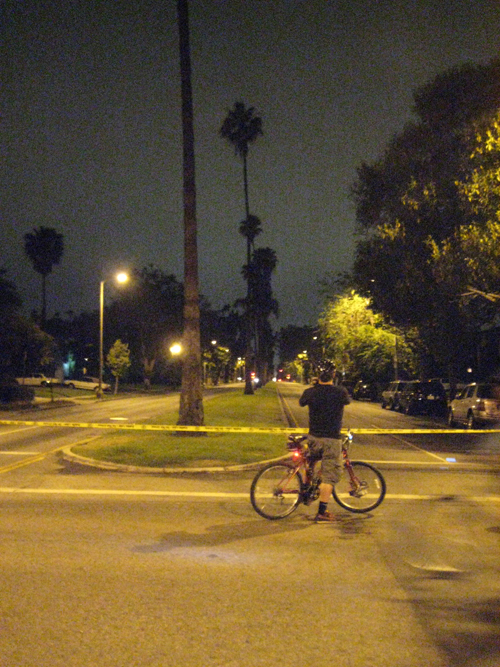 Of course through out the route there were numerous photo opportunities and while I would have liked to stopped every time I saw something that caught my eye, like all the murals and graff art around town, we would have taken much longer. Something else we noticed during the ride was that a lot of working class folk had to walk to the bus detours to get to work. at one point it looked like a march to get to the bus stop. Then further along the route, we could see people waiting for the bus. I wanted to tell them that the bus wasn't going to come by, but I don' think they would have listened anyway.
Another pit stop we made was when I decided to give in and get some fresh donuts. I was smelling it for like three blocks and I was hungry so I said screw it and got me some. Grabbed a juice tambien and I was ready to continue the trek to the finish line. It was a rare treat to be able to see the city in the middle of the night and being able to ride in the middle of the street. Just the feeling of safety knowing that there's cop everywhere and that I don't have to worry about some car hitting me and taking off was refreshing in itself. I use to live in some of the hoods we passed by and was taken by how much things have changed over the years for the better.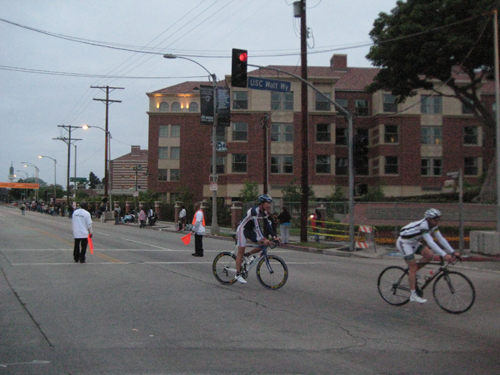 We got to the finish line 20 minutes before these guys, who are actually part of the marathon. As i was making my way toward the finish line I was screaming and yelling "thank you" and "I did it. I'm number one" even though I'm pretty sure we cheated a few times taking short cuts and starting earlier than everyone else. Some of the neighborhoods had miniature stages set up for the runners who'll pass by later today. we even saw a few people camping out for their spot to see the runners come by. Now that's dedication. All in all this was  a great experience and I wanna give a HUGE Gracias to P3000 for letting me borrow his bike and inviting me along. Not only that but I proved to him that I can hang. I can't speak for the rest of my generation, but I can pull my weight around and then some. Now if you excuse me, I'm going to take a disco nap and give my ass a well deserved rest.