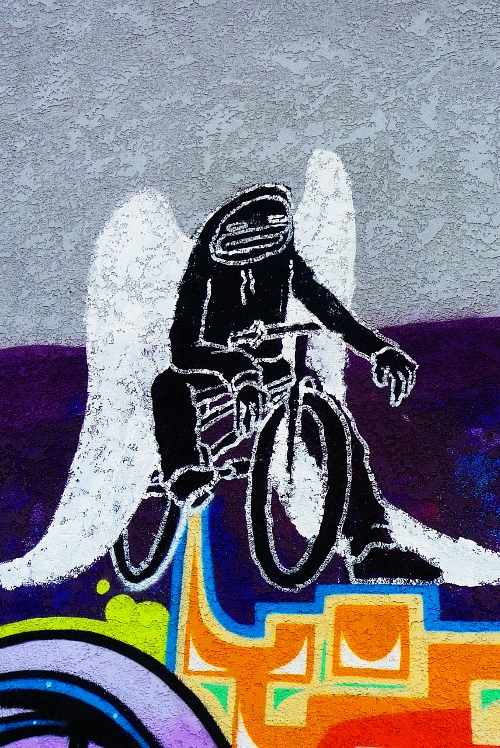 "Hey, Fuck you!"
That's what I heard on my short ride to Juan's Market on Ave 28 & Pasadena (also a site of a nightly taco stand).
Now I'm used to the usual verbal disbelief when I ride my bicycle on the street, which is pretty steady.  Almost as shocking to some people as a white elephant sauntering down the road.  I was not taking up the whole road or rolling to slow and trust me I have plenty of stories of harassment from motorists but this one was pretty exceptional.
As I caught up with the car, the passenger rolled up their car window (as all motorists always do).  When it turned green I continued on, and the passenger continued to give me shit riding down the street. More random "Fuck You"s & etc. I caught up AGAIN to them at the 2nd light. This time I asked him the obligatory:
What the fuck is the problem? Really, what the fuck do you want?

To this he just shrugged and rolled up the window. Now I get it if you want to be a badass and give me shit, I get it. But see it through. Don't be a badass just because you're rolling around with a ton of steel to protect you. This has happened to me in pretty much every part of LA so I know it's not just endemic to the Eastside.
Now I know some bicyclists can be assholes, especially when they get together en masse as in Critical Mass & Midnight Ridazz, but – come on -  it's just me daylight riding to work (or school) so leave me alone.  I happen to agree that bicyclists should not try to be KINGS OF THE ROAD as some motorists choose to be: I want to share the road. So leave me alone. I'm just a minor threat. 😉
Thank you.