I've tried my best to tolerate this new bike Kulture that has made camp in LA, attempted to see the positive aspects it can contribute to our city, but more and more I just can't stand the way it manifests itself. And it saddens me to see how such a great idea can turn into shit so quickly: a practical and healthy option that challenges the car culture devolves into a sanctimonious act of liberal defiance, doused with a heavy dose of machismo. I'm pretty sure I'll regret writing this but fuck it; the unnecessary baggage of an otherwise worthy goal needs to be called out.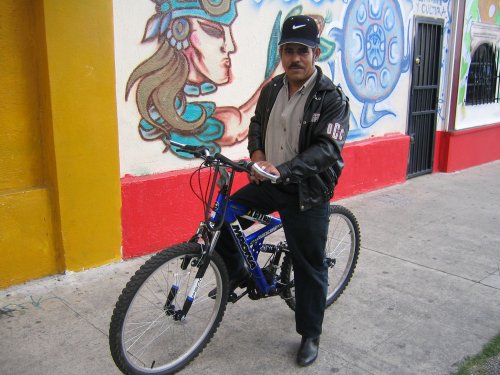 Before you conclude I hate bike riders, let me just say that even though I'm mostly a pedestrian and car driver, I also ride a bike. Some of my friends are bike riders, so I can't be a bikeist! And when I was around 12, I built my own chrome and red GT Pro Series BMX that I pieced together from parts I bought at the Rosemead Swap Meet. It was my pride and joy, up until the day it got stolen. I even contributed to an art installation that dealt with this very issue. So yeah, I understand the love one can have for a bike.
But this bike Kulture stuff and the attitudes they bring to the city is just beyond me: why is a form of transportation being elevated to an ideology? How did the simple pleasure of bike riding become an excuse for kids to get all moralistic against cars? Is the world so bereft of positive values that the notion of bike riding can take on such a significant role as an identity marker? It must be lean times in the marketplace of meaning when you so deeply identify with the way you get from point A to point B, even at the expense of the rest of the people around you.
Though there are a few reasons to critique this new bike Kulture in LA, the one thing that really puzzles me is the way the bike ideologues have taken on the worst traits of the rude FTW driver and the cocky yes-I-am-immortal Jr. High School pedestrian. If you're trying to get people out of their cars, doesn't it make sense to play nice and share the road with the rest of us?
This weekend I encountered one of the worst examples of the rude bike rider, a young and hip Latina seemingly buoyed on her sense of two wheel superiority. Even though Monte Vista in HLP is wide enough to fit both cars and bikes, she chose to stay in the traffic lane. Fair enough, "you are traffic". But then she proceeded to reach into her backpack to look for something, slowing down to a crawl as she pretended to rummage through her stuff for that one thing she needed immediately . Even though she could have easily pulled over to the right (there weren't even any cars parked on this stretch) she stayed in the middle of the traffic lane as if to prove some point, and never pulled anything out. Yeah, I get it, I'm the chump going 5 mph because you hate my transportation. This went on for a little bit, her fellow bike rider had already pulled over and I think was trying to get her to stop being a jerk, to no avail. At the 4 way stop sign ahead, she suddenly sped up -without stopping- to force a left-turning truck to hit the brakes so as to not hit her. While other drivers were taken aback by the potential disaster that had just been averted, she was laughing at how much power her bike riding body was wielding. She ran the next stop sign as well, this time holding her hand out to a braking car. It would be easy to say this was just a solitary example of a jerk but I think there's something about the bike Kulture that encourages this sort of anti-everyone else behavior.
If this were the first time I've encountered this animosity towards car drivers, that would be one thing. But I've had my fair number of encounters with these young bike punks to know its not isolated. It's odd mostly because there are some good and thoughtful projects within the biking scene, like the great resources of the Bike Kitchen and the Bike Oven that (at least to my knowledge) don't encourage this sort of behavior. If you wanted to block my car in for some protest or action ala Critical Mass, I would understand. Why not prove your pro-bike point like that one rider I usually see passing up all the cars stuck in a traffic jam? But to deliberately increase the level of messed-uped-ness in the city, and become just like all the other thoughtless car driving fools that hate on bike riders, now that's just wrong.
PS. For the record, I took a picture of this person when we finally managed to get by, and she responded by saying "Hey don't do that." I wanted to post the picture, but in the interest of not contributing to messed-up-ness and since my friend thought that would be pretty mean, I'm keeping it offline.