[audio:https://laeastside.com/wp-content/uploads/2009/05/get-your-baby.mp3]
Once upon a time, during the late 50's to the 60's, weekend nights at Eastside gyms, halls, and youth centers were taken over by dances featuring a young breed of musicians who got on stage and beat out the rhythms of Soul, Blues and Rock & Roll to frenzied crowds of teens making the scene.
That era and that music that became known as "The Eastside Sound" is woven into the historical and cultural fabric of Eastsiders. It has an identity, and a flavor that comes through in a rich shade of brown better heard while cruising in a Ranfla, or by spinning some scratchy 45s and dancing with your Háina.
There have been recent noteworthy chronicles about this Eastside musical heritage such as the book "Land of a Thousand Dances" and the recent video documentary "Chicano Rock! The Sounds of East Los Angeles". Nevertheless, I have always felt that the Eastside scene was worthy and deserving of something much more in depth. There were overlooked people, places and details that I wanted to help discover, chronicle and preserve for posterity. And, since it doesn't look like Ken Burns will be undertaking that project anytime soon, I decided to take some steps in that direction all on my own.
I sought someone from that era who could tell me more about it from a front lines, first-hand perspective. "Who could paint a mental picture for me of what those times were like?" I asked myself. Then, I came in contact with Mr. Mark Guerrero.
Mark Guerrero grew up in East Los Angeles graduating from James A. Garfield High School, East L.A. College and Cal State L.A., where he earned a B.A. in Chicano Studies.  The son of the late legendary singer/songwriter Lalo Guerrero began performing at age 13 with his rock band Mark & the Escorts, who often shared the bill with storied eastside groups such as Cannibal & the Headhunters, The Premiers, The Blendells, and Thee Midniters, and was included on the album "West Coast Eastside Revue" along with the aforementioned groups, and others.  Mark & the Escorts also recorded two 45 rpm singles in 1965 on GNP Crescendo Records, "Dance with Me" and "Get Your Baby."  Mark then led the popular East L.A. group The Men From S.O.U.N.D. and at the age of 21 wrote and" recorded his first single for producer Lou Adler of the Mamas and the Papas and Carole King fame.  His recording career continued with two singles on Capitol Records as a solo artist in 1972, "Rock & Roll Queen" and "I'm Brown" and an album for A&M Records in 1973 with his group TANGO, which was re-released on CD in Japan in 1990.
Mark is also a consultant on an exhibit called "Songs of Conscience, Songs of Freedom" at the Grammy Museum which opened in the fall of 2008.  Mark appeared in the documentary "Chicano Rock: The Sounds of East Los Angeles," which premiered on PBS nationally in December of 2008.  He also performed and was a talent coordinator on a PBS special "Trini Lopez Presents Latin Music Legends," which will air in June of 2009.  In February of 2009, Mark reunited his teenage band Mark & the Escorts to perform at "Blowout 2009" on a bill with 13 bands.  In April of 2009, Mark reunited his 70s band Tango to perform at East Los Angeles College for an event celebrating the new edition of the book "Land of a Thousand Dances" by David Reyes and Tom Waldman.
[audio:https://laeastside.com/wp-content/uploads/2009/05/dance-with-me.mp3]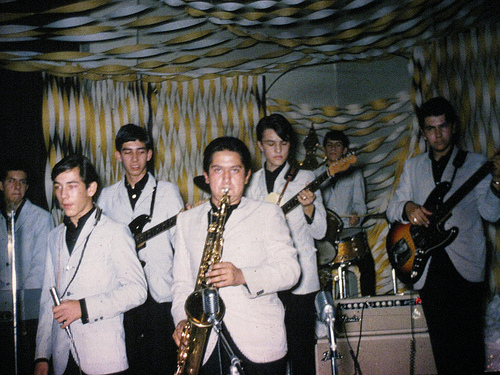 Mark & The Escorts, Tower Queen Dance, Griffith Jr. High, circa 1965.
LAE: Hi Mark! It's a great joy and privilege to have the opportunity to interview you. I'd like to thank you for the amazing work you've done in preserving all of those artifacts from your old days in the Eastside music scene.
Mark: You know what amazes me? How many Chicano music artists that had popular bands back in those days, they don't have ANYTHING. They didn't save a flier, they didn't even save their own records! How could you make a record and not save at least one? It blows me away. I saved virtually all of the fliers of gigs I did because I had a sense that I wanted to preserve all of this for the future. Thank God I saved everything, little did I know that some of it would wind up in museums and exhibits one day.
LAE: You just may be the one individual from that era that owns the definitive collection of  ELA music scene memorabilia. I was blown away by your website. Thank you for having the forethought to save and preserve these artifacts of ELA music culture history.
Mark: Thank you!
LAE: When I thought of doing this piece, I knew that I could find no better spokesman for that era than you. We've all seen the documentaries and books on the ELA music scene, but I wanted someone that was there and could paint a visual picture for us and give us a first hand perspective of what it was really like to be a part of those days. I was personally too young to have participated. Can you tell us what it was like to be a teen in the ELA music scene in those days?
Mark: I feel extremely fortunate to have been a part of something like that. It was like a little mini renaissance that exploded. I can't really explain why some things happen in a specific geographical area and why there are so many bands and so much art that pops up at a certain point. But it was one of those magical times and places. One of the key elements was that there were all of these teenage dances. We don't really get that in other eras. For some reason in the 60's there were all of these teenage dances.
LAE: That was popularized on TV shows like "Bandstand"….
Mark: Yeah. If it weren't for that big dance scene and all of these venues that were putting on weekly teenage dance events, where would the bands have played? The band scene got more talent to start coming out and the scene just grew on itself. My band, MARK & THE ESCORTS, I was only 14. 15, 16 years old during that period, '63 to '66,
And we played virtually EVERY Friday and Saturday. And we were just kids! 9th graders, 10th graders, you know. And we'd play gigs every weekend and get paid $50, we'd get like $5 or $10 bucks a piece, which at that age was pretty good! As we went on, we started making $40-$50 bucks apiece.
LAE: How'd you guys get gigs booked? Did you have a manager or just network yourselves?
MARK: At first, it was just word of mouth. We'd get around, give out our cards and people would call us. Luckily we got in to the cool circuit, and somewhere along the line we got picked up by Billy Cardenas as our manager, he also managed THE BLENDELLS, THE PREMIERS, CANNIBAL AND THE HEADHUNTERS, THE ATLANTICS, THE RHYTHM PLAYBOYS. He probably managed 15 or 20 of the best bands in ELA. Pretty soon other promoters started calling us and we started working all the venues.
LAE: Did you play all over L.A.?
Mark: Yeah. We'd go out and play in Pomona or Claremont, but most of the time it was in ELA. There were certain clubs that we all played like the MONTEBELLO BALLROOM, THE BIG UNION HALL IN L.A., LITTLE UNION HALL IN ELA, KENNEDY HALL, ST. ALPHONSUS AUDITORIUM. Also places like THE HUNTINGTON PARK BALLROOM, THE ROGER YOUNG AUDITORIUM and THE ALEXANDRIA HOTEL downtown. At lot of those places at first used to have Mexican & Latin music, then some of the Eastside bands started to come out there and that was a lot of fun.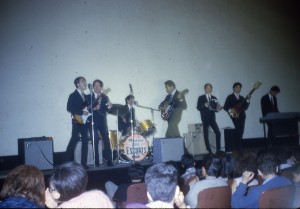 Mark & The Escorts at the Boulevard Theater, E.L.A.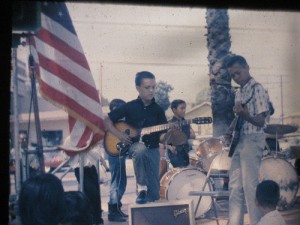 Mark (With foot on amp), Robert & Ernie, Laguna Park, E.L.A. 1963
LAE: Can you give me a mental picture of what it was like inside some of these venues on a typical gig night with all the kids and the bands?
Mark: Every night there would be 4, 5 or 6 bands booked per night per venue. Each band would play like 40 minutes or so, pack up and leave and maybe go do another gig somewhere else. The kids that would come to the shows had their own style. Before the British Invasion, the two main styles were the "Cholo" or "Chuco" look or what was called the "Continental style".
LAE: Tell me more about the "Continental" style.
Mark: HA! HA! Continental, that word means European and we took it that some of these styles originated over there. The way WE dressed at Griffith Jr. High and Garfield High School when I was there, the "Continental" kids would wear tight slacks, usually with little slits pockets and we would sometimes make them so fricken' tight that you could barely get your foot through them! That's the total antithesis of today's look with the baggy, oversized clothes. Back then, tight was cool. We'd get these suede shoes with the buckle in green, blue or gray colors. Then we'd have these really cool collarless shirts, very stylish coats with a belt in the back. So people were either "Continental", or "Cholos' with the khakis and the "Sir Guys", the "Pendletons" and all that, those were the two opposing styles, and then there were the "Nerds" who'd dress however. At the dances you'd get a mix of those styles but with the British Invasion you started getting the look with the Mini-Skirts and Wide belts, bell bottoms, real colorful striped & polka-dot shirts, girls with bangs and guys getting their hair longer. Guys started getting rid of the grease and pomade. About '65, '66 the British invasion was in full swing and that influenced ELA and the bands. Most of us bands were doing a lot of the typical R&B, Soul & Doo-Wop, but we'd throw in Beatles, Kinks, Animals and the Rolling Stones.
Now, the Beatles were the most popular band in the world at the time, but not all Chicanos in ELA embraced them. I did, and as of today they're still my favorites. But there were a few bands that played Beatles tunes. Our band did, also THE EMERALDS, THE AMBERTONES, THE BLENDELLS and even THEE MIDNITERS did some.
LAE: So the band sets consisted of mostly covers then?
Mark: It was virtually all covers. In the '60s most of the bands were not writing their own songs. Even the ones recording were given songs. Billy Cardenas gave THE PREMIERS "Farmer John" to record, which was a song by Don & Dewey. THE BLENDELLS recorded LALALALALA by Stevie Wonder. Land of 1000 dances was written by Chris Kenner and Fats Domino and was recorded by CANNIBAL & THE HEADHUNTERS and THEE MIDNITERS. One exception was THE ROMANCERS, Max Uballez and those guys wrote some of their own instrumentals on the "Do The Slauson" and "Do The Swing" albums. Mario Panaqua of THE JAGUARS wrote "Where Lovers Go", so there was some writing going on but it was mostly cover material at the gigs. It wasn't until the late '60s and early '70s that more artists started writing.
LAE: So most of the guys in these bands were locals from ELA?
Yeah. Like CANNIBAL & THE HEADHUNTERS were from the projects. I think it was Ramona Gardens. The Salas Brothers who fronted THE JAGUARS and later formed TIERRA were from Lincoln Heights. I think they went to Lincoln High School.
LAE: What's your experience with THEE MIDNITERS?
I interviewed Li'l Willy G a few years ago. It's funny; the original name of their group was THE GENTILES, which is hilarious.
LAE: You mean like a "non-Jewish" person?
Mark: Yeah! Can you imagine? I don't know if they even knew what it meant. But it sounded cool. We're The "GENTILES". Li'l Willie G was in it and the Ceballos brothers and that group evolved into what became Thee Midniters. Their peak was about '65 or '66. They were like "The Beatles of ELA" in terms of popularity. They even wore the Beatle haircuts and the cool suits and girls would scream. Willie G put it this way; "We kind of looked like the Beatles, but sounded like the Stones." They were more R&B.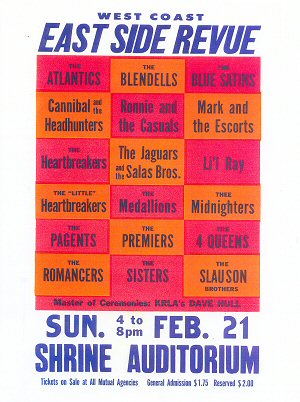 LAE: It seemed like the Eastside sound had more in common with the Soul and R&B sound than other styles.
Mark: Thee Midniters have a song "Never Knew I Had It So Bad" that sounds more British invasion than most of the stuff they did. Also their song "Everybody Needs Someone To Love" they did more like the Stones version. Also, they weren't much of a "harmony" band. It was mostly Li'l Willie G on vocals. For a little while, Li'l Ray Jimenez was in the band at the same time and that was pretty awesome. I remember seeing them perform with both Willie and Ray. They were the two best singer/performers around.
LAE: How did the kids in the audience act at these shows you did?
Mark: It was a combination of dancing and rushing the stage when their favorite bands came on. Of course, once in a while a fight would break out! (Ha-ha!)
LAE: Was there much of a hard core fan base or even a "Groupies" scene?
Mark: Well,.. there was always a kind of groupie scene. We didn't call them groupies in those days, that word didn't exist in the early to mid-sixties that we knew of. We all knew that if you were in a band you had a good shot at picking up on somebody. And we all had our share. That was part of the appeal of being a musician. In those days when we were younger, it was more of a thing about making out in the parking lot or making out in the car. But, uh,….it was very nice and um,…we did very well! (Laughter)
LAE: Something I've always wanted to know.
Mark: Did you ever hear of the term: "Jetters"?
LAE: No.
Mark: During around '65, there was a certain look girls had called "Jetters". I don't know where that came from. If you ever interview another guy from my era, they'll know what that is and they'll probably laugh. The Jetters usually had like bangs, straight hair almost like a bowl cut, and they wore mini skirts with a big wide black belt with a big buckle and a little tight top and that was the look of a "Jetter". They were the "hip" girls of that era.
LAE: How would it go down? Would these girls hang out and approach you guys or go backstage?
Mark: Sometimes they'd approach you or sometimes you'd approach them. It was a pretty cool thing to be in a band in those days.
LAE: Any wild scenes ever break out at these gigs?
Mark:  Have you heard of the CYO Hall? We used to play there a lot too. It was on Brooklyn & Gage. Have you ever seen the building? If you ever get a chance, go around the back and go up the metal fire escape type stairs. It's EXACTLY like it was then, even now. The stage is still there too. I was there in 2002 for a lecture performance and I could not believe it. A couple of times recently, I've gone to ELA to visit these old venues. I took a friend of mine who was in the band THE EMERALDS. We drove around and we actually got into St. Alphonsus, we walked in and looked around and that stage is still the same. Then we went to the Montebello Ballroom and we told a guy that was opening up, "Hey, you won't believe it but we used to play here about 40 years ago! He let us in, and that was the same too. There was a stage downstairs and a little stage upstairs. During the shows the band downstairs would finish a set and the band upstairs would start up. They'd alternate so that there was no dead time. So physically everything is the same except that now they have all kinds of stuff on the wall and it's now more of a Mexican music venue. It's a mind blower.
LAE: Some things never change.
Mark: Yeah. But at the CYO, I do remember a couple of fights. It's kind of ironic, you know, CYO, Catholic Youth Organization? But there were at least two or three times where we'd be playing, and then suddenly you'd see a chair fly by and you'd see a fight break out and get bigger and bigger. You'd keep playing usually, but sometimes we'd have to like, go behind the amps and hide back there to avoid getting hit! (Laughs) But I remember hearing about some big fights there. There was a rumor that somebody once got thrown out of the window and landed on a car or something. I didn't see that myself.
It got to a point sometimes where we'd say "Oh, it's eleven o'clock- a fight's gonna break out soon!"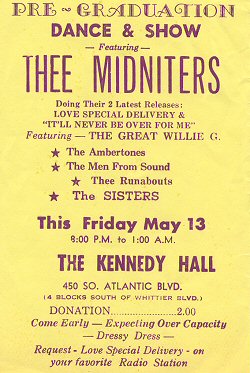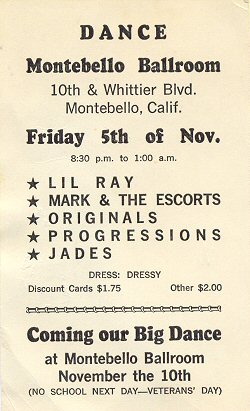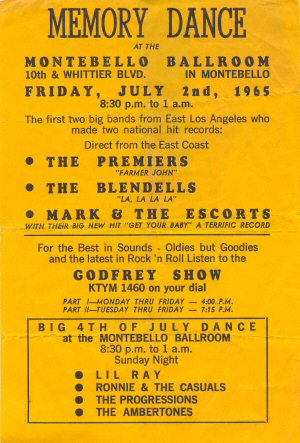 LAE: Did you personally ever get physical?
Mark: No, not at any of the dances or with any of the customers. There were a couple of times where I got physical with some of the band members. Like, there'd be some jerk in the band who would freak out. There were a few weird incidents like that. If you had young, hot headed, irrational people in a band, sometimes there'd be fights within the bands.
LAE: What was the drug culture like within the band scene in those days?
Well, some bands drank a lot, and getting into the late 60's, pot started to come around for sure. There were pills, Reds, Bennies, uppers & downers. Back in those days it was mainly booze and uppers and downers. But it all depended you know? Some bands were freakin' raving alcoholics (laughs). Our band wasn't. We started out so young doing the circuit, most of our guys weren't drinking or doing anything at all. We just wanted to play.
There was also an interesting scene in terms of rivalries among the various bands. There was a lot of competition. It wasn't all peaches & cream. Some bands were friendly with each other and had camaraderie. Especially us. We had the same manager as say, THE BLENDELLS and we got along great with them. I went to high school with a couple of those guys. We played with RONNIE & THE CASUALS, they were real cool. But there were also other bands around which we didn't really even speak to or meet. It was all a matter of competition. Our main rivals were THE EMERALDS, because they were really good too and also did BEATLES stuff. Then there was a group called THE EXOTICS. They were real interesting. They went to Garfield High, we were the two biggest bands out of Garfield at the time. We'd play at the Garfield High School Sports Night together, also assemblies, shows out on the field and local dances. We were both really great bands but our styles were different. THE EXOTICS were the quintessential ROLLING STONES, KINKS, ANIMALS, and YARDBIRDS type of band. They were very good at the Blues based type of stuff. There were two Delgado brothers in it, Danny & Bobby. Their brother was the bass player for THE AMBERTONES. To this day there's a Delgado Brothers Band. So we had a rivalry with them where they'd see us play and do a certain song, then they'd go out and learn it, and vice-versa. I ran into one of them recently and he remembered how one time they saw us and said "Wow! They learned "Day Tripper" by THE BEATLES! What are we going to do now?" THE IMPALAS were also a little bit of a rival. These rivalries would usually drive you as musicians to get better and it kept everybody sharp. BUT, once in a while it went over the line…..
One time we were playing at St. Alphonsus. At that time we were called THE MEN FROM S.O.U.N.D. We're in the middle of a set and everyone's dancing, it's all great,
And BOOM, our power went off and there was just drums playing. It turned out that one of our rival bands pulled the plug on us from behind the stage. The word was that THE IMPALAS were responsible. Another time, we played with THE EMERALDS at Garfield's Sports Night, and we were the band hired for it, playing four sets. It was our gig. But, unbeknownst to me, THE EMERALDS had been hired to play our breaks.
So at one point, one of THE EMERALDS came up to us and said "Hey man, let's share the playing time equally". We declined because we'd been hired and paid to play for these hours, so we were going to do that. So at the end of the night, their two biggest and baddest guys, these two tough looking guys, were waiting outside to jump us! Luckily, we had our own two huge guys that had just hung out to roadie for us that night. They happened to be African-American guys and they were HUGE. So these two rival guys were waiting for us when we walked out with these two big roadies. They took one look and just walked away. That sort of neutralized the situation. That's how emotional and passionate it was, to where they said: "We're gonna kick their Ass!!!"
End of Part 1 in a series, Interview With Mark Guerrero. To be continued…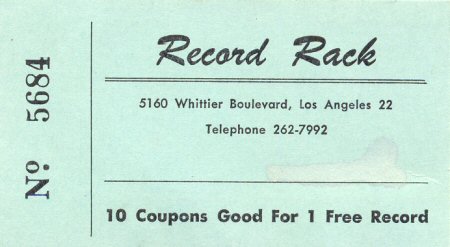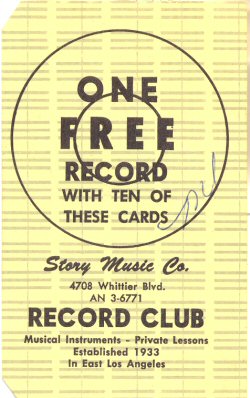 Images courtesy of Mark Guerrero

markguerrero.net
myspace.com/markguerrero