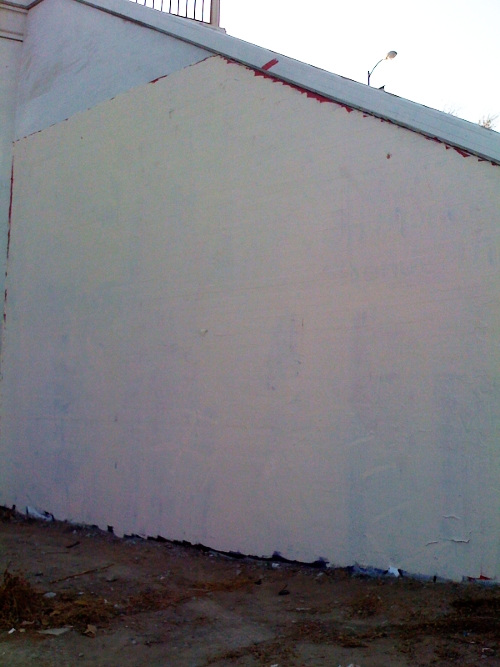 On my daily ride from CSULA to home in Lincoln Heights I came across this sight. I'm sure you can't tell from the photo of what used to be there, but I remember:
Just as I thought the following mural was not legal: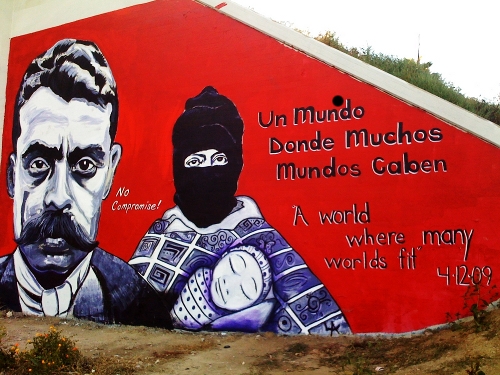 And I think conducive to its message is the fact that it was allowed, permitted, sanctioned, or pled into existence. It just did. But the controllers of the public mind and space have other things in mind for us.  This mural has been destroyed but thanks to a previous post it will not be forgotten.
What has not been destroyed on Valley Blvd, where this mural was, are the plethora of billboards with messages of conspicuous consumption of health destroying fast-food or frustration-dulling legal drug-use (i.e. liquor).  Those will go on warping our desires and needs. That's o.k. in America; this message cloaked in blood red was not.
—- UPDATE 5/19/09 —-
I did some blog searching & found that someone else also took some photos of the now erased mirror, found here. http://jaebueno.wordpress.com/2009/04/16/images-los-angeles-street-art-lincoln-heights-echo-park/
The only difference is that I don't watermark my images because FUCK ownership of intellectual property. I'm so post-modern & anarchist it's crazy.