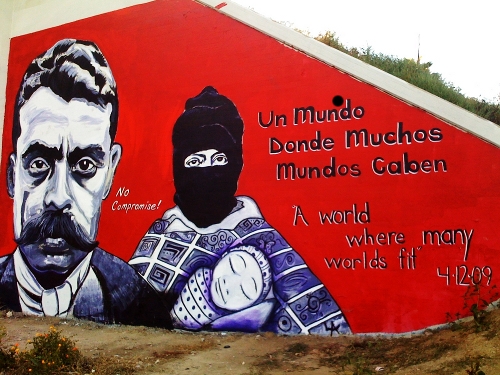 On a ride heading home on my 1s & 2s (read:bici) from CSULA I came across this mural at the corner of Valley Blvd and Soto St. It's located on Valley on the wall that supports the bridge that allows Soto St to pass over, near Lincoln Park.
It shows a rather iconic image of Emiliano Zapata, leader of the Liberation Army of the South during the Mexican Revolution. Next to him is an image of a woman in a wrap of a traditional Native Mexican woman. Of course what sets this woman apart is the balaclava that has become synonymous with the EZLN, or Zapatistas, of Chiapas. Interspersed throughout her wrap are images tied to Mayan iconography and even the ubiquitous « LA » insignia near the bottom.
The text reading (bilingually), "A world where many worlds fit" plays to a key idea of Zapatista ideology that since it is the people that should (read:must) rule, through (very) direct democracy, this world would inherently contain many worlds in accordance to the needs/wishes of each autonomous group.  Much different from the circus we have every few years here, otherwise known as electoral politics.
Knowing that *new* murals have become illegal in Los Angeles by work of a new ordinance I wonder how this one came to be.  I assume it exists in the realm of illegality extra-legality/super-legality, whatever that means. (Thanks El Chavo!)