Oscar De La Hoya retires, was he the greatest athlete to ever come out of the Eastside? He certainly was the most popular worldwide, and definitely the most successful financially, He was #2 on the 2007 list of wealthiest athletes, only behind Tiger Woods. De La Hoya made $55 million that year. His Golden Boy Promotions have revolutionized Boxing and have taken it to new heights worldwide.
LOS ANGELES — Oscar De La Hoya stopped battling himself Tuesday, deciding after much internal turmoil to retire and end a career in which he won 10 world titles in six divisions and became boxing's most popular fighter.

He made his announcement at an outdoor plaza across the street from Staples Center, where a 7-foot bronze statue of the 36-year-old Golden Boy stands.

"I've come to the conclusion that it's over," the East Los Angeles native said before hundreds of fans, including comedian George Lopez and Oscar-nominated actor and former fighter Mickey Rourke. "It's over inside the ring for me."
Some other great athletes to come from the Eastside include many characters and in some instances have sad endings, but it also included many groundbreakers in civil and human rights. One thing they all seemed to have in common was a fierce determination and warrior spirit.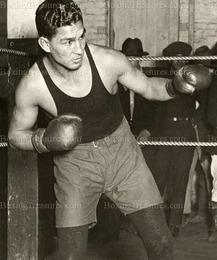 The great Bert Colima from "Jimtown", one of the greatest boxers and crowd pleasers ever to put on a pair of gloves. Colima was the darling of the Hollywood crowd and his fights at the Olympic and the old Hollywood Legion were famous for the great Mexican actress Lupe Velez yelling loudly "Geeve eet to Heem Colima!"
"One game, some redneck Missouri players were riding Washington pretty good and they would take chalk from the sidelines and rub it in his face. But Kenny…"
The great Kenny Washington from Lincoln Heights, Lincoln High School, the first consensus African American, All American, football player. At UCLA where he played on one of the greatest football teams in college history his teammates were Woody Strode (later a popular actor), and the legendary Jackie Robinson. Kenny Washington was also the first African American Pro Football player who set many records with the LA Rams.
Mike Garrett is a member of The Pigskin Club Of Washington, D.C. National Intercollegiate All-American Football Players Honor Roll. Mike Garrett, Aliso Village, Boyle Hts., Roosevelt High School. "The Noblest Trojan of them all", Heisman Trophy winner, now Athletic Director at USC.
"Next to Jackie Robinson, Pancho Gonzáles was the most competitive athlete I've ever known" Legendary sports broadcaster, Howard Cosell. (From Latino Sports Legends)
When Ricardo Alonzo "Pancho" Gonzáles was the age of 12, he asked his mother for a bike for his birthday. His mom thought riding a bike was too dangerous so she bought him a tennis racket for fifty-seven cents instead. Richard fell in love with the racket and the game of tennis and began playing as often as he could.
Although Gonzales grew up around the LA Coliseum I'm including him as an Eastside athlete because one of the few places a Chicano like Gonzales could play tennis in those days was at Belvedere Park in East Los. Gonzales was a mean, fierce competitor who was disliked by many. As a young player he not only had being a Mexican American against him  but was a juvenile delinquent and high school dropout and was shunned by the uppity So California Tennis Association .
Considered on everyone's short list of greatest tennis players of all time Gonzales always hated the nickname "Pancho" which he felt was derogatory towards Mexicans, he preferred to be called Richard.
"Gene Herman Brito (November 23, 1925 – June 8, 1965) was an American football Defensive end in the National Football League who played nine seasons for the…"
Gene Brito from Lincoln Hts was said to be one of the toughest most fierce competitors ever to play sports,  in high school (Lincoln), College (Loyola), or in the pros, Calvary Stampede, Washington Redskins and the LA Rams.
Bobby was always looking down the road. 'I want you to know who's the boss, for the rest of your life, Kid,' he told me. Bobby Riggs was always candid."
Bobby Riggs from Highland Park, Franklin High School. A great tennis player and hustler who is best remembered for his tennis match against Billie Jean King that was televised nationwide at the time.
"Benjamin Earl Davidson (born June 14, 1940) is a former American football player between 1961 and 1971, most notably in the American…"
The big, vicious, ferocious, Big Ben Davidson from El Sereno, Wilson High School, East LA College, and part of the outlaw Silver and Black Oakland Raiders. With his famous handlebar mustache he also made some money in Hollywood as an actor.
Although many great athletes have come out of the LA Eastside, including Dodgers Willie Davis (Boyle Hts) and Bobby Castillo (Lincoln Hts) the Eastside is most known for it's boxing greats including Paul Gonzales the 1984 gold medal Olympic champ.
Others include: Don Jordan, welterweight champ in the 1950's from Boyle Hts (Primera Flats), half black and half Mexican he was a great boxer who unfortunately got hooked up with gangster Mickey Cohen and Mafia boss's Frankie Carbo and Jack Dragna. He was accused of throwing fights and spent some time in prison.
A couple of other legendary fighters who were rivals on the Eastside were Keeny Teran, who many considered the most talented fighter ever out of the Eastside, and Gil Cadilli who fought some fierce battles, unfortunately Keeny Teran could never lose the heroin habit that he picked up as a kid from El Hoyo Mara, it eventually cost him his life.
Art Aragon (November 13, 1927 – March 25, 2008), nicknamed "Golden Boy"
Art Aragon was one of my favorites though; he was a real character who Muhammad Ali is said to have patterned himself after. Aragon was a good-looking ladies man who had heated public affairs with Mamie Van Doren, Jane Mansfield, and Marilyn Monroe. He had a vicious rivalry with the Mexican legend Lauro Salas; they had a series of fights including one in an alley behind a restaurant bar in Echo Park.
When Aragon and Salas got older they became friends and I remember an article once in the LA Times, Art Aragon said "I got a surprise visit today from Tony Curtis, only it wasn't Tony Curtis after all, it was Lauro Salas who got plastic surgery on his face (Salas was an ugly man with lots of scar tissue).
Aragon later became a well known bails bondsman, his motto on his signs and business cards stated proudly "Art Aragon, Bail Bonds, I'll get you out if it takes ten years", quite a character.