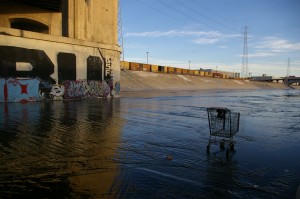 Hopefully, a few Eastside residents auditioned for Cornerstone Theater Company held auditions for "Flow," a Julie Herbert play about the Los Angeles River and surrounding communities.
When  CTC called for anyone who live, work, or loves the LA River to try some acting,  El Chavo commented "I'm gonna see if I can be the shopping cart somebody threw into the water."
I saw this on Sunday. So I took a photo.
ADD: A play worth writing is one that talks about what the Eastside is.
Pictured: Under the Sixth Street Bridge, Â  a shopping cart is sitting in the Los Angeles River (or it's El Chavo doing some method acting for "Flow")