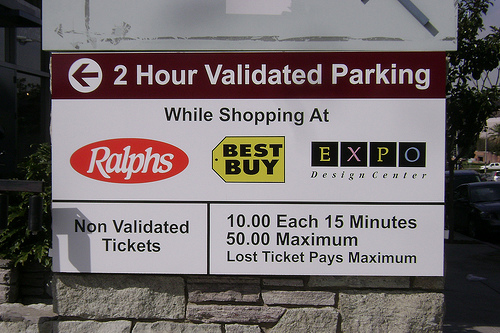 I once made a list of the pros and cons of living on the Westside. Parking was definitely one of the negatives along with several other complaints. I had one or two items on the pros column. Since then, I've added a few more:
I have a short commute to school/work on the Big Blue Bus. It would be shorter if the area was less congested. Oops. I was trying to stay positive.
It's cooler in the summer. I don't need a fan or air conditioner to get through July, August and September.
I can find restaurants and shops in my area reviewed in magazines, newspapers and mainstream blogs.
I don't have to challenge perceptions about my neighborhood being unsafe or dirty.
The city won't dare run an at-grade light rail line through this side of town, unlike in poorer, blacker, browner areas
Transplants with no respect for history are not trying to rename other areas as the new Westside.
It's not so bad. Just don't forget to validate your parking. Or better, spend a few minutes looking for a spot on the street.