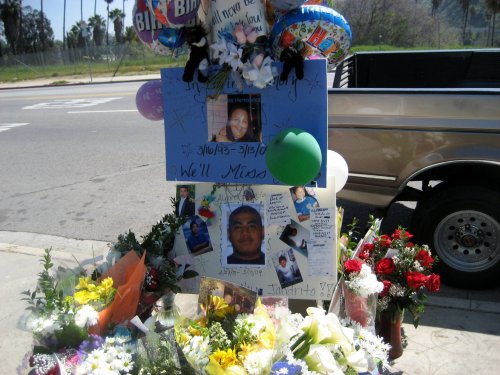 The family of Alejandro Garcia has been keeping vigil at this memorial everyday, hydrating the flowers and answering the questions of passerbys. This past Monday would have been the sixteenth birthday of Carlos Hernandez.
Last Friday, two young boys, Alejandro Garcia, 16 and Carlos Hernandez, 15 were gunned down on their walk home from Franklin High School on the busy North Figueroa corridor. Police and eyewitness reports say the incident started initially as a brawl before it turned deadly.
I'm a bit late in mentioning this story because I was out of town when it happened but I've been wondering, what excuse does the Los Angeles Times have? All they've got on this tragic story is a small blurb on one of their blogs. That's pathetic. People have left comments on the LA Now blog expressing similar sentiments. There have been more shootings in the area and still no coverage. Well, at least the Times wasn't posing outrageous questions to their readers, like whether or not they felt safer with the deceased gone.

I've been told that race and class have nothing to do with lack of coverage but I really doubt it. The news media probably saw "Highland Park" and "gang related" and decided to cover more important topics like the Octo-Mom. Regardless of what these young teens were or were not involved with, nobody deserves to die this way. We all make mistakes when we are young and these boys were robbed of any chance to live and learn.
A fundraiser carwash will happen this Saturday on Ave 54 and Figueroa to raise money for the funerals. Donations can also be made via a Bank of America account and at the memorial site. Please call (323)602-3984 for bank and donation information.
Also, a local community group is calling for a vigil near the site of the shooting.
Friday, March 20 @6pm
Highland Park Recreation Center
6150 Piedmont Ave.
Los Angeles, CA 90042