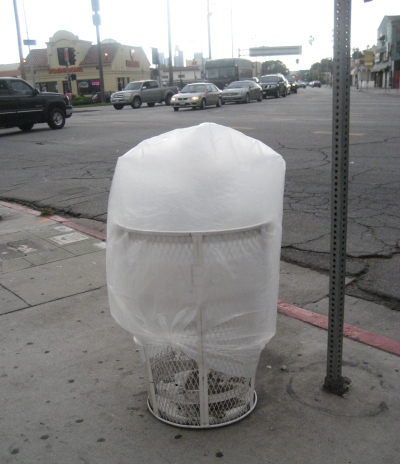 The Mysterious Ghostly Trash Receptacle of Lincoln Heights
Botanitas is an ongoing feature bringing you stories and news from various sources, upcoming events and other bits of ephemera that might be of interest to LA Eastside readers. Suggestions welcome!
So many events this week, so little time! Only boring people can be bored in a city like Los Angeles. That's right, I said it. You got a problem with my philosophy? Leave it in the comments section. This edition of Botanitas is chockfull of Eastside concerts, art shows and places to be seen. Read ahead for the scoop. *Updated this morning*

………………..
Random Picks! courtesy of Random Hero

Mujeres de Maiz Intergenerational Talk
Inter-generational Artist Talk for 12th Annual "Mujeres de Maiz" Live Art Show
Thursday March 19th
7:00-9:30pm
@Liliflor Studios 2026 E 1st St
Los Angeles, CA 90033
For more info, email: spacechola@hotmail.com
Confirmed participants include: visual artist Diane Gamboa, video artist Frances Salome, Maritza Alvarez from Womyn Image Makers, visual artist Timoi, and Joy Anderson and Jessica Gudiel (Space Intruderz). Moderated by Sandra de la Loza
More events at the Liliflor Studios:
VISUAL ART EXHIBIT
"LA SAGRADA"
featuring:
Yreina Cervantes, Margaret Alarcon, Linda Vallejo, Gabriela Zapata, Angela Penaredondo, Cecilia Garcia, Jennifer Gutierrez Morgan, Emilia Garcia, Janet Dandridge, Ofelia Esparza, Lilia Ramirez, TIMOI, Gina Roman, Nayeli Guzman, Tanya Melendez, Loralei Bingamon, Sue Li, Imelda Gutierrez
MUJER MERCADOS,
Holistic & Make Your Own
WORKSHOPS
March 12-29th at Liliflor Studios
Open Tuesdays and Thursdays 7-10 PM and by Appointment
and March 29th, 12-5pm
FRESH FROM THE GARDEN
HEALING WORKSHOP
Tuesday, March 24th
7:30pm-9:00pm
$5.00 donation
ON THE HARVEST & PREPARATION
OF COMMON GARDEN HERBS FOR HEALING
Workshop will cover:
HARVEST AND DRYING
HEALING PROPERTIES
HERB PREPARATION
METHODS OF APPLICATION
POETRY, SPOKEN WORD NIGHT
Thursday, March 26th
7pm
Hosted by Rebecca and Citlali
Sarah Cruz
Ashlyn Elizabeth
Wyldflower
Jenny Yang
Sho'King
More TBA
MUJER MERCADO
Sunday, March 29th, 2009
12pm-5pm
All female vendors of art, jewelry, crafts, etc.
Holistic Health Workshops by:
Veronica Sanchez OMD on Japanese Accupuncture, Dr. Elena Esparza from Just Breathe Healing & Flower Therapy, Daisy Tonantzin, Yerberia Mayahuel is Master Gardener/Natural Body Care, Lisa Wahpepah on Descendants of The Earth, "Moontime Ceremonies and Healing", Chula Doulah on Self-Gyno y "Panochas Poderosas", Plus more TBA
All these events are going to be held at
Liliflor Collective Studios
(AKA First St. Studios)
2026 E. First Street,
East Los Angeles/Boyle Heights, CA 90033
Please also visit the Mujeres de Maiz website.
Fridas (or was it Fritos?) on My Mind
If you happen to find yourself in the deep armpit of the Valley and I know some of you venture out that way, check out this sure to be humorous evening of art at Cal State Northridge's Grand Salon.
Thursday, March 19
6pm-10pm
An Unfinished Dream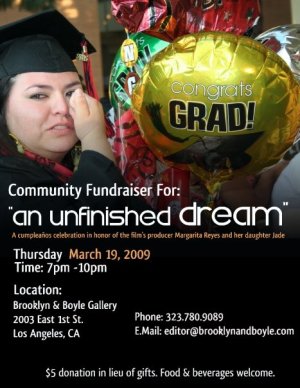 A community fundraiser for AN UNFINISHED DREAM, a social justice documentary film in progress and birthday celebration for producer Margarita Reyes and her daughter Jade featuring guest poet Darren De Leon
Thursday, March 19th, 2009
7 pm – 10 pm
Brooklyn & Boyle: A Literary & Artistic Salon
2003 East 1st St.
Los Angeles, CA 90033
$5 donation in lieu of a gift. Food & beverages welcome.
RSVP to editor@brooklynandboyle.com
Please see here for a small clip of the film.
………………..
And from our mailbag:
Class-y (as in Fourth Grade) Benefit
A Benefit Concert for
Ms. Ixcamey's 4th Grade Class
Friday March 20th
The Blvd in Boyle Heights (near Downtown LA)
2631 Whittier Blvd
http://www. myspace. com/theblvdcafeandbar
Los Creepers (http://www.myspace.com/loscreepers)
Society's Parasites (http://www.myspace.com/societysparasites)
Broke Til Thursday (http://www.myspace.com/broketilthursday)
The Switch-Ups (http://www.myspace.com/theswitchups)
Bruise Violet (http://www.myspace.com/bruiseviolet4)
The Pristines (http://www.myspace.com/pristines)
18+ 8pm Doors $10 Cover
All proceeds go to taking the kids on a special fieldtrip and to help with getting new books and supplies for the class. It's a tough time for teachers out there – budgets are getting cut and slashed all over the country.
Benefit yourself and others with local music appreciation!
Benefit Show
Support the East Side Cafe, Traveling Band and the Revolutionary Autonomous Communities
Sunday March 22nd 8pm
Eastside Jardin Open House
Sunday, March 22
1pm-5pm
1718 Bridge St
Boyle Heights 90033
Plenty of workshops, speakers, classes and raffles! Sounds fun!
Flyer for event
………………..

Teocintli courtesy of Los Angeles Magazine. The magazine no one I know reads.
The article has been out for awhile but the steam can still be seen shooting out of Eastside resident's ears. Los Angeles Magazine featured our lovely Eastside neighborhood of Boyle Heights for their current issue and used the unfortunate term "hipster" in it's description of local eateries and shops. Really, was that necessary?
Hipster ventures and family businesses draw on the layered history of an immigrant crossroads
By Ann Herold
Los Angeles magazine, March 2009
Street names like St. Louis, Indiana, and Brooklyn (rechristened in honor of Cesar Chavez in 1994) are holdovers from the early 1900s, when a Jewish community thrived in this Eastside enclave. By the 1950s, masa was as common as matzo, as Mexican families snapped up homes being sold by Jews moving to the Westside and the Valley. A Metro Rail Gold Line extension along 1st Street, to be completed this year, will make it even easier for day-trippers to come for Mexican food and music—the famed Mariachi Plaza will serve as a subway stop.
Hey, at least she got out of her car, right?
Anyways, looks like someone at Los Angeles Magazine has been reading LA Eastside. They wouldn't be the first to be, um, inspired by our posts.
………………..
Tia Chucha's Grand Opening
Grand Opening of Tia Chucha's Centro Cultural at Sylmar Plaza
"Renewing Community through Arts and Culture"
With Honored Guests, Music, Dance, Poetry, and More
Saturday, March 28, 2009
4 PM to 9 PM
13197-A Gladstone Ave
Sylmar, CA 91342
818.528.4511
chuchamail@aol.com

Recognizing No Borders
Mark your calendars for the 14th Annual Northern Southern Winds Pow Wow at the Los Angeles State Historic Park, May 8-10, 2009.
Please see www.nosowinds.org for more info.
………………..
Have a great time this weekend! If you're out at any of these events, stop by and say hello. I'm the Chicana girl. 🙂