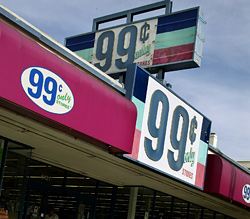 photo courtesy of the Los Angeles Times website
If you didn't live in Los Angeles during the early 90s, count your lucky stars. It was a rough time to live in my beloved city, there was a crack epidemic, people were in dire straits and I knew folks that were either getting shot or doing the shooting. And then there were the riots…I've been thinking a lot about those times lately, the economy is bad and that means people start getting desperate. Two events today are reminiscent of those dark times.
I was at Figueroa Produce today on York and Figueroa stocking up on my veggies and Mediterranean products when the police rush up in a patrol car, sirens wailing to the nearby 99 cent store. An employee or guard has a guy on the ground outside the front door. The police order him to stand up and to put his hands on his head. There's an ambulance there. Did he shoot someone? And two firetrucks. Could one man cause so much trouble?
I remark on the drama to the young clerk at Figueroa Produce, she shrugs and says "You know the economy's getting bad when they start robbing 99 cent stores." Ah, from the mouth of babes, indeed.
Tonight in the industrial section of Lincoln Heights, a woman was found shot in her car. Her life was worth a 41 second clip on KCAL news. The story was being reported from a helicopter. Women in our neighborhood are not worth a newsvan.
More from ABC 7:
LOS ANGELES (KABC) — A woman was found shot dead in an alley in Lincoln Heights on Monday.

The victim was identified as Brianna Hanna.

Police said Hanna was sitting in a white compact car near Humboldt Street and West Avenue 31 when someone walked up and shot her just after 7 p.m.

Police believe Hanna's murder may have been gang-related.

Several people had called police after hearing gunshots, and one witness saw a man running from the scene.
Just to clarify, the area where this happened is a residential street and not an alley. It is near the industrial area of Lincoln Heights and a few blocks from the fancy new artist lofts.