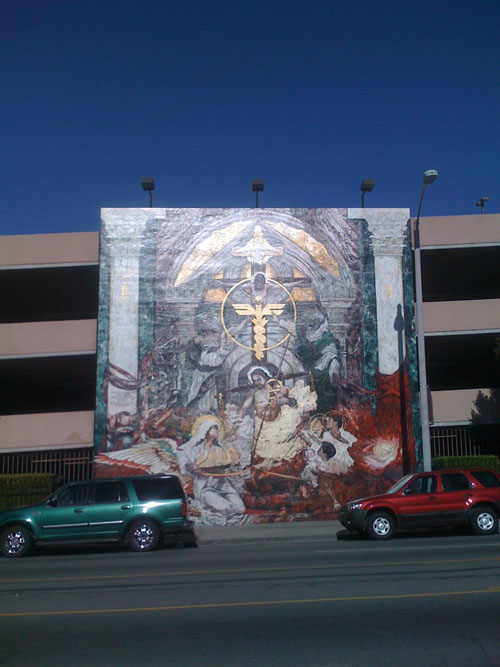 On January 11 I attended the "Resistance and Respect II" forum on murals in Los Angeles. Having missed out on last years, I made it a point to attend this one and I was not disappointed. From the press release, Panelists include: L.A. mural pioneer and founder of the Social & Public Art Resource Center, muralist/professor Judy Baca; pioneer muralist/painter/professor, Yreina D. Cervántez; muralist/painter Noni Olabisi; co-founder of pioneer mural collective, East Los Streetscapers, painter Wayne Alaníz Healy; godfather of LA Graffiti art Chaz Bojórquez; Graff artist/muralist Man One (Director, Crewest Gallery). The panel will be co-moderated by Elizabeth Morin, Director, Youth Arts & Education Program for the Dept. of Cultural Affairs, L.A. and former teen Graff writer/muralist and renowned poet/author, Luis J. Rodríguez.
These are all great people who I've met or heard of before going to the forum, so to be able to hear all of them speak and chime in with the current state of murals in L.A. was a rare treat and opportunity. It was there where I learned about the Siqueiros mural on Olvera St. and where the future of murals in L.A. might go. The discussion got me thinking about some of the murals in Boyle Heights and their conditions. Murals are integral parts of any community and I for one can't picture a world without them. It's also part of my Chicano heritage that I'm learn more and more about everyday. I'm currently reading "Diary Of a Brown Buffalo."  I also realized that during the forum that graffiti is having growing pains because of the wording in city laws that make it a target for politicians who wanna make a name for themselves by going after them.  
Then I got an email from SPARC about the petition to save L.A.s murals. I signed the petition and I'm psyched about the effort to restore, protect and keep our murals. I encourage everyone else who  feels the same and loves murals like I do to sign it and spread the word. All of the pictures seen here are in geographical order. I started at White Memorial and continued all the way down Cesar Chavez Ave. until I ended up at Self Help to their mural in homage to the Siquieros mural. Murals are part of our cultural identity and as a community we need to find solutions to stop them from being whitewashed and tagged on by idiots who have no idea what they're doing.