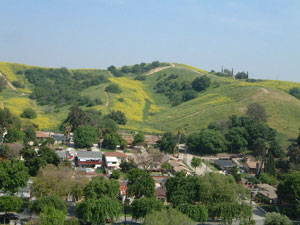 Elephant Hill (photo courtesy of www.lancissues.org)
Developer wins, yet again. Does Northeast LA Really need more above-market rate housing on the last of our remaining open spaces? I think not.
From today's Los Angeles Times:
Developer wins suit against L.A. over El Sereno housing tract project

A judge rejects the City Council's demand that Monterey Hills Investors, which sought to build 24 homes on a hillside, do a new environmental report. The developer will seek to recoup losses.

By David Zahniser
January 8, 2009
A real estate developer has won its legal battle to build 24 homes on a vacant hillside in the Los Angeles neighborhood of El Sereno — and is now looking to recoup its financial losses from City Hall.

Los Angeles Superior Court Judge James C. Chalfant ruled Monday that the City Council had no authority to order Monterey Hills Investors LLC to perform a new environmental impact report on its proposed subdivision of single-family homes.

Opponents of the project received legal help from the Natural Resources Defense Council, an environmental group that said the 15.7-acre site should be preserved. The city's environmental review found that grading would ultimately affect 85% of the site and result in an "irreversible environmental change to the topography," according to court documents
Read more here.
Save Elephant Hills blog