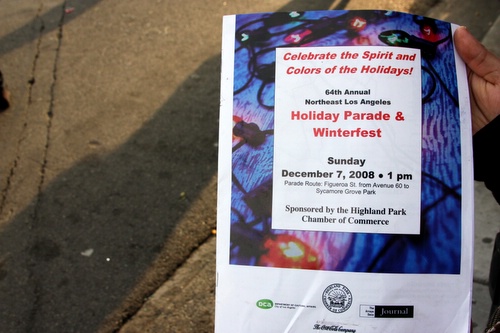 Q-vo Paisanos! Que transas? You thought I had forgotten about the Highland Park parade coverage, eh? Nah, I've just been a little busy with some stupid thing or two. I did actually make it out the the HLP parade on the Northeast side of town, I even stayed for the whole thing! And I took a few pictures! Well, actually, I took too many pictures and I've posted a gang of them, so you're just gonna have to suffer through it tambien. It is the season of sacrifice, after all. So click ahead when you have the time, when your boss leaves the building, or when you're just so bored with that spreadsheet that you no longer even care if you get caught! Al Desfile!
(Edit: as you can tell, I wrote this part some time ago! But if you are a bored office worker stuck behind a computer on New Year's Eve I have a special message for you: Quit! La Crisis be damned!)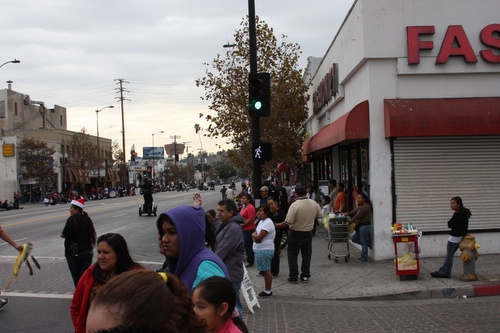 I took the Gold Line and got there a bit late but luckily nothing had happened yet, just the robo cops showing off their trikes.
American Indian Clubhouse started off the festivities in bright colors.
People in a red convertible.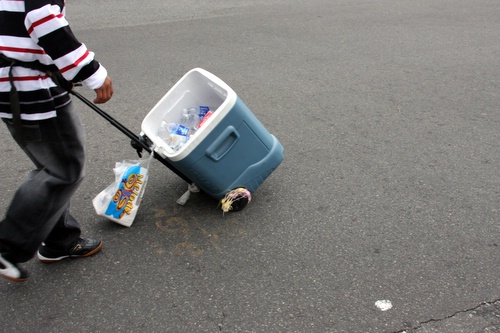 The Water-ero decked out the wheels of his cooler with silly string. Sure, why not?
American Legion about to give me the fingers. Hopefully it was a peace sign.
Santa-hat-wearing parade ambulante. Is this some kinda professional gig? They always have the same carts. The kids seem very critical of the wares.
Spidey gets a taste of his own medicine. Toma!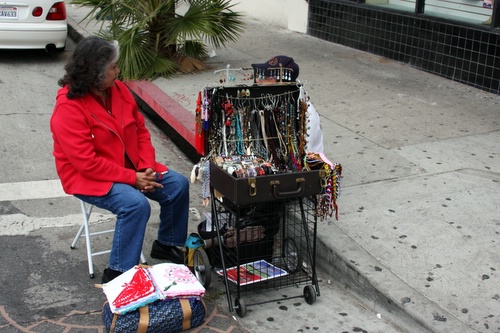 Jewelery shop in a cart.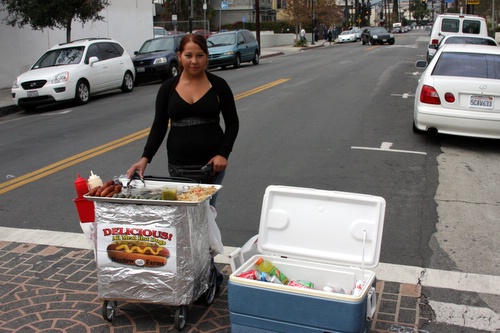 The weenies con bacon-era gives us a smile.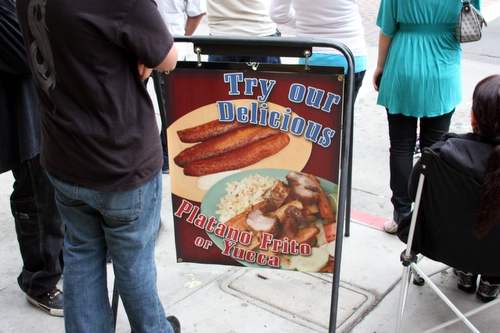 I was craving some of those platanos more than the assorted meats tube.
The Sr Lead Officer of NELA.
Did one of these ladies yell out "Booo! Fuck LAPD!" to that cop above? She sure did! It's hard for people that didn't grow up in LA to comprehend why the distrust and animosity towards police is so strong in certain areas, but I understand it completely.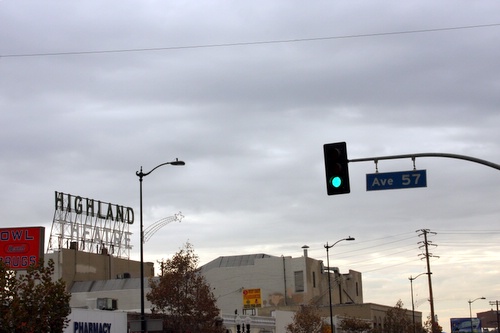 The day was overcast but still nice enough for a parade.
Washington Irving Middle School has a director.
Hmm, they weren't even playing anything. Maybe they're on strike?
Every group seems to have a non-performing contingent the still walk the parade route.
HPHT out in force!
Water delivery from another era.
Cotton Candy-ero making the rounds.
More Chambers, Less Commerce! That's my motto. BTW, what's she doing?
Plastic Toy-era looking mildly bored. Wait, make that wildly bored.
Someone has Spidey green lighted! Poor vato is in trouble.
Elvisy guy upstaging the pres of the HP Chamber of Commerce, someone ain't going to get paid!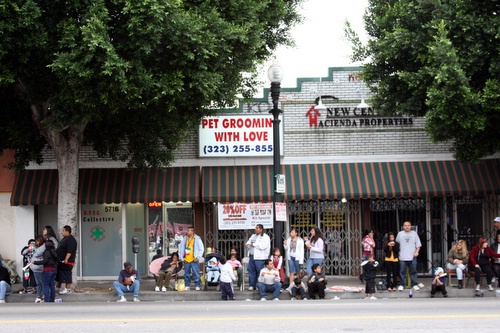 Next to the Marijuana shop a place that grooms your pet with love. Git yer hands off my cat!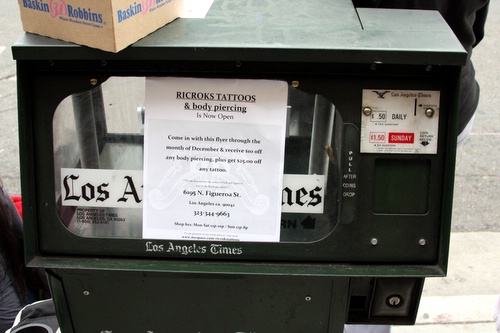 Rickroks Tattoos went on a flyer posting frenzy. No float in the parade though.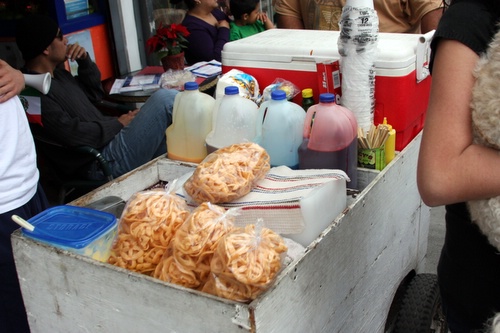 The elotero/raspadero that usually comes thru my neighborhood in LH was up at the parade as well. Traitor! Nah, I'm cool with the HLP.
Lincoln High School Drill Team showing off their stretching skills.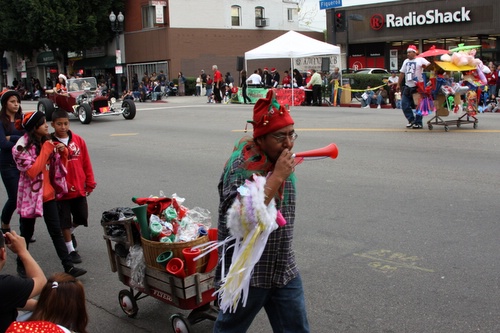 The Horn-ero giving us a sample of the sweet, sweet lullabies you can get from a plastic horn.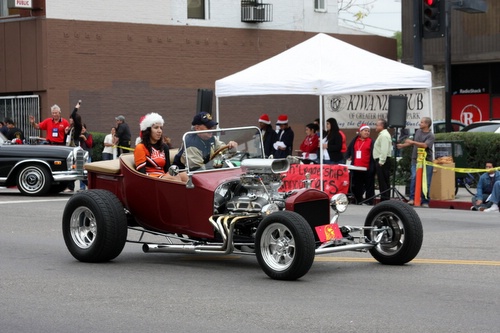 A Ford Pinto with an awesome paint job and a few customizations.
Another Cotton Candy-ero walking the beat. I read in an industry paper that the High Fructose Corn Syrup people are marketing a real cotton wad that you can drench with a squirt of corn syrup and suck on for hours, thus making a cheaper and longer lasting "cotton candy". You can then save the specially constructed cotton ball for future use, just add another drizzle of corn syrup later. Yes, it's all true. Would I lie to you?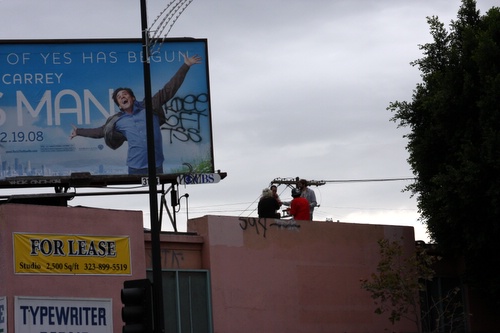 Some people had their own private parties atop the buildings overlooking the parade.
How Donkey!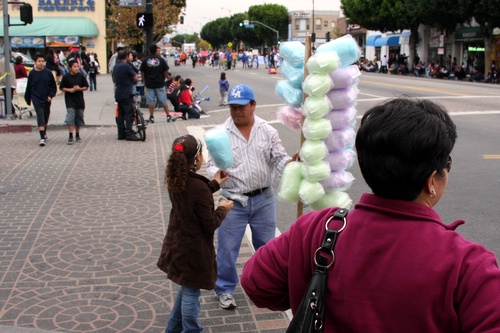 "Uno Por Favor."
Hi Friend!
Who is the Grand Marshall going to be? The tension mounts…but not really.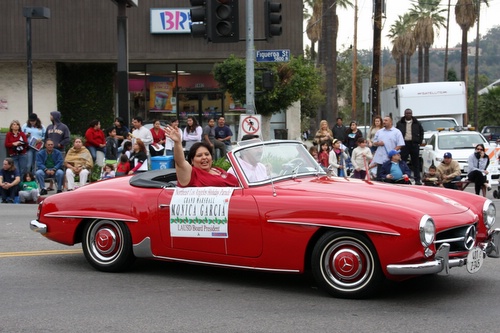 Hey, It's Monica Garcia of the LAUSD, recently in the news because of the ousting of David Brewer and allegations of some racial politicking. Yay! Holiday Cheer! Aside from that, shouldn't the parade folks be trying to get some interesting Grand Marshalls rather than politicians and bureaucrats? Maybe even a celebrity? If I were part of that selection committee I'd have asked Beck back when he was interesting, or maybe even ALZA now that he's so notorious. Lincoln Heights got Edward James Olmos this year, now that's a celebrity!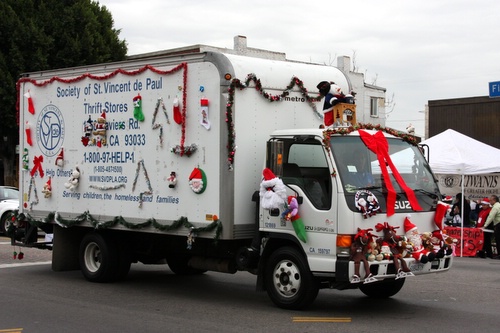 St. Vincents taped a bunch of stuff that was headed to the dumpsters onto one of their trucks. This truck as a parade float is the equivalent of a hipster in granny clothing: Looking Good!
A Cotton Candy-era also joins the fray.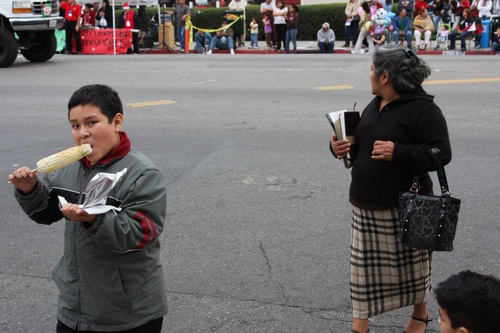 Elotes y Biblias. Yay and Nay.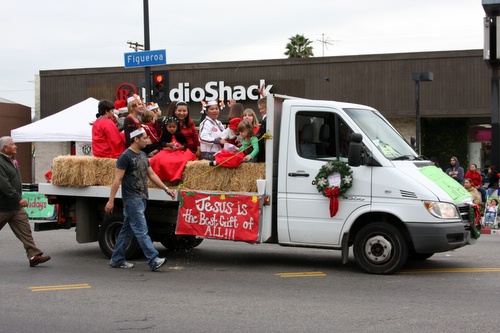 "Jesus is the Best Gift of ALL!!!" Fuck it, give me an MP3 player anyways. Or better yet, don't give me any of your "gifts", por favor!
Kevin de Leon makes a speech about getting thru hard times, I didn't pay attention but my friend said it was moving.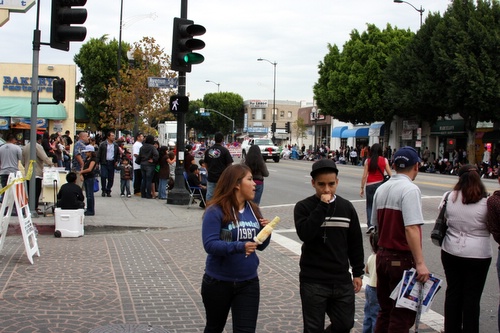 A crowd shot and another elote lover.
"Can we go home now?" That's a fancy looking stroller for this neighborhood!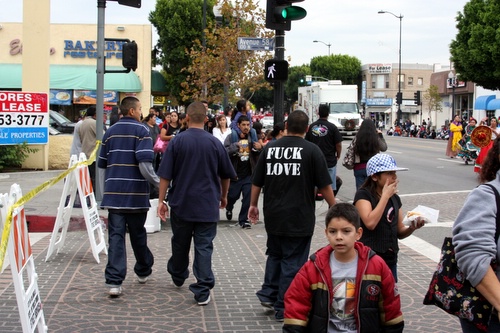 Sir, yer not gonna get many presents with that attitude, nor girlfriends for that matter.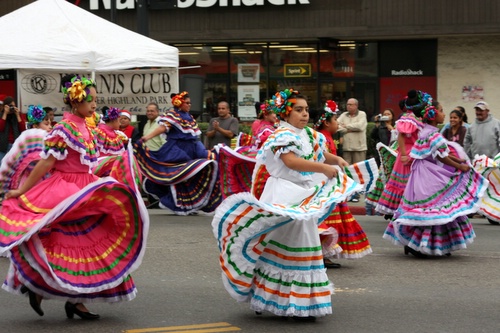 Folklorico dancers, que purty!
She seems to be really concentrating.
The Arroyo Vista truck called the St. Vincents truck to find out what he was going to wear, thus the bows and wrapping paper. Wow.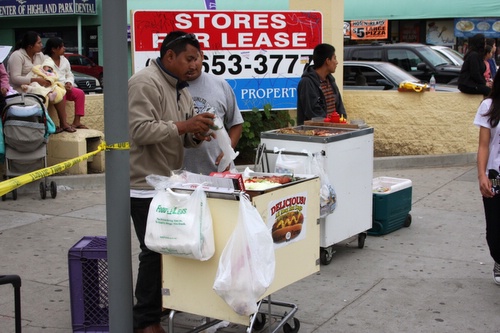 Perro Caliente-ero adding some Jalapenos to the grill. I hope you washed those.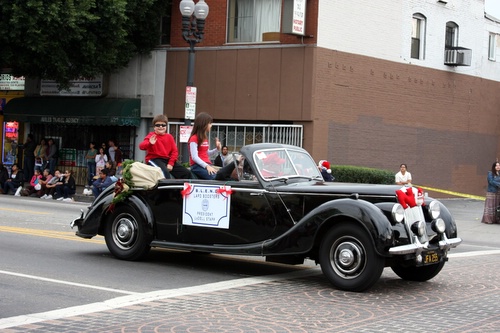 That's the youngest LAPD Boosters President I've ever seen!
Aprenda Ingles Gratis = makes sense. Learn English Free = a little less convincing.
Que ves perro?
The Hoodie family was in attendance.
A waving bear just before he mauled a spectator.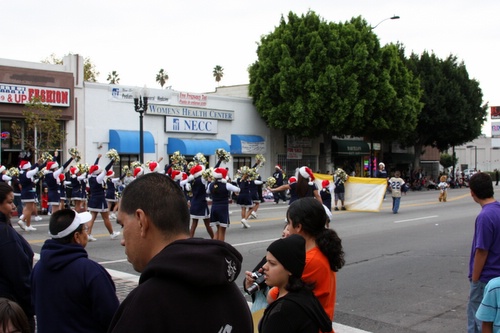 I thought it was just a little odd to hear this squad of the Glendale Bears chanting "Fire it up, Glendale, Fire it Up!"…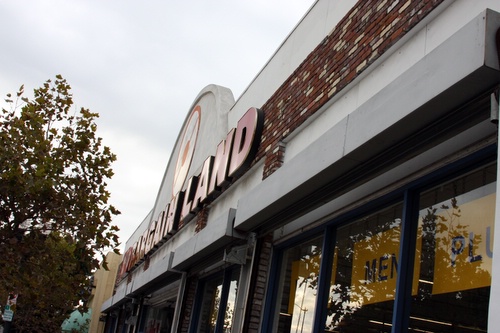 …mostly because we were in front of the Bargain Land that used to be People's Dept Store, site of a notorious arson by then Glendale Fire Captain John Orr. I don't know why it came to me, but it did.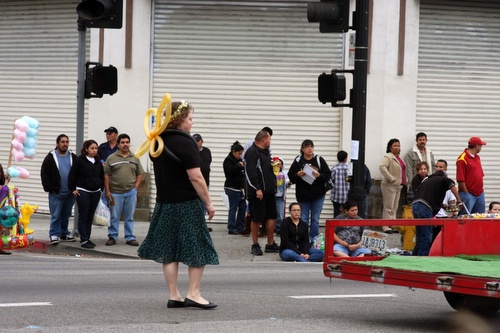 An Angel with Balloon Wings. How Precious.
Now this is a total downer, reminding the crowd of the brutal realities of life. No I haven't done my taxes, you damn Grinch, it's not even the new year! I hope you step in that Horse Pie just ahead of you.
The Ninja Plastic Toy and Cotton Candy-era.
"No jueges con mis bolas, niña malcriada!"
The Hot Dog-ero has the cash to buy his daughter some quality junk food.
A parade Old-Timer giving tips to the Newbies.
Another Grand Marshall, this time it's Yolie Aguilar, again of the LAUSD. If you think I'm getting just a bit bored, you should have seen Yolie checking her text messages on her phone! Way to pay attention Yolie. To the detention hall for you!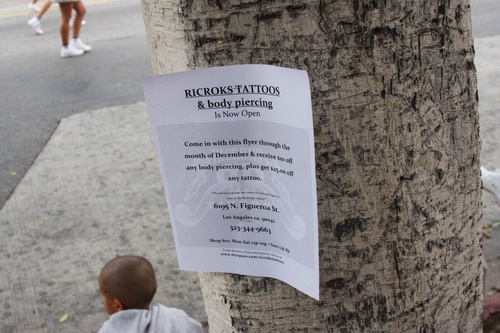 Enough already Ric.
The Santa Cap Family, and their do-as-I-tell-you mother.
I'm pretty sure this was Franklin High.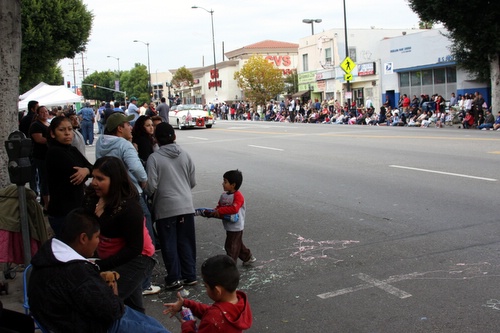 This kid was having soo much fun wacking people with his plastic hammer…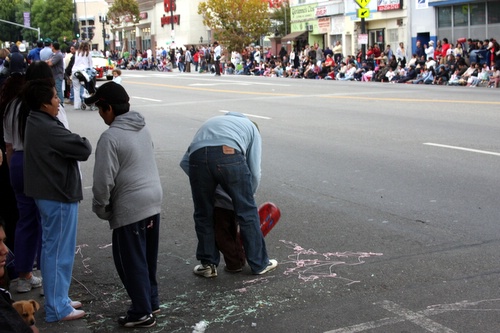 …that he had to be restrained. What a terror!
Salchichas en Tocino-era going to a new spot.
Ed Reyes looking classy in his lil' cap.
This paletero didn't get the change-to-warm-and-salty-food-for-winter memo.
Jose Huizar pointing at the camera.
Another fancy stroller in the HLP.
While the male firepersons hang out in front, this lady stayed in the firehouse window. I hope it's by choice.
Crazy kid getting personal with the asphalt.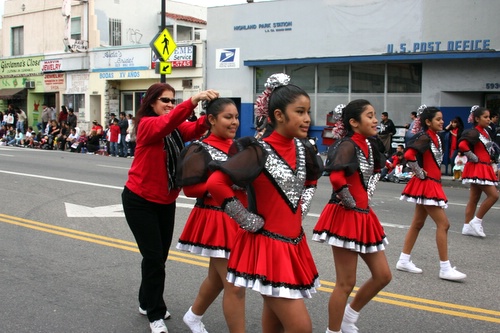 Nightingale Drill Team member gets a last minute hair touch-up.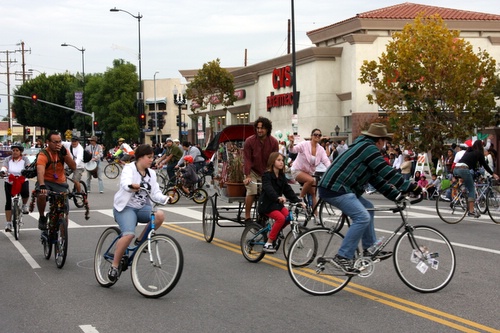 Pajaros Locos Gang going loopy. One of you owes me a beer!
This bike hints at something out of Mad Max. But the helmet on a bike rider tells us the real story: NERD!
Victory Outreach poses for the camera. Stylin'!
The low tech way to get your drill music from the boom box to the parade sound system.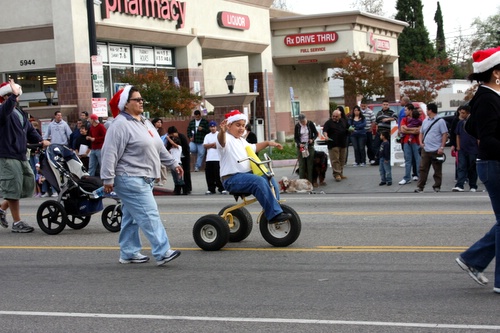 Look Ma', no hands!
This looked like a pack-rat car but I think they were going for something else entirely.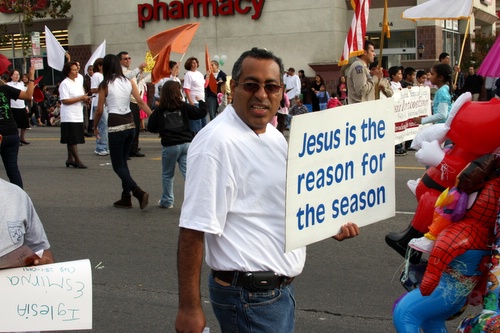 A very specific view of winter festivities.
Christians sing sincere praise to their master. Unfortunately, the singing was terrible. If I was their God I'd consider some instant punishment.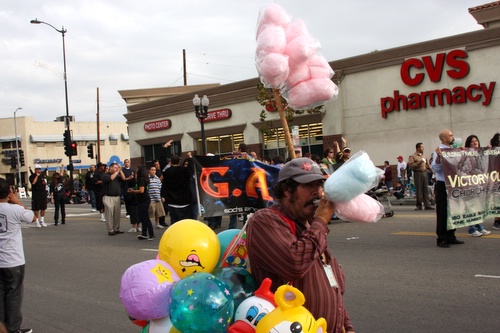 Another religious group in the background, someone in front doesn't seem to care.
Lowrider bikes.
Crowd fascinated by steaming hot corn!
Ooohh, slather on that mayo!
The creepy clowns from last year had a whole new routine, this one a bit less creepy.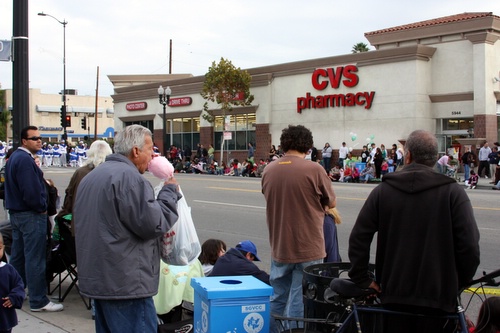 A grown man eating Cotton Candy. It happens.
Well sorta less creepy.
Friends of the Southwest Museum, bringing attention to their cause.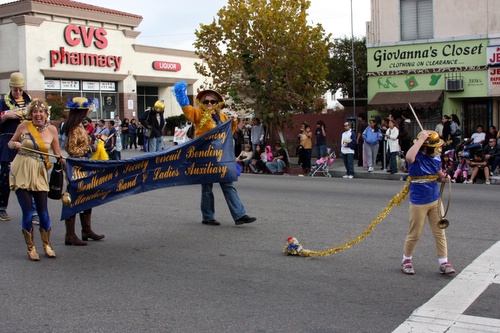 The Something-Something Bending Circuits group, which I'm not about to type all out yet again.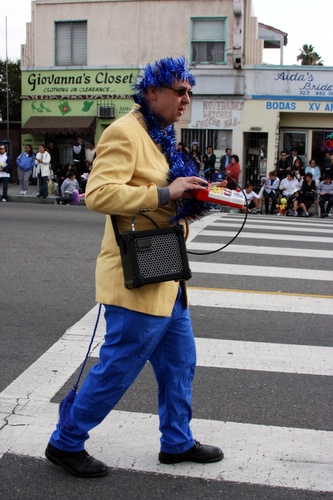 Digital Rockero.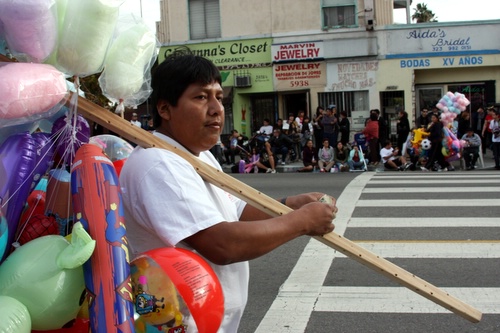 Contemplating where to sit down for his 15 minute break.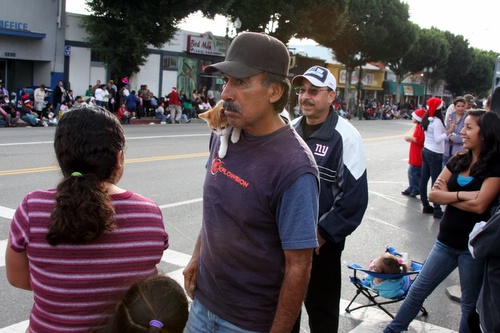 "Hey man, there's a kitten on your shoulder."
"Oh shit! It's still there? What a stupid cat."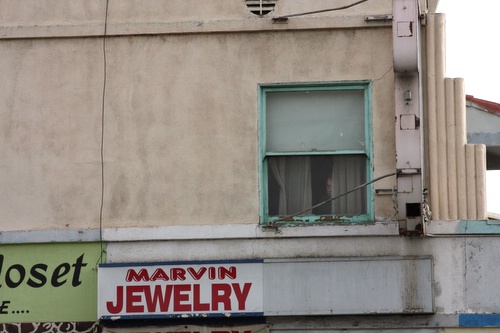 Marvin peeks out from behind the curtains. Come out and play, Marvin!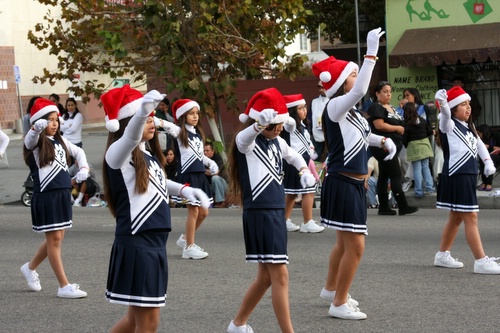 I've forgotten who these young ladies were but they were in high spirits.
Right about the time I started thinking about what I had to do next in the day, this group started to gum up the works. Avance no avanza.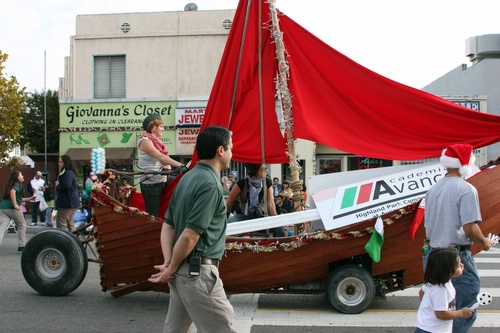 They had a weird ass boat car though. I sure hope that's not what they're learning to build at this academy.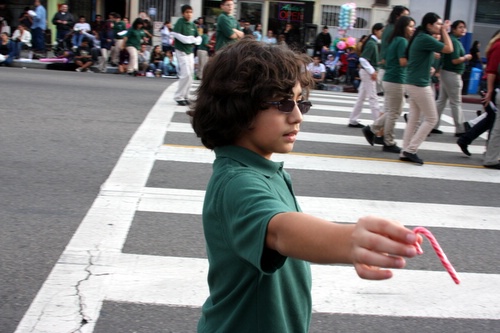 My cara de hambre earned me a free candy cane!
Caballitos!
I wish cholos battled it out by a lasso-off, roping one another into submission. That would really help to increase the peace.
This charro on a horse was deemed parade worthy by his doctor even though he had on a foot cast, no doubt from an injury sustained when he was putting that fancy checkerboard design on the horses ass. Even Marvin up in the window was amazed enough to take a closer peek.
Toland Way with some sharp cutting moves. Check out that puckering action!
All of a sudden, the Toland Way non-participant contingent of mostly mothers came to block our view. WTF ladies, we've been waiting here for awhile, you can at least let the public enjoy the routine you've been pressuring your kids over all year. Jeez.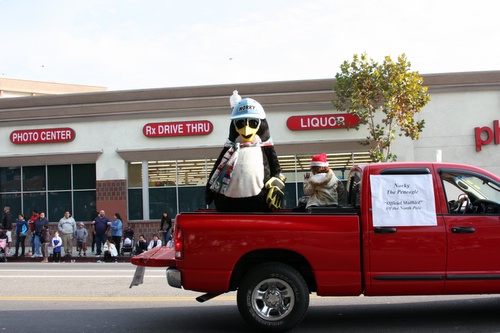 Time to pull the plug on Norky.
Oh hey, this looks cool, maybe some sort of bird watching group from the Audobon Center? After squinting at their sign they turn out to be the local chismosos from a Neighborhood Watch group, ugg. Spying on the neighbors, reporting loud parties, being ratas in the name of security, that's usually what they're about. Not for me.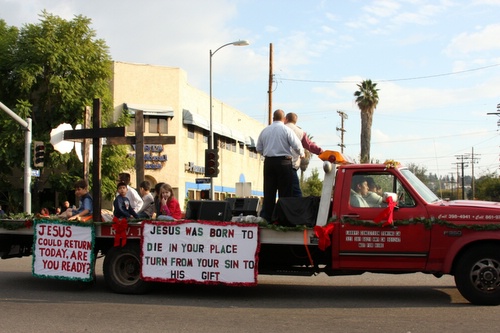 Hmm. Hammer? Check. Nails? Check. My answer is Yes!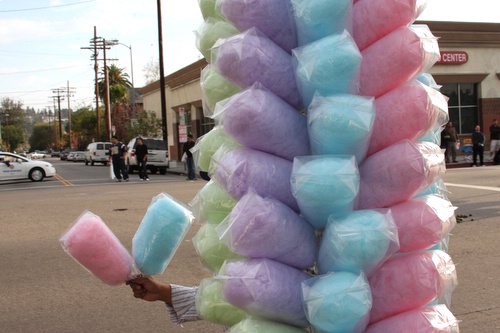 A floating hand gets captured by the Cotton Candy Monster. It's not all fun and games in HLP.
Another bike crew, this one being all leisurely in their bike stroll.
Carritos!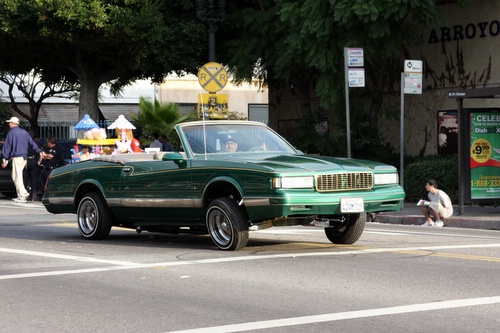 Someone call Triple A, it looks like those wheels are broken!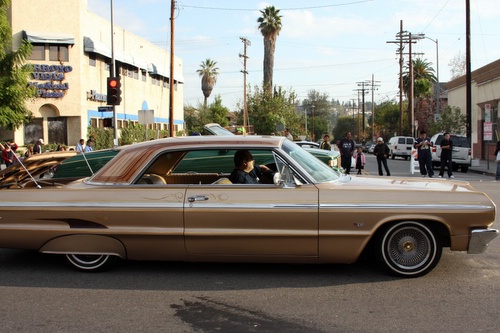 Ranflando, Desfilando, Gozando.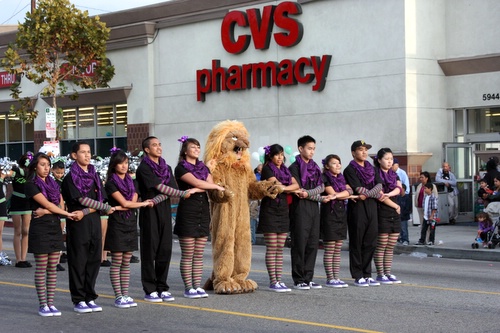 Oh shit, it's almost 2009, I better get this post up before then! I mentioned this group during the LH parade coverage, go there for more info.
Jumping forward a bit but not too much, the parade seemed to be over with the traffic police trailing, the Ranchero in black walking up the sidewalk, but no sign of Santa. "Wh..wh..where's Santa?"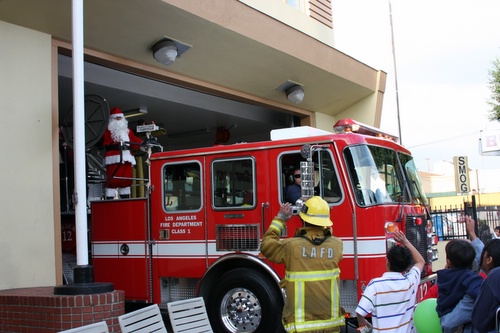 Anyone waiting ahead of the fire station missed him cuz he was just getting there, they pulled out to join the end of the parade. Check it out, even grown firepersons want pictures of Santa. How cute.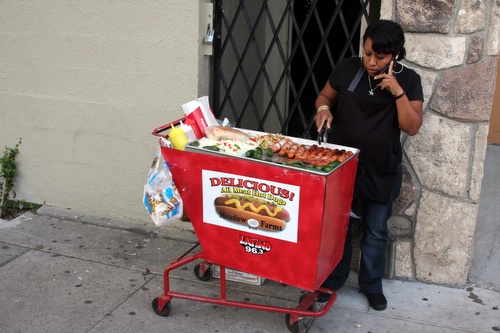 "Le digo Comadre, estos desfiles valen la pena. Estos cabrones se comen cualquier porqueria."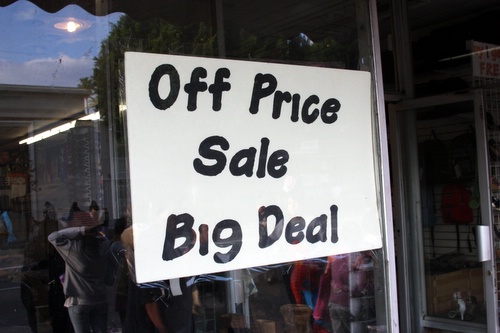 Off Price Sale, Big Deal. I guess it's not a big deal?
This parade was 3 hours long, I was just as tired as this kid. But it was much better than last years, maybe it has to do with where you stand/sit.
Hope this tour was worth your time, I'm off to Lincoln Heights. I'm thinking that maybe tomorrow morning I'll finally go to that really shitty parade in Pasadena. But it depends on the cruda! Later Locos!