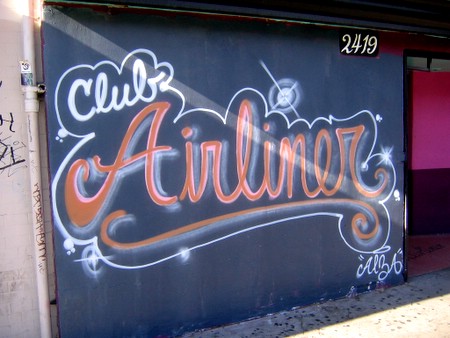 I've been putting off writing this post because frankly, I'm not a big fan of ALZA's work. But I do have to recognize that his creative output pretty much defines the look of Northeast Los Angeles, for better or worse. Some time ago it seemed like Peter Quezada was the look of NELA, but I haven't seen anything new of his in a long time, but ALZA is prolific: I seem to unexpectedly spot one of his latest signs almost every week. There's a reason for the seeming saturation of his aerosol art; the man is persuasive. He's friendly but relentless when it comes to pitching his sign idea for your store, and it obviously works. Though I'd rather see signs made with a brush instead of a spray can, I'm aware that many of the new pioneer residents into this edgy part of town (gag!) would lump them both into the same category of despicable urban blight. Thus, in an effort to thwart gentrification, I'm glad to present and promote the signs of ALZA! Click ahead for the gallery.
Trust me, I don't go out of my way to take pictures of his stuff, I just walk/bike/drive by it all the time, and if I have my camera, click. But there's way more of this around NELA, mostly in Highland Park.
I was surprised to see his work in Boyle Heights, but there it is, in all its informative glory. You'll notice a recurring theme of tiny text.
The man does not shy away from bold colors and yellow outlines.
Though his pieces tend to be to promote a store or service, he also does some with positive messages. This one has a guy behind jail bars with the warning underneath to "stay out." Also, "live to learn, learn 2 live".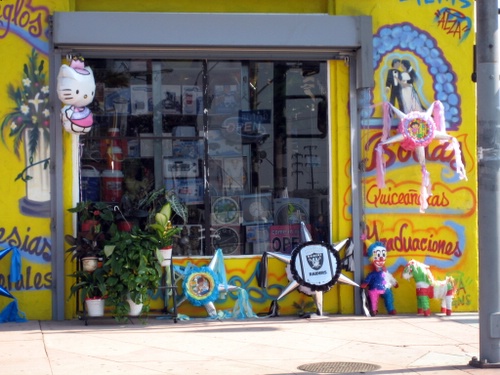 Underneath the donkey piñata, the signature haloed ALZA name.
There used to be a painted sombrero wearing chile at Chico's in HLP, but it's now been ALZAfied.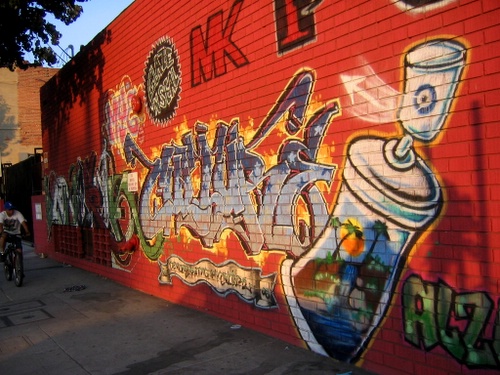 A short lived piece on Figueroa.
At the locksmith shack by the Superior Market. "Art is the Key!"
"ALZA NELA Now & Forever" The man has plans for a place in history.
It's safe to call this one his masterpiece; it incorporates most of his stylistic elements into a grand advertisement/social commentary. Not only does it promote meat, flowers, office supplies, and Internet, it also has the inspiring message "Jail or Freedom Kings and Queens, Uphold Family, Get Paid in Unity". And a plug for Divine Forces Radio as well. This is classic ALZA. You just have to make your peace with it. Click here for a larger version of the picture.
Auto repair sign.
I didn't see the trademark signature, but I'm confident this is our man.
Our last feature, a new sign for Martha's Kitchen in Lincoln Heights. Notice the floating woman with flippers and the 4 legged comal. Click here for a closeup.
I guess somebody wasn't satisfied with the vacant look of the cook, because a few weeks later someone came along with a paintbrush and added proper facial features. Nice use of corrective graffiti!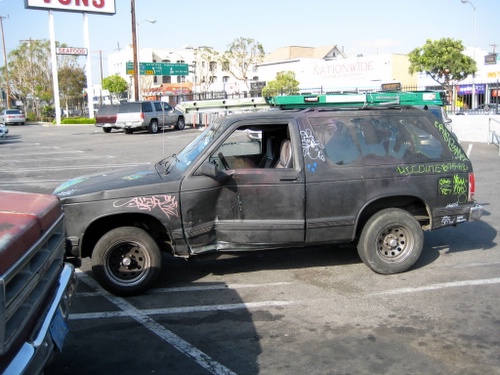 So there you have it, a quick glimpse into the art of ALZA. Even though whenever I see his stuff I just shake my fist and scream ALZA!!!!! you may want his truck to pull up and, uh, liven up your walls, so give him a call!
ALZA Signs
213.447.6087