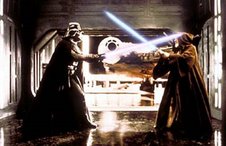 Now that I've done my community service.
I always said if America got to the point where we had a president of other than white descendent that I would never do that thing where I refuse to even entertain the idea that people who look like me could be jerks, well that day happened last Tuesday and I also think I can probably ice skate in hell.
Black people we need to talk. I am not excusing the total racist, vile crap that has come out since Prop 8. That's not right.
BUT…70% of black people voting yes on a prejudice law. Now I understand that we are not magical or special or fantastical, but god damn are we stupid?
 Progressive leaders in the black civil right's movement came out against Prop 8, Alice Huffman President of the NAACP in California (who I hope is able to remain President throughout this, because the Christian and conservative black press i.e. LA Sentinel has her in it's sights, in the bad way) and James Rucker of Color of Change.
Unfortunately though Christianity has made many others in the black community lose their damn minds.
As a history lesson, just throwing this out there:
Remember slavery, well owing to slavery we black people were forced to be Xtians.
Owing to Christianity certain people felt completely justified in us keeping us in the status of slaves.
Do black people remember the Christian right? Yeah the group of people that made many members of the black community, especially in the less monied classes, suffer for the past eight years. That's who sponsored this measure.
People who hate black people.
People who if there is a heaven and if they are working the door aren't going to let us in.
Do you know a big supporter of Prop on 8 was the Mormon Church? A church that black people couldn't even be members of until 1978.
There is no excuse for this. None at all. I am getting a little tired of the Xtian church and I'm getting a little tired of black people who justify their homophobia using this vile institution as an excuse. I guess the thing that boggles my mind is that Xtians as a whole don't even like black people. All the right wing hate groups use Christianity as one of their cornerstones. 
The skinheads, the KKK, the Republican party….
Why are blacks so beholden to an institution that we had to create our own versions of because the root version didn't even let us through the door?
The only reason African-Americans joined the church hundreds of years ago was to get out of slavery and then they closed that clause in 1667, but yet and still we are still worshiping their god.
"In 1667 Virginia declared that a person could be both Christian and enslaved, there by discouraging slaves from converting solely to gain freedom." (The Color Complex: The Politics of Skin Color Among African-Americans, 1992)
After 1667 why would any black person continue to be Xtian!!!
I love black people. You know I do, but 70% goddamn. That is a little crazy and while some people try to dispute that number in LA. I'm going to say as a person that has been around black people in LA (I can't talk about the whole country) but in LA that homophobia is in the black community and it's pretty much viewed as ok. I'm going to say that in general, it's viewed as a little bit more ok than in other communities and even among the educated.
I'm not going to scapegoat poor black people on this. While in LA there are a lot of poor black people there are also a lot of educated yuppie straight black people that are openly homophobic in non-mixed company.
I remember I was in a party in downtown LA and I ran into an educated black woman. I found her a bit annoying because she was like, "I went to NYU, what school did you go to?" I was like, damn is this a social thing or a job interview. Somewhere in this conversation same sex marriage came up and this was WAY before Prop 8 was even dreamed of and she started telling me how it was wrong and a sin and blah, blah…and I asked her what business is it of hers what people do and she started talking about god and I just stopped talking to her. I was also not invited back to any of their social gatherings. I have accepted that I will never be part of any little social groups that does brunch on Sunday.  I will have to wear my Manolos around my apartment.
That's just one personal anecdote, but I have plenty and the reason this homophobia is viewed as ok is because of the church.
Black people we need to do better. There is nothing godly about being a prejudice asshole and the Xtian's god doesn't like you anyway.
As we are no longer are slaves that have to eat chitlins to survive we no longer should be slaves to the Christian church. Stop being a tool and stop eating that unhealthful food too while you're at it.
Here's another link to a black person who also think this is completely crazy:
Field Negro's Proposition Hate