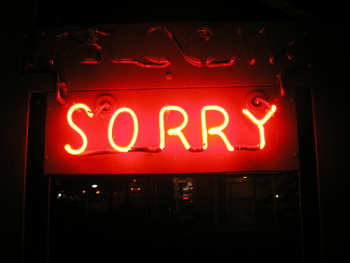 There are large group* of folks that need to start working on their apologies right about now. According to a new study, support for Prop 8 among African-Americans was not as high as previously reported.
From KPCC:
African-Americans may have supported Prop 8 less than exit poll showed

There is a dispute over the extent to which African-Americans supported Proposition 8, the measure that bans same-sex marriage in California. A national exit poll suggested that 70 percent of blacks in California voted for the measure.

But another poll by the Center for the Study of L.A. found in Los Angeles, just over half of blacks supported Prop 8. Fernando Guerra directs the center at Loyola Marymount University. He told KPCC's Larry Mantle that he doubts black opposition to the measure was as large as has been reported.

Fernando Guerra: Seventeen-and-a-half percent of all blacks in state of California live and vote in city of L.A. – so neither one of ours could be correct because for us to get only 52 percent – and statewide 70 percent, all blacks outside the city of Los Angeles would have had to support that proposition by 75 percent, so it makes it even higher."

Guerra is a board member of Southern California Public Radio. His center conducted exit polls last Tuesday in L.A. neighborhoods with large numbers of black voters.
Of course there is a lot of work needed in ALL of our communities regarding tolerance, this goes without saying. However, hope this reminds folks, especially more progressive minded people that they need to think twice before they start accusing and blaming disenfranchised groups for larger, institutional problems.
*I should be more clear, "large groups of people" refers to those in the media and others who are quick to perpetuate divisiveness.