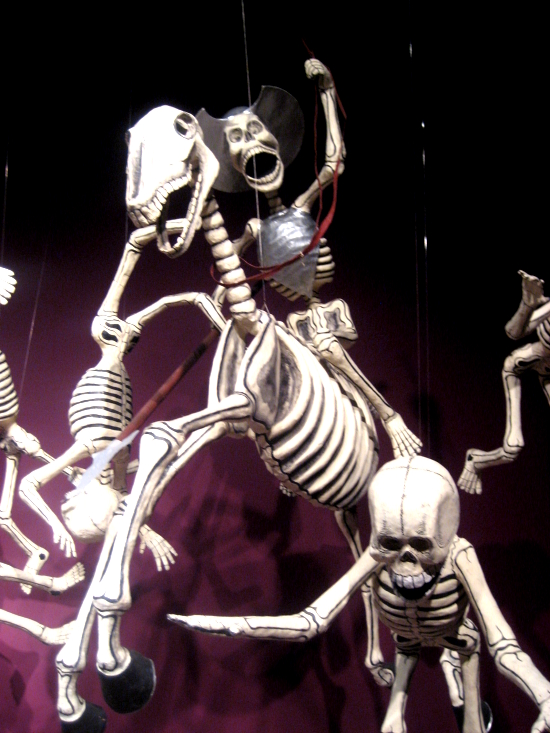 Linares installation from Intersections: World Arts, Local Lives at the UCLA Fowler Museum
My mother recently became a member of the Fowler Museum at UCLA.  While she was there for an exhibit on mermaids (she collects them), they had some kind of raffle where if you sign up for membership, you could win a bunch of prizes. And as you might know, people of the Mexican persuasion cannot resist a raffle! Amazingly, she was one of the prize winners and went home with a museum membership and two tickets to an upcoming Qawwali music concert at Royce Hall. Apparently she couldn't convince my Chilango stepdad to go with her, so I was next on the list: "Mija" she pleaded with me "please take me to the concert, it's YOUR kinda music afterall." I think my kind of music means I like stuff you don't hear on radio stations with commercials. I was so glad we went!  It's not an understatement to say the concert was one of the best live performances I've attended in years. The improvisational chanting was both energizing and soothing and seemed to relieve my mother's perpetual pains.
Another stroke of luck, her first members opening party was for the new Fall exhibits – many featuring Mexican related art. The opening party was called Celebración/Cotton Candy and she was delighted to discover Culture Clash would be performing.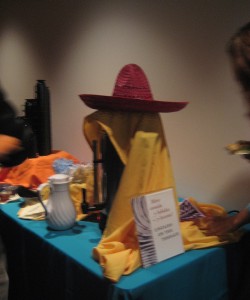 I've seen a lot of crazy things in my life but a coffee urn sporting a sombrero? Now that's just absurd!
Even the food was in the Celebracion mood!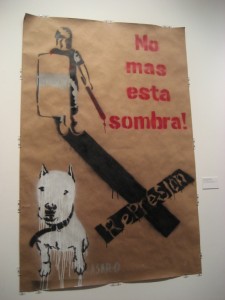 La Tinta Grita: The Art of Social Resistance in Oaxaca, Mexico
The evening started with a throng of cebollitas (what a friend of mine calls the silver headed set) crowded around the closed museum doors, chomping at the bit to get at the complimentary catering by EL Cholo. At 7pm the glass door opened and the rush for the tables of stale chips, chimichangas and jalapeño sangria, allowed the rest of us time to see La Tinta Grita, The Art of Social Resistance in Oaxaca, Mexico exhibit. It was strange to see these images in the hallway of the museum, when just a year ago I saw similar graphics and graffiti on the streets of Oaxaca. Hopefully, the pieces inspired some thought amongst the museum patrons in between their bites of soggy taquitos.
Culture Clash made their way through the crowd dressed and performing as street vendors, with cotton candy, paletas and a small crew of kids dressed in Yaqui Indian inspired wear. My mom made me ask for some cotton candy but I was told it was part of the theater act and they'd be happy to give me some later. Oh, embarrassing! Actually, we were treated kindly as we were one of the few groups of Latinos in attendance that weren't performers or workers.
At one point during Culture Clash's performance, I noticed a new member of the mobile theater crew, a Mexican man sporting a Vicente Fernandez bigote and the requisite chops. He had a sweeper and dust pail and was moving in the same circle as the performers. I realized a little later he was actually the real janitor. Oops!
pieces from Silver Seduction: The Art of Mexican Modernist Antonio Pineda (I was drooling over these!)
Some funny things I overheard from the museum crowd:
A man in a wheelchair gestures to the gift store clerk and says something sort of unitelligible but sounding like "robobama" The lady points to her lapel and says to him very slowly "No, my pin say O-BA-MA" And then the man says exasperatedly "No, I was wishing you happy new year: Rosh Hashana!"
Guy in straw hat says to his friend: "I am sooo bored of Ave 50!"
(just a reminder: be careful what you say in public, lest it end up on a blog!)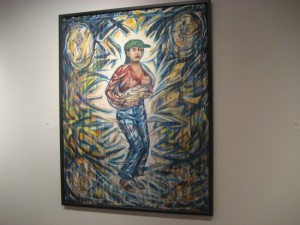 from Cara Vemos, Corazones No Sabemos: The Human Landscape of Mexican Migration
We attempt to wait for Ollin to play but there are a few spoken word artists up beforehand. I ask my mom if she likes spoken word and she says "Yeah, forty years ago when I first heard it." Eeesh! An hour later, my Chilango stepdad is losing patience and we flee back East from whence we came.
Tortilla Arte by Rene Yañez
For more info on the current exhibits, please see the Fowler Museum website.
* I apologize for not remembering all of the artists names. I blame the jalapeño sangria!