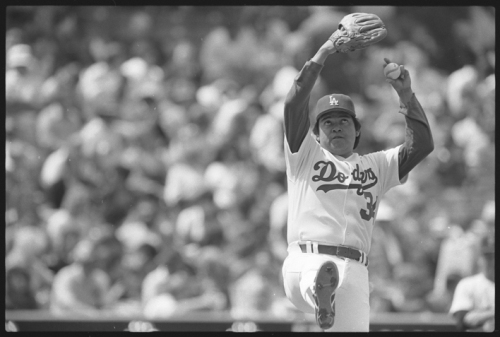 I like to think I was destined to be a lifelong Dodger fan. I was born just before Fernando "El Toro" Valenzuela was called up to the majors in September 1980. Of course, I don't remember that. Nor do I remember Fernando Mania and his awesome 1981 season which resulted Cy Young and Rookie of the Year awards. In fact, I really don't remember much about Fernando during his prime years except for listening to Jaime Jarrín announce over the radio, "¡Lo ponchó!"
Fernando made many people fans… or at least increased their love for the Dodgers. Still, I can't say Fernando made me a fan. My dad gets all the credit for that.

Dad became a Dodger fan as soon as he got to LA in 1962 (or was it '63?). He tells us stories of going to games to see Sandy Koufax pitch and of playing stickball in the street. Of course when he got married and had children, he enrolled us in Little League. Even though he worked a lot, he still had time to teach me how to throw, catch, and a proper batting stance. He also taught me what it meant to be a fan.
In the summer of 1988, my family took a trip to Lake Tahoe. Dad meticulously packed bags of clothes, boxes of food, a guitar, boombox, beach chairs, umbrellas, towels, inflatable raft and water toys in our maroon van. I squeezed myself in the back with my three siblings, coloring book and waxy crayons on my lap.
We pulled up to the parking kiosk at the beach/lake shore. The parking attendant eyed my dad's familiar LA Dodgers hat fit snugly over his shaggy black hair.
"You a fan?"
"I'm wearing the hat, aren't I?" Dad responded and handed the attendant some money.
"I guess so," said the attendant as he handed dad his change with the parking ticket.
Dad took the ticket and steered the van toward a spot close to the beach. The metiche in me was curious and confused.
I piped up, "Dad, why did he call you a fan? Did he mean fan, like un abanico?"
"No. A fan is someone who really likes a team. He asked if I was a fan because I'm wearing my Dodgers cap."
"Oh. I like the Dodgers. Does that mean I'm a fan?"
"Yup! You better be!"
Go Dodgers!
Opening Day 1986 photo from the Los Angeles Times photographic archive, UCLA Library. Copyright Regents of the University of California, UCLA Library. Photo used under a Creative Commons license.