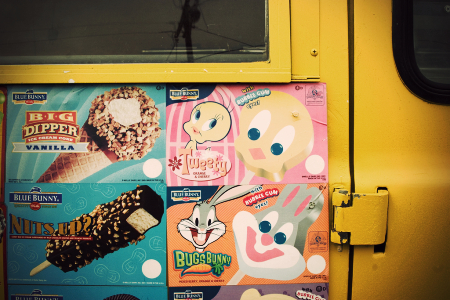 Ever since I've moved back to the (Lincoln) Heights in July I've had this ice cream truck from hell come 'round.
My apartment is right up against the street and has no yard and I have windows all around.  Consequently I hear all the vehicular, pedestrian, and skateboarder traffic all day long.  I can stand the pedestrians and the skateboarders but it's a certain kind of vehicular traffic that has worn thin my patience.  There is this ice cream that for some reason decides to play their music at 20 decibels 80 decibels(!) and park right outside my apartment.  He sits for up to 20 minutes! Yes, I've timed him!  I was thinking for a while, "does he take his layover there? trading shifts?"
But it turns out that outside my apartment is a key spot since the kids run down from the hill to get their fill of high-fructose corn syrup frozen desserts.  I've counted 15 kids at one time, all unable to decide on what they want.  Now I actually enjoy how alive (and yes sometimes loud) this neighborhood can be but damn, park your ice cream truck somewhere else while I'm trying to nap off my hangover!