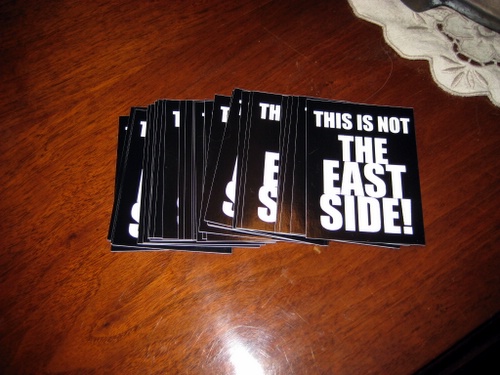 I was looking for a quote from a Norman Klein book on google when I found this passage instead (in a book about TELACU by John Chavez published way back in that ancient era of 1998) which mentions the vague boundaries of the Eastside:
The Eastside as Homeland

Though the federal government once confined TELACU to a clearly delineated "special impact area," the Eastside as a whole has vague boundaries. Most observers would agree that it includes at the least Boyle Heights, Lincoln Heights, El Sereno, and East Los Angeles; … Others would add Highland Park, Commerce, Montebello, and even Monterey Park. … Though not initially within TELACU's purview, Eagle Rock, Vernon, Maywood, Huntington Park, and Bell also merit consideration as parts of the Eastside. … This political fragmentation is nevertheless obviated by a high degree of demographic and cultural unity, for the Eastside shapes distinctly Mexican-American Los Angeles. TELACU's founders dedicated the institution to the recovery of this "homeland" in 1968.
Click here for a link to this text
I guess back in 1998, when we still hadn't received the latest "fluidity" memo the boundaries were also vague, but oh so very far from Echo Park and Silver Lake. And a history lesson from 10 years ago? C'mon Mr. Chavez, new people just moved into the city a few years ago and they want to try their hand at defining their new playground. Who are we to dare such a minor resistance to this "erasure of memory"?
Speaking of resistance, the person that made the "This is Not the East Side" stickers got in touch with us and gave us a small stack (thanks Comrade!) which we plan to share with you, dear readers! Send us a mailing address via our contact page and you'll get a few of your own.