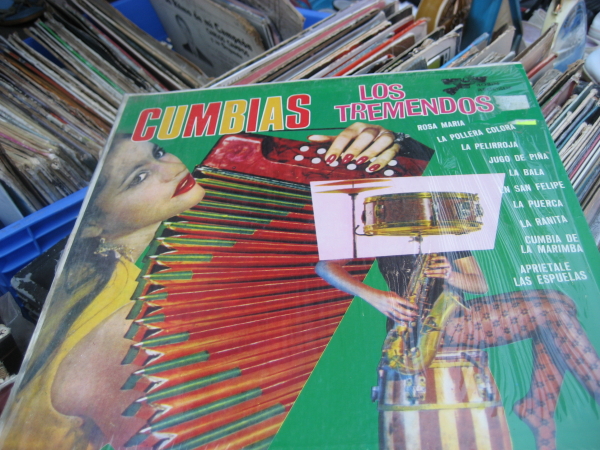 Cumbia Record @ East Los Angeles Swap Meet (note the tambor head)
Botanitas is an ongoing feature bringing you stories and news from various sources, upcoming events and other bits of ephemera that might be of interest to LA Eastside readers. Suggestions welcome!
Pet Peeve
So there's this movie called Beverly Hills Chihuahua (chee-WOW-wa, how nice they give you a pronunciation guide) out this weekend and I'm sure it's filled with cringe worthy cliches. What's bothered me most about the promos, besides the typical anthropomorphic stereotypes, is the music. If those dogs are supposed to be Mexican, then how hard is it to have actual Mexican music as part of the soundtrack? C'mon Hollywood give us some mariachis, rancheras, even a little cumbia. Enough with this fake salsa-ish, hot cha cha cha crap. Thank you.
Out of the Enclave: Latinos Adapt, and Adapt to, The American City
(h/t LA Observed) An interesting discussion on Planetizen with Latino Urban Forum's James Rojas.
An excerpt:
The bacon-wrapped hot dog does not, needless to say, appear on the menu at Spago. Nor on that of Nobu, Luques, or Cut – or on that of any other restaurant, for that matter.

Instead, one of Los Angeles' most infamous delicacies — a frankfurter swaddled in bacon and accompanied by peppers, onions, and picante sauce — is grilled up on streetcorners, parking spaces, and vacant lots, by chefs more familiar with salsa than sausage. They appear at farmers' markets, street festivals, and Hollywood Boulevard at last call, when the turntables spin down and clubgoers stumble out into the night, and then they pack up and roll away, back to neighborhoods like Boyle Heights, Pico-Union, Bell, and Pacoima.

Informal though it may be, this fusion of classic Americana, immigrant entrepreneurship, and Los Angeles's awkward conception of public space is but the most cholesterol-laden element of a complex, deeply rooted urban tradition that may, if current demographic patterns persist, become the dominant urban trend of 21st century America.
Eagle Rock Music Festival
One of the best music festivals in Los Angeles and it's free!
10TH ANNUAL EAGLE ROCK MUSIC FESTIVAL
SATURDAY, OCTOBER 4, 2008
5PM-MIDNIGHT
ON SIX BLOCKS OF COLORADO BOULEVARD B/T EAGLE ROCK BOULEVARD + ARGUS
STREET, 90041
FREE
Celebrate 10 years of a community street festival with a unique and
independent neighborhood vibe. The Eagle Rock Music Festival will
feature over 60 independent artists of all genres, with a focus on
LA's local music scene from Highland Park to Boyle Heights and
Downtown LA to Silverlake. Including Earlimart, Edward Sharpe + the
Magnetic Zeroes (featuring Ima Robot's singer, Alex Ebert), Build An
Ark, Radar Bros., Mika Miko, Crystal Antlers, Abe Vigoda, Emily Wells,
the Antarcticans, Very Be Careful, Arohi Ensemble (classical indian &
raga jazz), Aztlan Underground, Cava, the Cobra Lilies, the Parson
Red Heads, Pizza!, the Evangenitals, Princeton, the Flying Tourbillion
Orchestra, Forever Dedicated Gospel Group, Gangi, Le Switch, Light
F.M., One Trick Pony, Upsilon Acrux, and more– plus live painting by
Unification Theory, the SASSAS Soundshoppe, Mamacita's Marketplace (an
independent artisan market), the BugHouse Soundsite, interactive
percussion with GLANK, a stage just for kids, and more!
Here is the complete schedule and list of artists:
1). Emerging Stage
5:00-5:30—Princeton
5:45-6:15—Pizza!
6:30-7:00—Abe Vigoda
7:15-7:55—Earlimart
8:10-8:50—Crystal Antlers
9:05-9:20— Gangi
9:35-10:10— Edward Sharpe and the Magnetic Zeros
10:30-11:10—Mika Miko
11:25-Midnight—The Evangenitals
2). Global Stage
5:00-5:45 – dublab DJ
5:45-6:45 – Very Be Careful
6:45-7:30 – dublab dj
7:30-8:30 – Fool's Gold
8:30-9:00 – dublab Dj
9:00-10:00 – Build An Ark
10:00-10:30 – Speaker & dublab dj support
10:30 – 12 – Domingo Siete
3). Panang/Zocaloc Stage (Spoken Word/Local Hard Rock)
5:00-6:00-Mike The Poet – Spoken Word
6:00-6:45- The Bus Stop Prophet – Spoken Word
7:00-7:30—Stab City
8:00-8:30—HDR
9:00-9:30—Nu-Tra
10:00-11:00—Aztlan Underground
4). Renaissance Arts Academy (Classical)
5:00-7:00- an eclectic program featuring music by 20th and 21st
Century Composers performed by students of Renaissance Arts Academy
5). Colombo's (Blues/Full Service Rock and Roll )
5:00-7:30—The Joe Johnston Band
8:00-10:30—Ann Likes Red
6). Bateman Water and Heating Co. (Punk-A-Billy)
5:00-7:00 – Late Night Snack: Literary Cabaret
7:00-7:30—Permanent Blue (Eagle Rock HS Battle of the Bands Winner)
8:00-8:30—The Beeters
9:00-9:30—Le Face
10:00-11:00—The Curs
7).Women's 20th Century Club (Big Band/Swing)
5:00-9:00—The Jack Lantz Big Band
8).Welcome Inn (Zydeco)
8:00-10:00—Fontenot & Pappion Louisiana Band
9).American Tire Depot – Eagle Rock Block and Friends
(Local/Emerging/Independent)
The Ship Studios Stage/Eagle Rock Bowling and Drinking Club
5:00-5:30—Downtown/Union
6:00-6:30—Amnion
7:00-7:30— Landy with The Black Pine
8:00-8:30— The Flying Tourbillon Orchestra
9:00-9:30— The Parson Red Heads
10:00-10:30— Radar Bros.
Kingsize Soundlabs Stage/ Eagle Rock Bowling and Drinking Club
5:30-6:00—Human Value
6:30-7:00—Pierre de Reeder
7:30-8:00—Divisadero
8:30-9:00 — Le Switch
9:30-10:00—Light FM
10). Rantz (Latin Lounge)
6:30-8:30— Kotolan
9:30-10:30—Kotolan
11). City Hall (Children's Stage)
5:00-5:45—Open Gate Theatre
6:15-7:00—Ellen & Matt
7:30-8:00—Special Guest
8:15-9:00—CA Combo
9:30-10:30—Glank
12). Church of Christ (Indian/Gospel/Sound)
5:00-6:30—Forever Dedicated Gospel Group
7:00-8:30—Arohi Ensemble (Classical Indian & Raga Jazz)
9:00-10:30— The SASSAS SoundShoppe: An improvisational, experimental
sound performance featuring Joe Potts, Gabie Strong, Greg Lenczycki, Jorge
Martin, Helga Fassonaki (Metal Rouge), Andrew Scott (Metal Rouge),
Doug Henry, and others to be announced.
13).Camilo's (Jazz)
5:00-6:30—Andres Torres Trio
6:30-7:30—Cynthia Speer
8:00-10:00—Cynthia Speer
14).Swork (Singer/Songerwriter)
7:00-7:45—New London
8:30-9:30—One Trick Pony
15). American Legion Hall (Experimental Torch Music)
5:00-5:45—The Cobra Lilies
6:00-6:30—The Antarcticans
6:45-7:30—Emily Lacy
7:45-8:30—Upsilon Acrux
8:45-9:30—Emily Wells
9:45-10:30—Jesske Hume/Joe Berardi/ Jeremy Drake: Experimental Improv
(with butoh by Oguri)
16). Divine Forces Stage (Hip Hop/Funk/Soul/Breakbeats/
World)
5:00-5:35— Grainshifter
5:35-6:05—Eagle Rock Underground DJs
6:05-6:45—DJ J1
6:45-7:30— Blank Blue
7:30-8:15— Bambu
8:15-8:30— DJ J1
8:30-9:00— Akasha
9:00-9:15— Eagle Rock Underground DJs
9:15-10:00pm— Special Guest
10:00-10:15pm— Eagle Rock Underground DJs
10:15-11:00pm – Cava
————–
Have a great weekend LA Eastsiders!