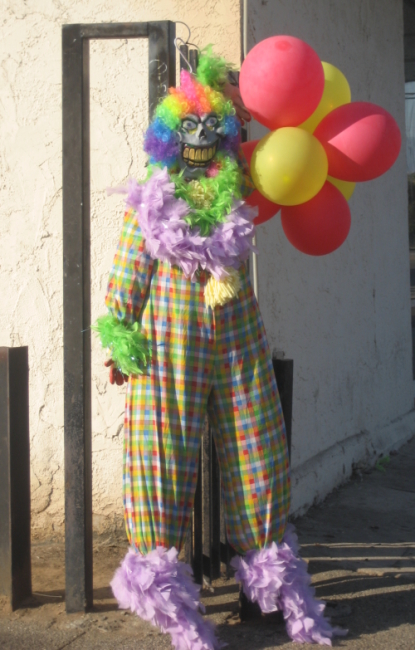 Launderland Disfraces, Lincoln Heights, 2008
Botanitas is an ongoing feature bringing you stories and news from various sources, upcoming events and other bits of ephemera that might be of interest to LA Eastside readers. Suggestions welcome!
Halloween and Dia de los Muertos events after the jump!
Los Angeles Times
Some scary news coming out of the Los Angeles Times, 75 newsroom staffers were forced out earlier this week. Left behind is a newspaper barely worth reading anymore. I know everyone's proclaiming this is the age of new media but what makes the continuation of newspapers  like the Los Angeles Times important is they provide communal access to local news. Both my neighbor and I, who I may not have much in common with, both receive our daily delivery and probably read our newspapers in much the same way, over a cup of coffee, contemplating the same headlines. I don't imagine we visit the same websites. I believe it's this communal news source that helps bind the citizens of a city together.
I know for certain I will miss reading Agustin Gurza's stories. I've enjoyed his pieces from way back when he had a weekly column on the local California page (not sure what they called it back then, it's changes every year). Who will write about Rock en Espanol, Chicano art shows and Eastside lives? I can't imagine anyone on the current staff who has their ear to the Eastside ground the way Agustin did.
Halloween in Lincoln Heights
How come there's always these creepy ghost stories involving people who died in the 1800s and not more recent deaths? For instance, I've always wanted to know, are there cholo ghosts?
If so, they just might be at the Lincoln Heights Haunted Maze and Children's Area appropriately taking place at the Mirabal Mortuary on North Broadway and Workman. The fun starts at 5pm on Halloween night and runs until 8pm. They still need volunteers to help scare the kiddies, just in case the cholo ghosts decide not to make an appearance.
Other Halloween/Dia de los Muertos Events
Self Help Graphics & Art began celebrating Day of the Dead on November 2, 1972. Two artists met in the Evergreen Cemetery, located twelve blocks from the art center in East Los Angeles on Cesar Chavez Avenue (formerly Brooklyn Ave) to celebrate and honor the dead, as their ancestors in Mexico had centuries before.In the following years, more artists were incorporated in the celebration. The artists made masks, costumes, posters and altars. Youth workshops were developed in order to educate young artists of the centuries old tradition. From the cemetery on the corner of 1st and Evergreen in East Los Angeles, a procession was held. Self Help Graphics & Art founder, Sister Karen Boccalero lead the charge of community residents, artists, patrons, and youth, launching a tradition that created a lasting impact on Los Angeles culture for more than 35 years.

This year is Self Help Graphics & Art's 35th annual Dia de los muertos celebration! The Nov. 2nd event is from 3:00 p.m – 11:00 p.m. and FREE to the community!
Hollywood Forever is now charging $5 for their interpretation of a
Dia de los Muertos event
…hmmm, not worth it. But if you insist on attending, here are the details:
Join us as we illuminate the evening sky with the various mosaic flavors of life, remembering and paying homage to the dearly departed as we joyfully walk hand in hand with the recollections of the spirits we pay tribute to. Allow the ingrained history of this ancient tradition to capture the heart of the newly curious, sustain the hopes of the returning and quench the thirst of the surrounding souls.

Hollywood Forever the only cemetery in the country which opens its gates to commemorate this tradition will hold this annual event:

Saturday, November 1

4:00 p.m. – 11:00 p.m.
Olvera Street
also has Dia de los Muertos activities, check their website for details.
We would like to Thank You for many years of supporting Festival De La Gente. This year's event will be held at the Barker Block on Saturday, November 1st, and Sunday, November 2nd, 2008 from the hours of 1-9pm daily at no cost to the community.
Ofrendas 2008 just opened at Tropico de Nopal. Check out the annual fashion show next Saturday, November 8 from 7-11pm. LA Eastside contributors in the house!
Resurrection Cemetery in Montebello is one of the few places to witness authentic Dia de los Muertos traditions here in the Los Angeles area. This weekend, the place will be packed with visiting relatives and strolling musicians which can be hired on the spot to play a song for your departed loved one.
966 North Potrero Grande Drive
Montebello, CA 90640
Add your events in the comments!
More on the holidays
There are some cultural purists who like to create boundaries and barriers between Dia de los Muertos and Halloween, El Chavo's response to these critics deserves a reprise here.
Why do we get so excited about this time of year? We love the historically subversive element that Halloween contributes, the license for mischief it gives and the possibility of meeting your neighbors, and we resist the attempts at its disney-fication. We also admire the beauty of Dia de los Muertos, the recognition, acceptance, and celebration of death as an integral part of life. Both are part of the same type of "harvest festival". As Chicanos we feel it is our duty to recognize this holiday season as one that embraces the valuable elements of both traditions, the subversion and the revelry!

Some folks seem content to keep Dia de los Muertos as an event (and product) confined to the prison of art galleries. We say NO! Some would abandon Halloween to the fate proposed by capitalists and religious nuts, another miserable "holiday" for commodity consumption and safe rituals imposed to replace those of a prankish nature. They've taken away our license to do tricks, will we let them take our treats? We say NO!
El Chavo Goes Trick or Treating in Lincoln Heights: Part 1/ Part 2
Extra Hour, Daylight Savings
Yay, I can finally sleep in! Daylight Savings ends on Sunday, November 1st – set your clock back one hour.